For the first time, the concept of Online learning or e-Learning was used in October 1999 in Los Angeles at the CBT Systems workshop. For two decades, this direction has overcome a huge distance, becoming one of the most dynamically developing market segments. Over the years, companies have created many cross-platform LMS (Learning Management System) with software apps for the administration of training courses. Unfortunately, the quarantine due to epidemic radically limited the possibilities of traditional schooling. In this situation, e-Learning becomes one of the main tools to solve this problem.
Today, many companies successfully compete in the market, creating and offering high-quality educational services for children. Of course, it has its own leaders. Today, this list includes Starfall, Curious World, ABCmouse, BrainPOP, FunBrain, Highlights Kids, Reading Eggs, National Geographic Kids, Coolmath, PBS Kids. But the complete list is much wider.
ABCmouse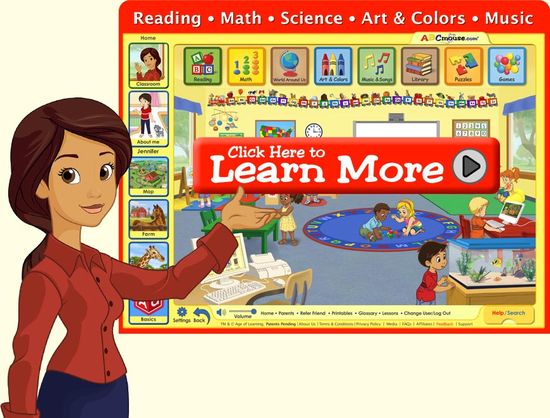 Probably, ABCmouse has every reason to be considered the most successful children's educational service. Of course, numerous advertising campaigns have contributed significantly to itst popularity. But the content, including impressive curriculum and many interactive activities, is fully consistent with its leadership status.
ABCmouse is designed for children from 2 to 8 years old, and contains more than 850 lessons and more than 9,000 training sessions. For convenience, all content is distributed between 10 progressive levels.
In addition, the interactive Tickets and Rewards System provides effective motivation for children.
Main learning programs:
– reading – from letter recognition to sentence structure and parts of speech;
– math – counting to 120, addition and subtraction, 2 and 3D shapes, and measuring length, time and money;
– science and social studies – health, animals, basics of astronomy, weather, maps, etc;
– art and colors – colors and their shades. In addition, activities include the unique drawing and painting programs.
Today list of ABCmouse awards includes the Mom's Choice GOLD Award, the Parents' Choice GOLD Award, and the Teachers' Choice Award.
PROS & CONS
PROS:
– 10-level structure provides a progressive step-by-step learning path;
– huge content (850 lessons + 9,000 individual learning activities);
– learning-through-play algorithm in interactive zoo, farm and Classroom Aquarium is very comfortable for children;
– a high interactivity level provides excellent customization, allowing the child to create her own avatars, including virtual pets and clothing;
– the earned tickets in the Tickets and Rewards system effectively provides the economic education of the child;
– the paid website is reliably protected from advertising, external links and viruses;
– with the exception of data to set up the profile, ABCmouse does not require personal information;
– 1-month free trial, and various discounts;
– one subscription supports registration for up to 3 children, providing access from any devices, including desktop PCs/ phones/tablets;
– learning offline with 2,000+ printable activities;
– effective parental control, including tracking child progress, setting learning level, time limits, etc.
CONS:
– $ 9.95/month ad-free vs free learning websites;
– complaints about billing and payment failures;
– a substantial part of the content is too simple for many older children;
– no a guided learning mode that allows parents to create their own lesson plans;
– some parents complain about the excessive children enthusiasm to the entertainment options in the massive ABCmouse world.
Reading eggs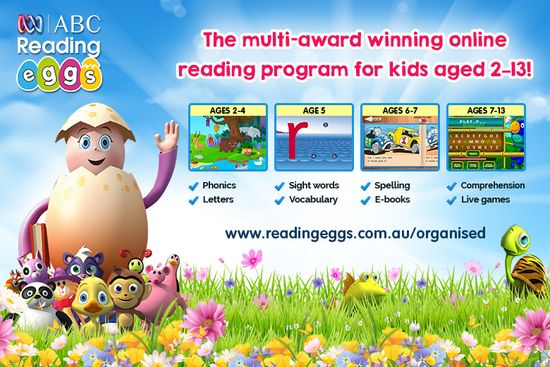 According to the developers, Reading Eggs uses the results of research on the optimal learning of children depending on their age. In particular, Reading Eggs offers educational alphabet games (identifying letters and sounds) for 2 year olds, and phonetics, sight words and reading skills for 3 year olds. The content for reading, live games and an online library with 2,500+ digital books are mainly for kids 7 through 13 years old.
In addition, science-based technology provides five important components, including:
– quick learning to recognize and manipulate sounds;
– understanding the phonics;
– a large vocabulary;
– reading comprehension;
– fluency in reading aloud.
Reading Eggs awards include Learning Magazine's Teachers' Choice Award, Academic's Choice Brain Toy Award and the Mom's Best Award.
PROS:
– high efficiency of the program improves reading skills in just a few weeks;
– according to the developers, all content of Reading Eggs programs is developed by highly professional educators with 30 years of experience;
– Golden Eggs and Certificates as a reward for educational success perfectly motivate children;
– huge library of the Reading Eggspress platform;
– built-in quizzes after every 10 lessons are very convenient for monitoring learning progress;
– the possibility of unlimited repetition of lessons;
– low the subscription cost.
CONS:
– $ 45.95/6 months or $ 59/full year;
– a separate subscription for each child;
– Reading Eggs is great for reading only. But a separate Mathseeds math site requires a separate subscription.
Conclusions
The list of smart devices for these services includes traditional PCs, tablets, and large-screen smartphones. Of course, experts are actively discussing the pros and cons of each decision based on their specs and price. Several years ago, many predicted the crowding out of tablets by large-screen smartphones. But the forecasts did not come true and both devices continue to compete successfully in this segment. Moreover, the competition level smartphone vs tablet as the most optimal device for children's education has even intensified.
This video offers trailer of online learning program for children 2–8 "Exploring Plants: Silly Seed Animals" by ABCmouse.com.