As known, the evolution of mankind has survived three information revolutions, including the invention of writing, the invention of typography in the 15th century, and invention of telegraph, telephone, radio and television in the 20th century. Digital technology and the Internet launched the fourth stage. But like any revolution, it's accompanied by some problems. The unprecedented amount of scientific information often does not allow an even adult person to simply track its dynamics.
Of course, it was a challenge to the traditional education system. As a result, learning optimization has become an urgent need. E-learning has become this tool. Today online learning partially solves this problem, allowing parents to more flexibly regulate the educational process. Unfortunately, quarantine due to the epidemic has additionally limited the possibilities of traditional school education. As a result, soon e-learning may become one of the main ways of learning for many children.
Today, the list of leaders in this segment includes ABCmouse, Reading Eggs, National Geographic Kids, Starfall, Curious World, PBS Kids, BrainPOP, FunBrain, Highlights Kids, Coolmath. But, of course, the complete list is much wider. Of course, all of them can use traditional PCs, tablets or smartphones with a sufficiently large screen.
National Geographic Kids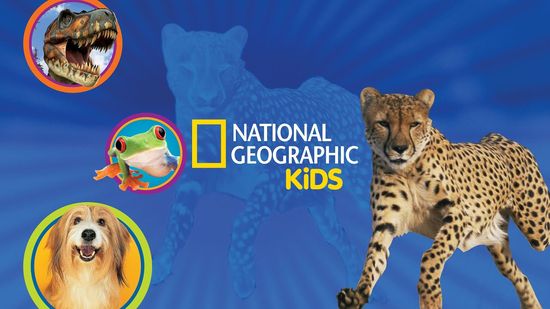 National Geographic Kids offers an abridged curriculum with a focus on interactive technology. In fact, the website is a digital addition to the National Geographic Little Kids for children ages 3 to 6, and the National Geographic Kids for children ages 6 to 14. National Geographic Kids uses National Geographic resources, including videos, games, and other interactive tools, with an emphasis on the study of various sciences and geography. The ability to create an interactive world map is a unique feature of the site. In addition to a large amount of high-quality free content, the site actively advertises the magazine and products of the National Geographic brand.
Pros
– a lot of free content;
– a successful combination of animated and real videos;
– wide coverage of topics;
– access does not require a magazine subscription;
– unique Interactive World Map and Ultimate USS Road Trip Game.
Cons
– the website does not replace a full online learning program;
– the content does not claim to provide systematic scientific knowledge;
– advertising and external links require constant parental control;
– part of the content contains hunting scenes of predators for prey that are not entirely suitable for young children.
Coolmath.com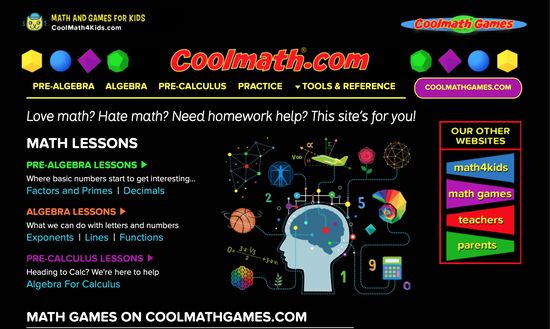 Traditionally, mathematics is a complex for many people. Since 1997, Coolmath has been promoting this challenging science among children and adolescents. Coolmath4kids is intended for children under 12 years old. For students 13 years and older, the site offers algebra and other sections of mathematics. Coolmath-Games content includes fun puzzles and mental exercises to develop children's logical abilities. Today, a subscription costs $ 5.99 per month.
Pros
– levels of Coolmath sites vary from preschoolers to high school students;
– orientation to mathematics provides a unique specialization of the site;
– web site programs were developed by a former math teacher with a long teaching experience;
– a lot of free content and the ability to block ads in case of subscription;
– the popular Coffee Shop and Lemonade Stand games develop business skills.
Cons
– advertising;
– not very high educational potential of some games;
– limited content in areas not related to mathematics;
– the trial subscription duration is only 7 days;
– automatic renewal of a subscription requires its manual cancellation.
PBS Kids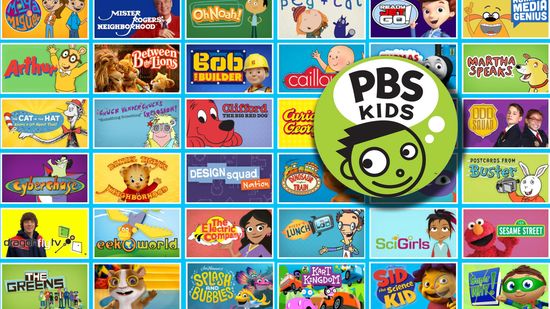 Of course, Mister Rogers 'Neighborhood, Sesame Street and The Magic School Bus educational television shows do not require the introduction. As known, the nonprofit Public Broadcasting Service is directly involved in their creation. Therefore, PBS Kids service harmoniously fits into its strategy.
Free PBS Kids content stimulates curiosity and imagination in preschool and school children. Maybe it loses in comparison with the popular ABCmouse or BrainPOP in terms of the variety of content and its volume. But PBS Kids perfectly complements the child's cognitive development. In addition, the popular Arthur, Daniel Tiger, the Cat in the Hat and the Sesame Street puppets create a wonderful emotional backdrop.
Pros
– no paid membership or subscription;
– favorite characters from the PBS educational TV programs;
– the educational materials include reading and STEM (Science, technology, engineering, and mathematics);
– the service uses an integrated approach for the cognitive development of the child.
Cons
– the site contains advertising from corporate partners;
– a limited range of training programs and interactive lessons;
– the content is more focused on the age of 2-4 years and may be less interesting for older children;
– sometimes technical failures occur in PBS Kids apps.
Conclusions
Of course, PBS Kids with their favorite characters is most entertaining for toddlers. However, reading and STEM provide him with a fairly high educational level. A huge library of animated and real videos, unique Interactive World Map and Ultimate USS Road Trip Game of National Geographic Kids will be interesting for middle and older children. Mathematical specialization of Coolmath has virtually no competitors.
Video offers funny coral reef episode from "Weird But True!" from National Geographic Kids.