Today, civilization is experiencing the fourth stage of the information revolution. As known, the three previous stages include the invention of writing, the invention of printing in the 15th century and the invention of telegraph, telephone, radio and television in the 20th century. The current fourth phase is based on digital technology and the Internet.
Unfortunately, like any revolution, it is accompanied by problems. In particular, an unprecedented amount of rapidly updated scientific information has become a problem for the traditional education system. As a result, learning optimization has become an urgent need. E-learning has become one of the main tools for solving this problem.
Today, online learning partially solves it, allowing teachers and parents to more flexibly regulate the educational process. Unfortunately, quarantine due to the epidemic further exacerbated the problem by limiting traditional school education. But perhaps this aspect will become an additional incentive for even more rapid development of e-learning.
Today, the market is saturated with companies providing quality educational services for children. Of course, this segment has leaders. Today, list includes ABCmouse, Reading Eggs, Starfall, BrainPOP, FunBrain, Highlights Kids, Curious World, National Geographic Kids, Coolmath, PBS Kids. But the complete list is much wider. Of course, all of them can use traditional PCs, tablets or smartphones with a sufficiently large screen.
Curious World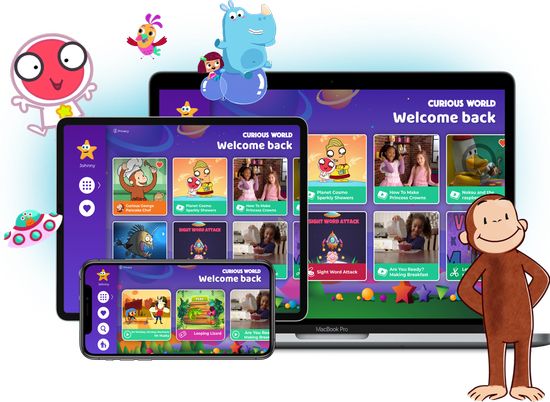 As known, Curious World was previously owned by textbooks publisher Houghton Mifflin Harcourt. Then, the British Kidsy company acquired Curious World to expand its Sandbox line of digital learning services. This service is designed for children aged 2 to 7 years and uses the app-based digital learning tools from the App Store for iPhones, iPads and Apple TV. The app creates an individual curriculum that includes eight key areas of study. Today the subscription cost is $ 7.99 per month or $ 64.99 per year.
A list of its awards includes the Learning Magazine's Teachers 'Choice Award for the Family, the National Parenting Product Award, and Kidscreen Award.
Pros
– the company widely attracts experts to develop early education programs;
– no ads and external links;
– a wonderful collection of illustrated digital versions of popular children's books;
– works with Apple-brand smartphones, tablets and televisions;
– content is divided between eight directions;
– part of the educational content is free. In addition, the company offers a free trial version;
– one subscription can include up to four profiles for children of different ages.
Cons
– some users rate some of the content as too simple or, on the contrary, too complex for the corresponding age group;
– the free trial duration is only 7 days;
– complaints of some users about failures in receiving an invoice for automatic renewal after the end of the trial period or the expiration of the annual subscription;
– no Android apps;
– Today Curious World is available to subscribers only in the United States.
Starfall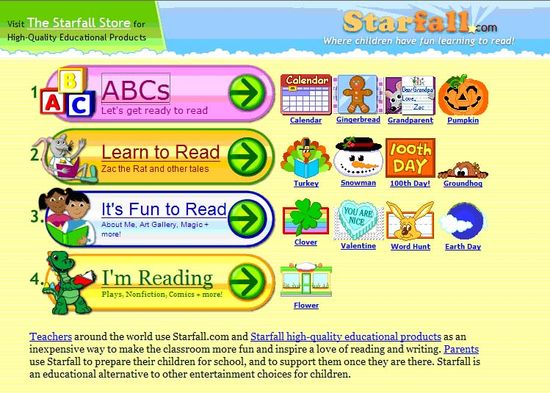 Starfall has been operating successfully since 2002. Its founder, theoretical physicist and illustrator, Dr. Stephen Schutz, originally planned to develop this service as a free public service based on advanced reading teaching technologies. Today, this service remains mostly free, but it essentially has expanded due to math and other directions.
Unfortunately, access to expanded content requires a subscription. But its cost is only $ 35/year and is tax-deductible, being one of the lowest in this segment. Almost all educational content uses multisensory games technology, which is most popular among children. Overall, the content is intended for preschool children and students grades 1-3.
Pros
– 17 years of successful work;
– the service is focused on the study of letters and phonetics and is ideal for children with dyslexia (selective impairment of the ability to master reading and writing skills while maintaining an overall learning ability);
– innovative multisensory teaching methods, including interactive games and talking library;
– basically, free content, or extended content only $ 35/year (tax-deductible) for all family;
– Starfall does not store credit card information, excluding problems with auto-renewing, etc;
– non-educational activities make up a very small part of the content, minimally distracting the child from actual learning.
Cons
– $ 35 / year for extended content vs free learning websites;
– the curriculum is mainly focused on letters, phonics and reading, losing to competitors in other directions, including interactive games;
– site requires more parental control and involvement vs other online learning resources.
Conclusions
Starfall is very effective for teaching children writing, phonics and reading. Today Starfall dominates this segment.
CuriousWorld provides wider and deeper educational content and is more suitable for middle and high school students. In addition, a wonderful collection of illustrated digital versions of popular children's books can stimulate the interest of many children in reading books. Unfortunately, the lack of an Android app limits its popularity.
This video offers "Five Little Bears" movie from Starfall.com.