Whirlpool and Frigidaire companies are recognized leaders among manufacturers of modern home appliances, including the dishwasher segment. In accordance with this status, the companies update their model lineups every year, offering a wide range of great budget and mid-range dishwashers. Of course, they also design and manufacture premium models. But the comparison in the upper price segment significantly expands the list of competitors due to more expensive Bosch, Miele, etc.
Probably, dishwashers can hardly be positioned as sophisticated household appliances. Their design and functionality is much simpler compared to, for example, smartphones, TVs, projectors, etc. However, the competitiveness of any modern device directly depends on its functionality, which, in turn, is often based on innovative solutions. The dishwashers are no exception. Despite the relatively simple functionality, they use a lot of technologies that directly affect their performance.
Unfortunately, innovations increase the price, moreover, not always adequately. For example, WiFi modules in coffee machines cause confusion among many consumers. Therefore, additional information can help to correctly assess the correspondence between performance gains and price increases.
The classification of model lineups will make comparison easier. Frigidaire offers three series including Frigidaire, Frigidaire Gallery, and Frigidaire Professional. But in fact, the third series includes only the flagship model. Whirlpool uses a functional classification without dividing models into series and categories. It's based only on the dishwasher functionality and and their component quality.
Of course, any correct comparison must be based on objective criteria. For dishwasher, this list includes noise, design, cleaning and drying performance, usability, cost, leak protection, and durability.
Noise level and design
Even in the 'Quick Wash' mode, the cycle lasts ~ 30 minutes. In 'Normal' mode, its duration increases to 2 hrs or more. Of course, this factor increases the importance of noise levels, especially for families with small children or people with sensitive hearing.
For modern models, noise during operation ~ 50 dB is considered normal. 'Quiet' dishwashers operate in the range from 44 to 48 dB. For comparison, 40 dB corresponds to a refrigerator or moderate rainfall, and 50 dB is a conversation volume.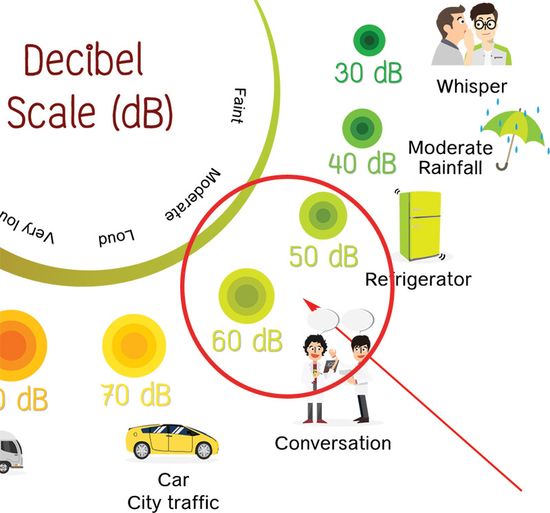 Whirlpool models are slightly quieter vs Frigidaire. For example, the noise of the $ 950 WDTA80SAKZ is only 41 dB. The WDT750SAKZ and WDTTA50SAKZ run at 47 dB, but they are cheaper by $ 100. In comparison, the noise of the quietest Frigidaire Professional FPID2498SF at almost $ 900 is 47 dB.
But for most models of both companies under $ 800, this spec exceeds 50 dB. For fans of 'ultra-quiet' home appliances, Bosch dishwashers are ideal, with noise levels ranging from 38 to 44 dB.
Design
Essentially, the built-in dishwasher design varies according to several criteria:
– door material;
– hidden or visible controls;
– handle design.
Inexpensive models of both brands usually have black, white or 'stainless steel' color with black accents. Whirlpool also uses the 'biscuit' color.
Unlike Whirlpool, Frigidaire prefers hidden controls, using them even on models under $ 500. The company also uses elegant "pocket" handles more often.
Of course, the design of more expensive models is more refined. Frigidaire uses fingerprint and smudge resistant stainless steel, black stainless, towel bar handle or designer handle in flagship.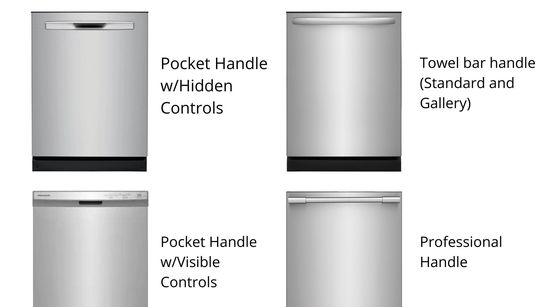 Whirlpool also uses fingerprint and smudge resistant finishes, black and sunset bronze, and towel bar handle.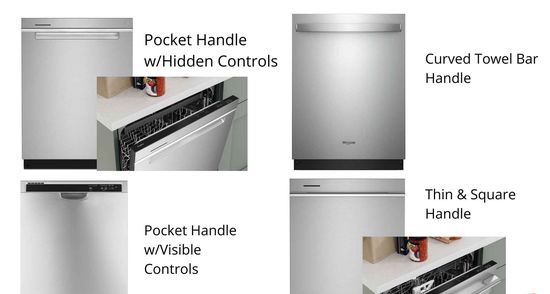 Cleaning and drying performance
Spray Arms
As known, wash performance is ensured by spraying jets of hot water under high pressure. Accordingly, the design of spray arms with nozzles directly affects the quality and duration of washing. Therefore, companies traditionally pay great attention to this component.
With the exception of budget models, Frigidaire uses the OrbitClean spray arm. The simpler BladeSpray is x-shaped arms with holes for water jets.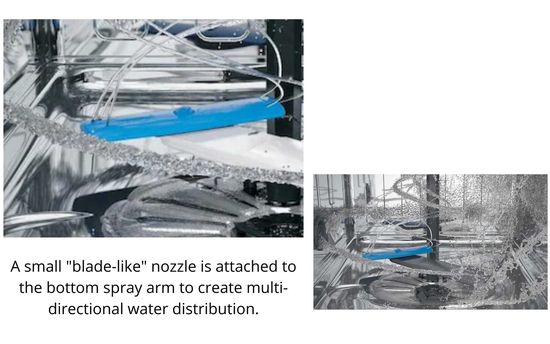 Models starting at $ 600 use the more efficient OrbitClean spray arm. It has a round disc with nozzles, which is attached to the end of spray arm. When rotating, the disc produces a spiral pattern of water jets, increasing the water volume and consequently the washing performance. What's more, the Dual OrbitClean version uses two disks that are placed in different areas of the working chamber, providing high performance throughout the internal volume.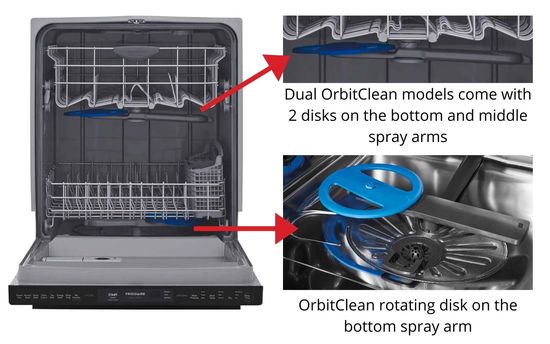 For a similar purpose, Whirlpool has developed and uses the Total Coverage Spray Arm. 21 nozzles create high-pressure jets that cover the entire interior tub.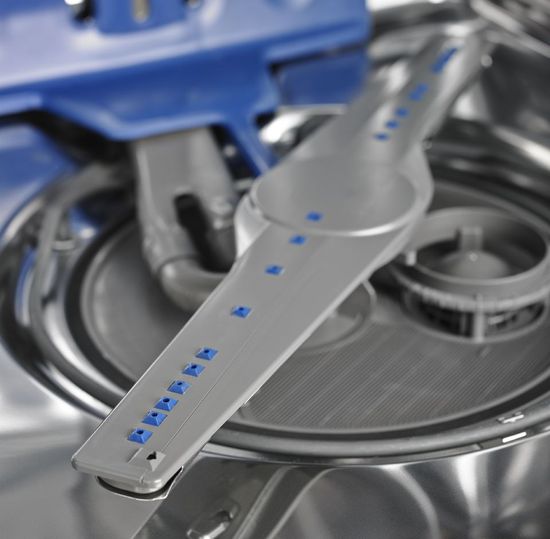 Drying
Frigidaire uses SaharaDry, MaxBoost Dry and EvenDry Fan systems. SaharaDry with heating element and fan is used in budget models with plastic tub. MaxBoost Dry is more efficient due to the optimized placement of the of components. In particular, the heating element is placed at the bottom and the fan at the top. With this system, the dishes will dry in ~20 minutes.
The models with stainless steel tub use condensation EvenDry Fan system without heating element. Its fan blows the remaining water from the dishes into the condensation chamber at the bottom.
Unfortunately, information about drying technology in Whirlpool dishwashers is very limited. But all models has heating element, and WDT730PAHZ has a fan dry mode.
Modes and options
Of course, the functionality directly depend on the model price, expanding as it increases.
Sensor wash
Sensor wash automatically adjusts the cycle duration depending on the cleanliness of dishes. For its control, the dishwasher uses a water transparency sensor. In fact, it provides high quality with minimal water consumption. Frigidaire calls it 'DishSense' or 'Soil Sensor', Whirlpool uses the 'Sensor Cycle' name.
Quick Wash
This mode is the most popular among many users. In most cases, it provides high quality, reducing water consumption and washing time. Unfortunately, it's quite rare in budget models. The quick wash cycle in Frigidaire dishwashers lasts ~ 30 minutes, while Whirlpool models last up to one hour.
WiFi Connectivity
Unlike the Frigidaire without Wi-Fi connectivity support, one Whirlpool model already has a built-in WiFi module to connect to the Whirlpool mobile app.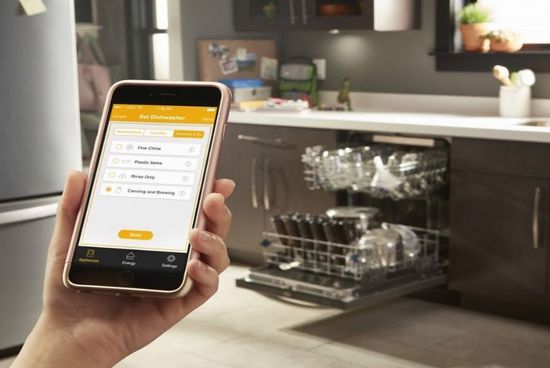 Functions:
– Control Lock Mode;
– Downloadable Specialty Cycles (custom settings);
– Auto Maintenance (maintenance message and service database);
– Amazon Replenishment (automatically order detergent).
Perhaps the progressist will appreciate this option, but many are skeptical about coffee machines, electric stoves, microwaves, etc with WiFi connection, considering it a fashionable excess.
Components
Rack Configuration
A third rack at the top for measuring cups, spoons, forks, ramekins, etc has long been popular among users. Frigidaire offer this option in models starting at $ 800, while the cheapest Whirlpool with 3rd rack costs $ 850.
In addition, Frigidaire models without a 3rd rack often have a height-adjustable top rack to ensure optimal use of the work space. The company calls this option SpaceWise.
Also the company uses PrecisionPro Wash Zones in the Frigidaire Professional series. This system directs soapy water directly into wine glasses, cups, mugs, and bottles, which are mounted with clips to the sprayers on top rack.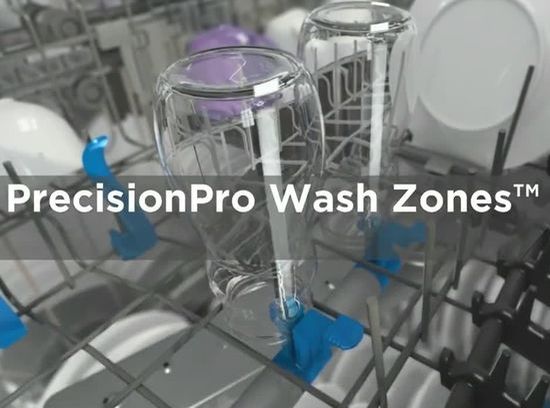 Whirlpool has developed a unique AnyWare basket that can be placed in several places inside the Whirlpool dishwasher.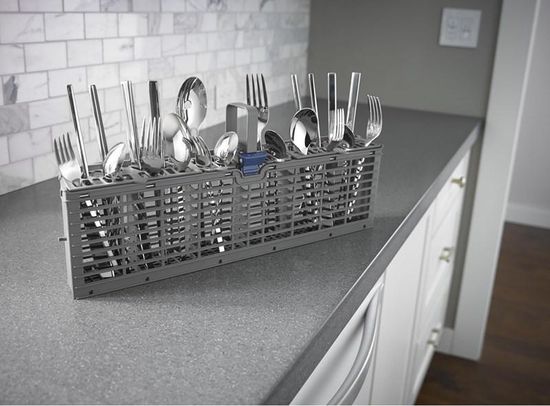 Tube
Of course, stainless steel tub lasts longer vs plastic. In addition, it speeds up drying, which is especially true in models without a heating element. But plastic tubs are significantly cheaper. As a rule, Frigidiare uses plastic tubs in models costing up to $ 800. In Whirlpool dishwashers, this border lies lower. The company often uses stainless steel tubs even on models that cost around $ 500. But all Whirlpool dishwashers have a heating element, which reduces the extra drying speed bonus.
Leak Protection
The newest Whirlpool dishwashers, for example, the WDTA50SAK and 80SAK, have a built-in Leak Detection sensor that drains the tub and activates the indication in the event of an accident.
On average, the service life of dishwashers of both brands varies from 5 to 7 years, depending on the intensity of use. In comparison, Miele models can last up to 20 years, but they are about twice as expensive. In addition, the appearance of plastic tubs begins to deteriorate after a few years.
Conclusion
As, know, Whirlpool also owns the KitchenAid brand, but KitchenAid dishwashers are in the more expensive price segment. Affordable prices, a wide range, high wash performance, good functionality with additional options and an impeccable reputation provide dominance for both companies in the budget and, in part, mid-budget segments. But comparison of their models does not show someone's superiority. Of course, Bosch dishwashers, Beko dishwashers and LG models are also present in the budget segment, but they are more focused on the mid-budget segment from $ 1,000 and up. Miele dishwashers belong to the premium segment.
– slightly cheaper;
– 'Quick Wash' ~ 30 minutes vs 1 hrs;
– slightly higher cleaning and drying performance with OrbitClean spray arm and condensation EvenDry Fan;
– PrecisionPro Wash Zones for glasses, cups, mugs, and bottles;
– SpaceWise (height-adjustable top rack).
Whirlpool:
– a bit quieter;
– stainless steel tub in models from $ 500;
– AnyWare basket;
– WiFi connectivity (only in one model);
– leak protection.
Whirlpool and Frigidaire dishwashers have all wash modes, including 'light', 'normal' and 'heavy'. Unfortunately, they do not have a self-cleaning cycle.
In terms of value for money, Frigidaire Gallery FGIP2468UF and Whirlpool WDT710PAHZ are the most interesting.
At $ 600, the Frigidaire dishwasher offers:
– only 49 dB noise level;
– high wash performance with dual OrbitClean spray arms;
– efficient MaxBoost drying;
– 34-minute Quick Wash cycle;
– black or silver smudge resistant door.
In fact, only the plastic tub doesn't quite match up to the top level.
Whirlpool costs just under $ 650 and offers:
– almost all Whirlpool's features;
– one-hour quick wash cycle;
– Soil Sensors;
– AnyWare utensil basket;
– fingerprint resistant stainless steel door.
Like FGIP2468UF, it uses a plastic tub.
This video shows the use of Anywhere Silverware Basket in Whirlpool dishwasher.