Of course, the South Korean giant needs no introduction. But unlike LG TVs, refrigerators, washers, etc, them dishwashers are not among the segment leaders. However, good performance, excellent service and high level of innovation allow them to compete successfully in the segment from $ 700 to $ 1,000.
The company uses three of the most popular styles in the design of its models, including:
– pocket handle with hidden top controls;
– towel bar handle with hidden controls;
– pocket handle with visible controls.
As known, the black stainless steel and fingerprint proof stainless steel colors dominate LG's home appliances, and dishwashers are no exception.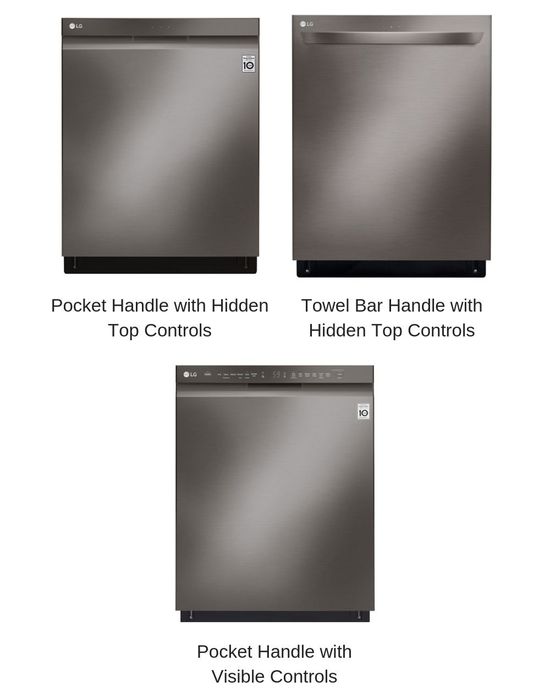 The list of the most popular models includes:
– budget entry level – LDFN3432T – $ 650 (company website).
Their noise level reaches 48-50 dB, they come w/o 3rd rack and do not support WiFi connection;
– mid-level – LDP6810SS ($ 900) and LDT7808SS ($ 1,000) have TrueSteam and QuadWash, Hybrid Condensing Drying System, PrintProof finish, 15 Place Settings, 3rd Rack, WiFi and Fully Integrated Control Panel.
A short list of differences includes (6810 vs 7808):
– Pocket handle vs Towel bar;
– 44 dB / 42 dB;
– Tub Light – no / yes.
The company also offers the Signature and Studio premium series.
LG's technologies
– LG TrueSteam uses the steam to dish cleaning.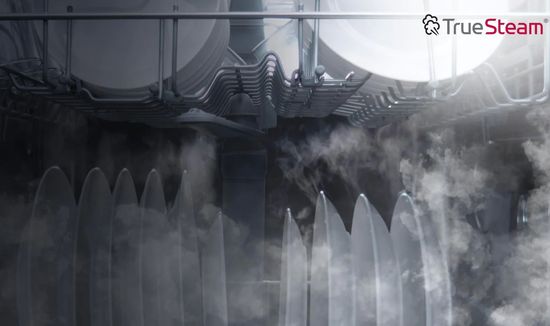 Of course, 212°F (100°C) provides better performance than hot water around 158°F (70°C). In addition, this technology supports Dynamic Dry mode;
– QuadWash technology uses a Multi-Motion system with four spray arms instead of the traditional two. The spray arms rotation in different directions dynamically changes the direction of the water jets.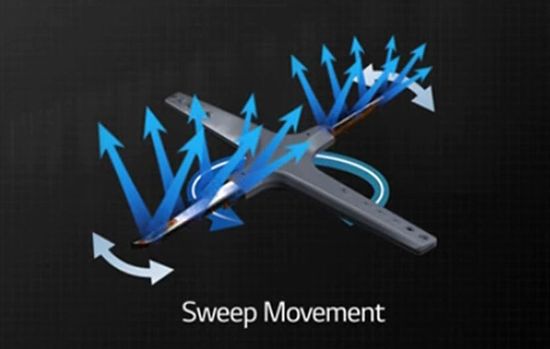 As a result, they are evenly distributed throughout the entire dishes.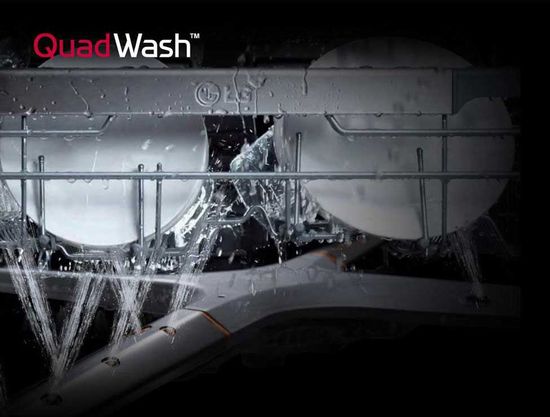 Today it's one of the most effective in the industry and quite successfully competes with the dual Orbit Clean spray arm in Frigidaire dishwashers. As known, this technology uses additional discs with injectors, the rotation of which creates a water suspension in the tub providing an almost perfectly uniform distribution of water.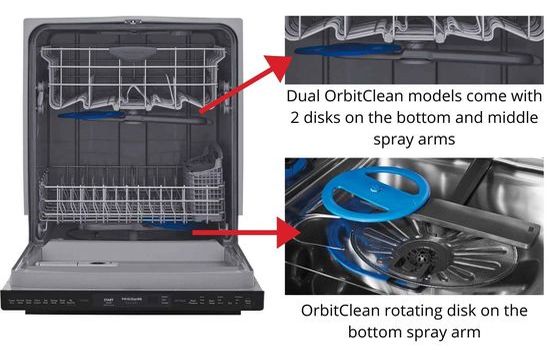 With no belts and fewer moving parts, the inverter DirectDrive motor delivers improved reliability, noise reduction and energy savings.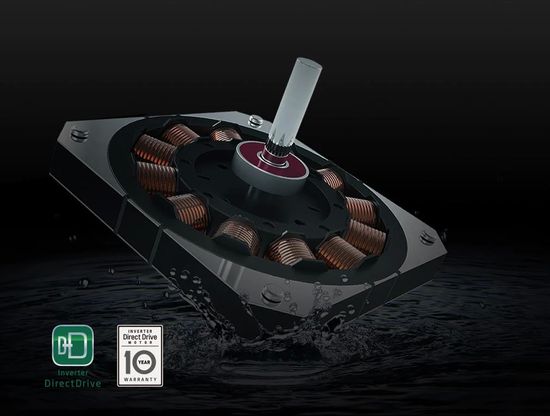 Combined with a self-cleaning filtration system, it reduces the noise level by up to 40 dB, which corresponds, for example, to the noise in a library. Moreover, confidence in its reliability allows the company to give a 10-year warranty on the motor.
Key features
Of course, rack design and baskets directly affect the capacity, and all companies have their own designs. This list includes:
– Miele – 3D Multiflex tray 3rd rack (adjustable left and right basket parts), ExtraComfort and MultiComfort baskets;
– Frigidaire – SpaceWise and Precision Pro Wash Zones for wine glasses, cups, mugs, and bottles;
– Whirlpool – AnyWare basket (various accommodation options);
– Bosch – RackMatic and MyWay.
Of course, LG is not behind the competition. Company has developed the EasyRack Plus, which easily adapts to the size and shape of any cookware. It has three height settings and customizable tines, providing quick and easy working space optimization inside the tub.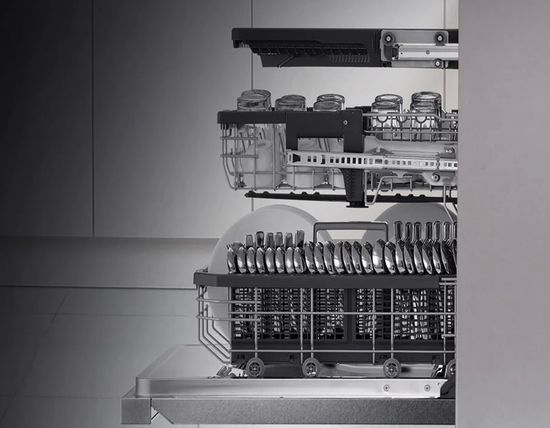 It includes:
– lower rack with foldable tines;
– upper and 3rd racks with one-touch adjustable height.
Dual Zone Wash sprays water with two different intensities at the same time. This is very convenient, for example, for washing delicate dishes on the upper rack while simultaneously washing heavy-duty pots and pans on the lower rack.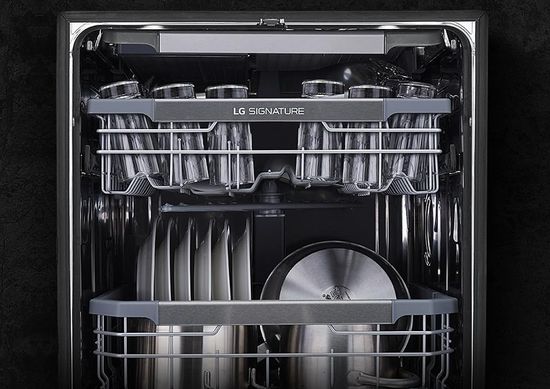 SenseClean Wash System recognizes the soil amount and adjusts the cleaning intensity, saving water and energy.
Hybrid Condensing Drying System can use a heating element or fan.
Safety Float Switch stops the machine to prevent flooding in case of leakade.
Functionality & Smart Options
The variety of wash cycles and additional modes is pleasantly amazing. Their total number reaches almost two dozen even in mid-budget models.
Main Options
– Dual Zone;
– Half Load;
– Energy Saver;
– Steam;
– High Temp;
– Extra Dry;
– Delay Start;
– Control Lock;
– Night Dry.
Wash Cycles
– Auto;
– Heavy;
– Delicate;
– Refresh;
– Normal;
– Turbo;
– Download Cycle;
– Machine Clean;
– Rinse;
– Express.
Some WiFi-compatible devices sometimes cause a smile. For example, some company offers an electric screw gun with WiFi-modul that sends notifications to the owner about the battery level using the app. But 'intelligence' level of LG dishwashers will really appeal to progressives.
Indeed, the smart-functionality of LG dishwashers significantly outperforms its competitors. For example, the smart options of WiFi-enabled Miele models are actually limited to wash scheduling with AutoStart feature via Miele@connect app and service notifications. Home Connect app in Bosch dishwashers provides remote start and check cycle status. Other companies have also not yet 'invented' popular smart options for these devices.
Having vast experience in developing TVs, smartphones, projectors, etc with wide smart-functionality, the South Korean giant is much more efficient in using digital technologies. For example, its NFC-based (NFC – Near Field Communication) LG Tag On program allows the user to customize cleaning programs and manage via app on smartphone.
Collectively, Google Assistant and Amazon Alexa support, SmartThinQ and NFC-Tag raise the customization level of dishwashers, enabling voice control, smart home integration and user-friendly washer/drying programs.
ThinQ Care of the ThinQ app notifies about status and maintenance and supports SmartDiagnosis.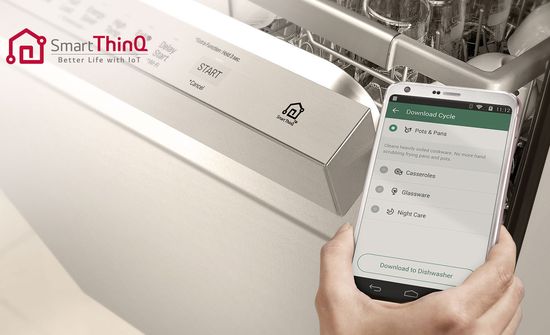 This option provides self-diagnosis and automatic connection to LG's customer service team at any time of day. It can provide invaluable savings you time and hassle.
Conclusion
Traditionally for the home appliance market, dishwashers are conventionally divided into budget, mid-budget and premium models. Of course, the main market players produce models in all price ranges. But as a rule, companies are particularly successful in one of the segments. This simplified list includes:
– Frigidaire dishwashers and Whirlpool models dominate the budget segment, offering great models without much innovation starting at $ 450;
– LG, KitchenAid dishwashers, GE, Beko and Maytag compete quite hard in the mid-segment from $ 800 to $ 1,000;
– Bosch dishwashers slightly more expensive, but quieter and more reliable;
– Miele models significantly more expensive. But excellent value for money due to the phenomenal reliability, stylish design, quiet operation and great performance compensate for this factor.
LG successfully competes with eminent rivals due to:
– smart options, including SmartDiagnosis and cycle settings with NFC-based LG Tag On program;
– 10-year warranty on the ultra-reliable and virtually silent inverter DirectDrive motor;
– workspace optimization with high-performance adjustable EasyRack Plus system;
– unique TrueSteam technology effectively and quickly cleans even dried food leftovers with steam;
– QuadWash performance is quite commensurate with great Orbit Clean spray arms in Frigidaire dishwashers;
– very wide functionality with almost twenty cycles and additional modes.
Given the company's commitment to innovation, LG models have excellent marketing prospects, including through the further development of smart-option dishwashers.
This video showcases some innovations in LG dishwashers.