Of course, Miele dishwashers are very expensive. But, in fairness, they are really ultra quiet and unparalleled reliable, have a stylish elegant design and great performance, use many innovations, etc. Therefore, the assessment of price adequacy requires an analysis of their main specs.
Noise level and wash performance
The duration of even the "Quick Wash" varies from 30 minutes to 1 hour for different brands. "Normal" mode lasts more than 2 hours. But prolonged noise can be uncomfortable, especially for people with sensitive hearing or families with small children. Therefore, almost all companies pay great attention to this aspect.
For many years, German Bosch and Miele dishwashers have rightfully been positioned as the quietest. The noise level of their premium models range from 38 to 42 dB, which is similar to, for example, a library. The range from 44 to 48 dB corresponds to 'quiet' mid-budget dishwashers and is commensurate with the volume of a normal conversation. Budget models costing around $ 500 create noise of 50 dB or more.
But honestly, dishwashers are clearly not the noisiest household appliances.
Of course, wash performance is one of the main criteria for a dishwasher. It depends on the temperature and pressure of the water, its filtration (the circulation of dirty water is unlikely to wash the dishes), the number of wash arms and their design, which affects the water distribution and the pressure of its jets. In turn, they depend on the technologies used. For example, Frigidaire uses an OrbitClean (or dual OrbitClean) spray arm with additional discs that create a cloud of water suspension, ensuring an even distribution of water in the tub.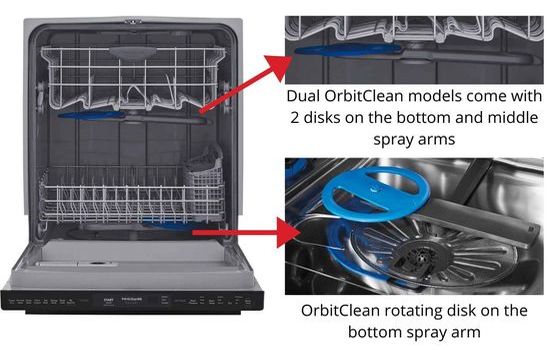 Of course, Miele is not behind the competition. Its wash system uses very efficient rotation control of spray arms.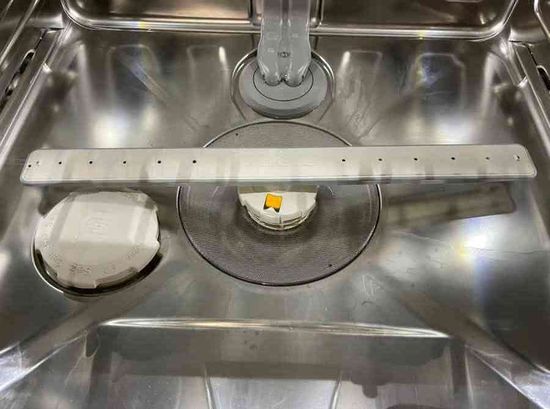 Depending on the program, they optimize the pressure of the water jets, providing high quality with minimal water consumption.
Additionally, Miele offers a sanitize cycle at 167ºF (75°C) that is sufficient even for sterilizing baby bottles.
Drying performance
Drying performance also depends on the technology. Modern models use hot air circulation with heating element and fan, or more modern condensation drying. After hot drying, the dishwasher releases steam through the exhaust vents.
Condensation drying without heating element is much more energy efficient. When the wash ends, drying system sprays hot water on dishes. Then the condensate formed on its surface flows into the drain. But this technology is only available for models with stainless steel tub, which effectively retains heat.
Since all Miele dishwashers have special stainless steel tanks, they use an energy-saving condenser dryer.
Of course, other companies are also improving these technologies. For example, in the 800 series Bosch offers the innovative CrystalDry drying. In fact, this technology increases temperature up to 176°F or 80°C. It uses zeolite, which absorbs moisture, converting it into a warm air stream. When in contact with water, the zeolite heats up, producing enough heat to dry even plastic dishes. Zeolite granules are placed in the cavity of the dishwasher interior (red compartment on the photo).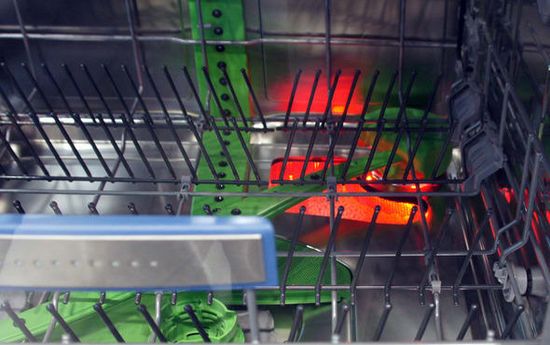 The G 7000 series has the very convenient and popular AutoOpen drying feature for auto ventilation. Like AutoAir dry in Bosch models, it automatically opens the door after cycle completion to evaporate moisture and prevent musty odors.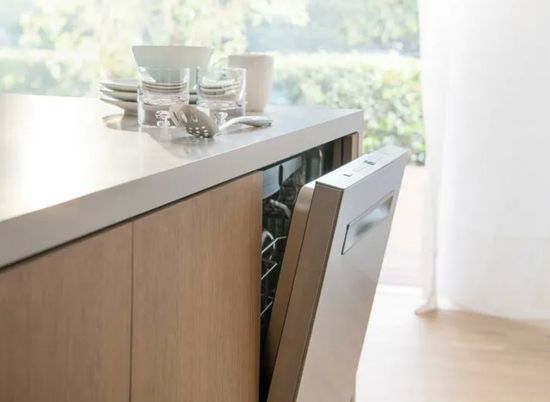 Wash cycles
Of course, the functionality directly depends on the available dishwasher programs. Miele models have some cycle settings:
– Short – for express wash;
– Pots and Pans – for extra dirty dishes;
– Normal;
– SaniWash;
– Rinse / Hold;
– Economy.
The list of cycles includes:
– Fast and Express cycles up to 1 hour for normal / heavily soiled dishes.
Other companies only offer this popular setting for lightly soiled dishes;
– 'China and Crystal' program uses a less hot water, protecting glassware, porcelain, crystal and other delicate dishes against etching and discoloration;
– QuickIntenseWash Cycle up to an hour long is ideal for very dirty dishes when time is limited. It's available in the Miele G 7000 series. The company recommends using it with 'All in 1 UltraTabs', which costs just over $ 30 per pack of 60 tablets.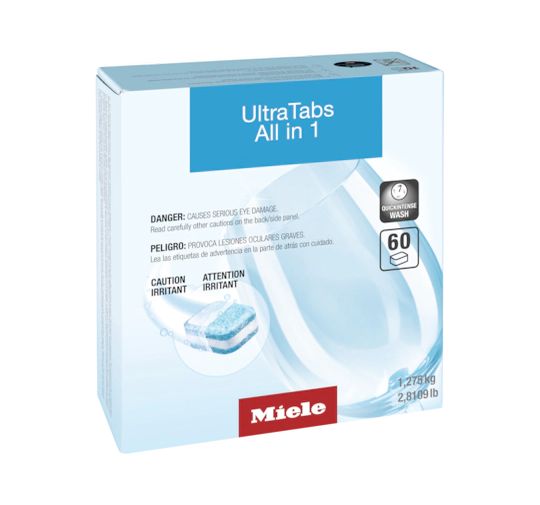 Functionality of model lines:
– complete list – Normal / Economy / Pots & Pans / SaniWash / Rinse & Hold / China & Crystal / QuickIntense 58 min / Extra Quiet / Filters / Self Clean / Energy Saver / Sensor Wash / Short or Express / Intense Zone;
– 'Budget' segment (Classic G 50xx) – no China & Crystal, QuickIntense (58 min), Extra Quiet, Filters, Self Clean, Energy Saver, Sensor Wash and Intense Zone;
– G71xx – no Economy, Extra Quiet, Filters, Self Clean, Energy Saver and Sensor Wash;
– G73xx – no Economy, Energy Saver and Sensor Wash;
– G75/G79 – complete list.
The AutoDos detergent dosing system automatically adds detergent from unique Miele PowerDisk (up to $ 15), which lasts for around 20 cycles.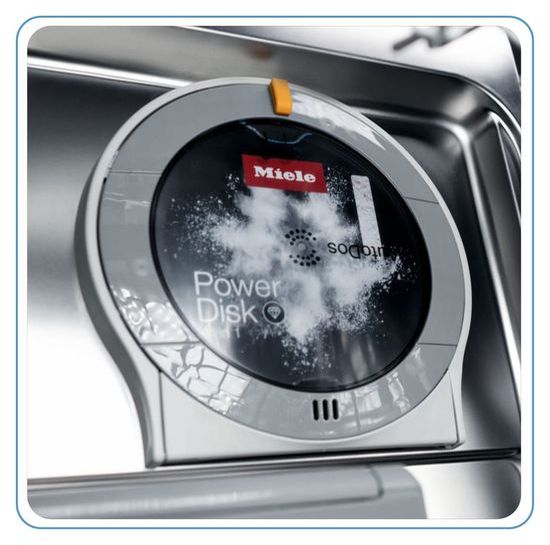 Interior and door design
Size:
– slim 18-inch design;
– standard 24-inch models;
– ADA compliant dishwashers (height is 32 inches вместо standard 33 or 34 inches).
Today companies offer models with stainless steel, plastic or hybrid (stainless steel + plastic) tubs. Of course, stainless steel is more expensive. But it's more durable and, most importantly, suitable for more modern energy-saving condensation drying. Miele only uses stainless steel tubs.
Rack design and baskets directly affect the capacity and ease of loading. Almost all industry leaders have their own designs, constantly improving them. This list includes:
– Frigidaire – SpaceWise and Precision Pro Wash Zones for wine glasses, cups, mugs, and bottles;
– Whirlpool – AnyWare basket (various accommodation options);
– Bosch – RackMatic and MyWay.
Of course, Miele is not behind the competition. The company offers (in G 7000 series):
– 3D Multiflex tray 3rd rack (adjustable left and right parts of the basket);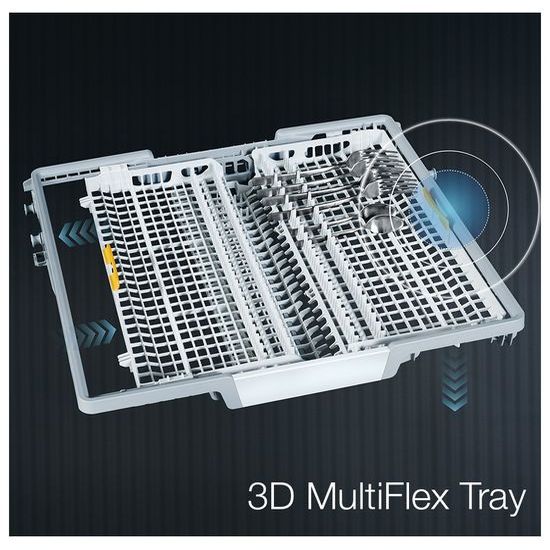 – customizable upper and lower ExtraComfort baskets in G71 and G73 models (hinged and fixed spikes plus silicone elements to prevent slipping the wine glasses);
– upgraded MultiComfort basket in G75 and G79.
However, sellers often call them the FlexLine basket.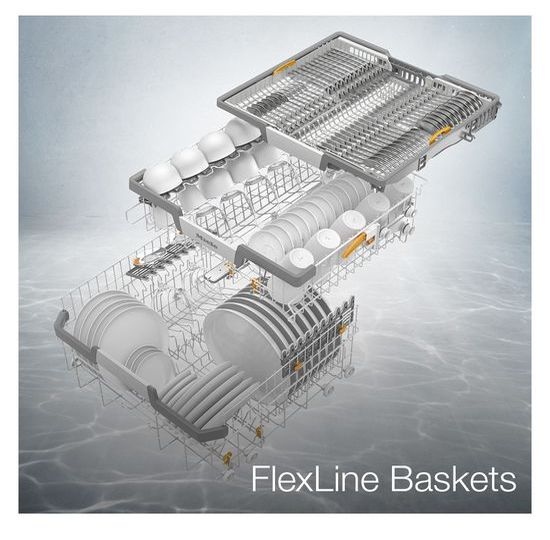 Door design:
– handle style – recessed, scroop, towel bar, etc;
– controls – hidden on the top edge or fully visible.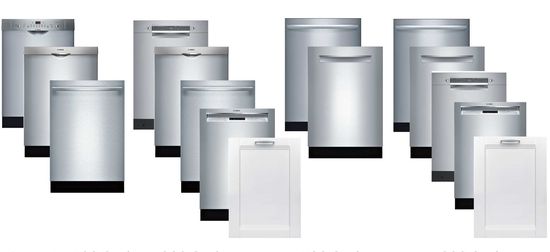 The design which is in perfect harmony with the interior of any kitchen furniture is achieved in models with panel-ready door.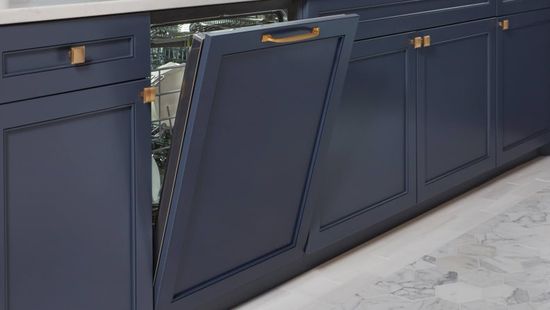 Stainless steel doors in more expensive models often have a fingerprint-/smudge-resistant finish. But Miele leads the way even in this aspect with its smudgeproof CleanTouch Steel.
Key features
The company also offers several versions of controls, including stylish glass DirectSelect controls (Miele G71), DirectSensor controls (sensor controls + clear text display in G73 and G75) and innovative M Touch (flipping and scrolling menu pages in G 7966).
For progressives and minimalists, the premium Miele G 7966 SCVi offers a 'knock-to-open' door handless design.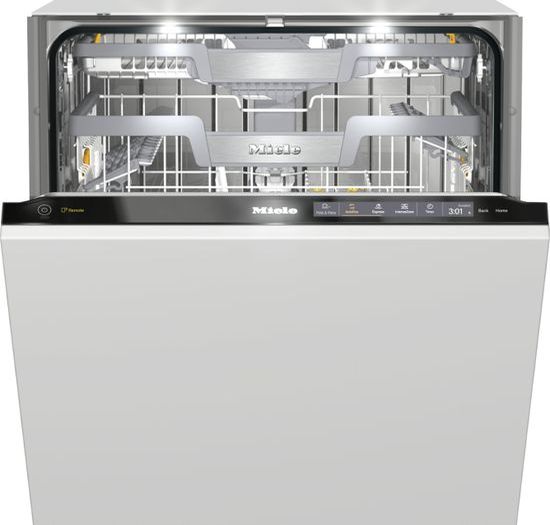 In some G 7000 models the built-in water softener protects dishes from water spots, and internal pipework from limescale, prolonging their service life. Of course, this feature requires the periodic purchase of dishwasher salt.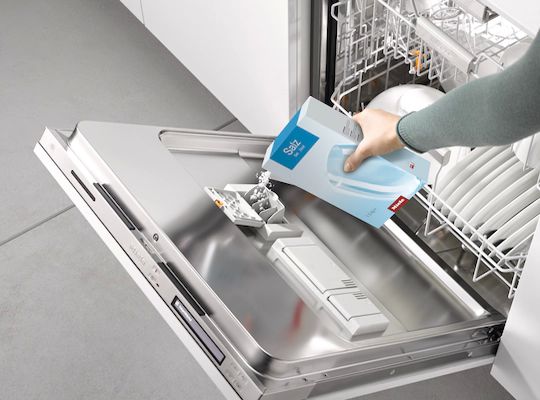 Today, a 3.3 lb (1.5 kg) pack costs about $ 13. But in the UK it only costs £ 3.50 ($ 4.3). However, that doesn't matter, because the Miele salt package lasts around six to nine months under normal use.
Of course, this function is redundant with normal water hardness. In this case, choosing a cheaper model makes more sense. For example, the G 5000 is shipped without this accessory.
In modern models, companies increase usability by interior lighting, LED indicators (for example, InfoLight & TimeLight in Bosch dishwashers) and built-in WiFi module (for example, wash scheduling with AutoStart feature via Miele@connect app).
Dishwasher reliability mainly depends on the pump reliability and the efficiency of the draining system. According to many experts, Miele models use the best pumps and drainage system, and practice confirms their opinion. According to many users, some Miele dishwashers work flawlessly for 20 years! For comparison, the service life of models from other brands varies from 5 to 7 years, and Bosch dishwashers demonstrate up to 10 years of flawless operation.
Conclusion
Of course, the Miele G 7000 series is significantly more expensive than its competitors. For example, the price of the premium G 7966 SCVi reaches $ 3,500. But the analysis of the main criteria demonstrates its adequacy.
Pros:
– unprecedented reliability (service life of many models up to 20 years);
– very low noise level from 38 dB;
– wide functionality (several dozens of modes, settings, etc);
– many innovative technologies including WiFi compatibility, QuickIntenseWash, condensation drying, AutoOpen door feature, 'knock-to-open' door handless design, built-in water softener, M Touch panel, SaniWash at 167ºF (75°C), AutoDos with Miele's PowerDisk, etc;
– high quality components, including pump, draining system, smudgeproof CleanTouch Steel for doors, etc;
– one of the most efficient workspace organization in the industry with FlexLine basket, 3D Multiflex tray 3rd rack, ExtraComfort and MultiComfort baskets.
This list is probably incomplete, but it's quite convincing to justify a fairly high price.
Moreover, the company offers a 'budget' Classic G 5000 series with reduced functionality, but with all the main brand's pros. For example, the price of the G5056SCVi is 'only' $ 1,300. Of course, it exceeds the prices of Bosch dishwashers, KitchenAid models or LG models, but the flagship Bosch SHXM78Z55N also costs $ 1,300.
Of course, Whirlpool dishwashers and Frigidaire models are substantially cheaper, but their flagships also cost around $ 1,000.
In general, the choice traditionally depends on the budget and attitude towards brands, but the value for money Miele dishwashers is great and absolutely competitive compared to other brands.
This video offers some helpful tips for using Miele dishwashers.