In the early 80s of the last century, Deng Xiaoping set up the famous "One country, two systems" principle, which provided an effective solution to the political problems of that period. Today, Chinese companies are successfully using this principle in the economy, creating highly efficient associations of independent companies as part of a more powerful business structure. At the same time, many sub-brands operate in the same segment, often competing with each other. For example, Xiaomi Roidmi and Xiaomi Jimmy produce cordless vacuums. The flexibility of this system ensures the optimal balance between the resources of a powerful parent company, including its reputation and technologies, and the efficiency of smaller sub-brands, including their initiative and variability.
Among modern Chinese giants, ZTE became the founder of this trend, creating in 2012 Nubia Technology as a subsidiary. In 2013, Huawei created Honor. In the future, Zuk, Motorola and Medion became subsidiaries of Lenovo. Vivo, Oppo and OnePlus were created by BBK Electronics. In the past few years, smartphones under these brands have been successfully competing in almost all world markets.
Xiaomi, the Chinese giant, is one of the leaders in this business technology. Xiaomi Ecosystem effectively uses crowdfunding (crowd + funding) platforms for the development of startups since 2010. Today, it unites more than 200 successful independent companies in almost all segments of consumer electronics, and its logo with a funny hare is known on all continents.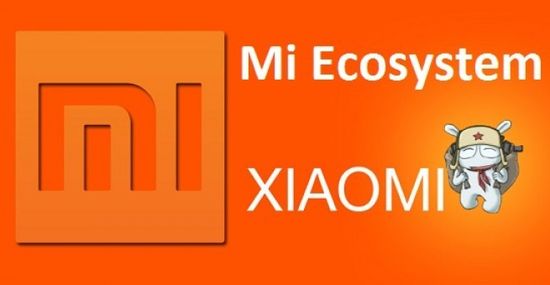 Xiaomi Roidmi was created in 2015 to develop and manufacture smart devices for cars.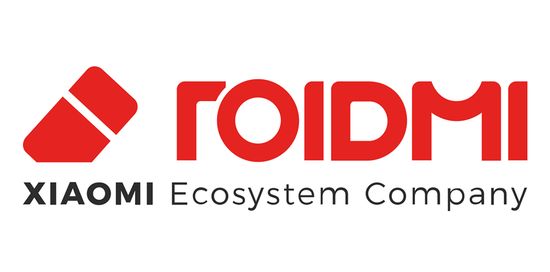 According to many experts, today Roidmi, along with MiJia (robotic vacuums), AirOP (air purification), VioMi (water purification), XiaoYi (cameras), etc is among the most successful sub-brands of Xiaomi Ecosystem.
Xiaomi Roidmi
As known, this company developed popular Xiaomi Roidmi 3S Bluetooth Car Charger (smart adapter for car radio) and Xiaomi Roidmi Anti-BluRay Glasses B1 (protection against blue light).
In addition, Roidmi has developed several excellent cordless vacuums, including mattress M8, nano, Z1 sterilizing, P1 handheld, S1, S1 Special, S1E, S2, etc. The table illustrates their evolution.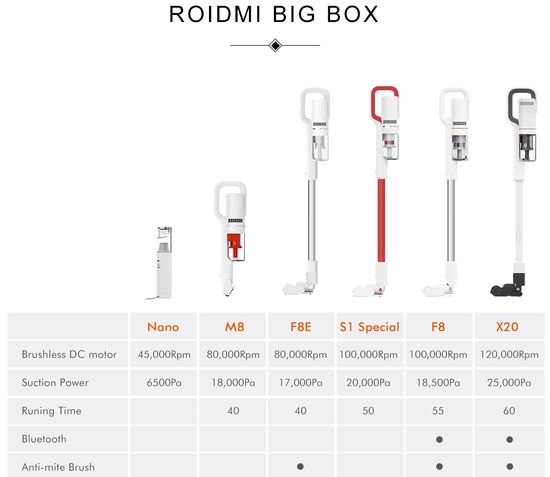 The 2018 series, including the F8 (S1), F8S GL and F8E, was the most successful. This vacuum received several prestigious awards, including the iF Design Award and Red Dot Award 2018. Moreover, according to many experts, it has surpassed even the Dyson V8 Absolute. In particular, having practically identical specs, the F8 is significantly cheaper, has more attachments and, accordingly, provides wider functionality. Moreover, Roidmi F8 is designed for Xiaomi's "smart home" and supports the MiHome app. Budget F8E version with an unprecedented price of about $ 130 uses a less powerful electric motor. Other differences are insignificant. The intermediate F8 S GL uses a less capacious battery.
Following CE approval, S1 and X20 vacuums (previously the Roidmi F8 and Nex Storm) are now sold in Europe from high-street retailers.
Despite the apparent success of the F8, the company did not stop there, offering in 2019 the Roidmi X20 with improved specs and enhanced functionality.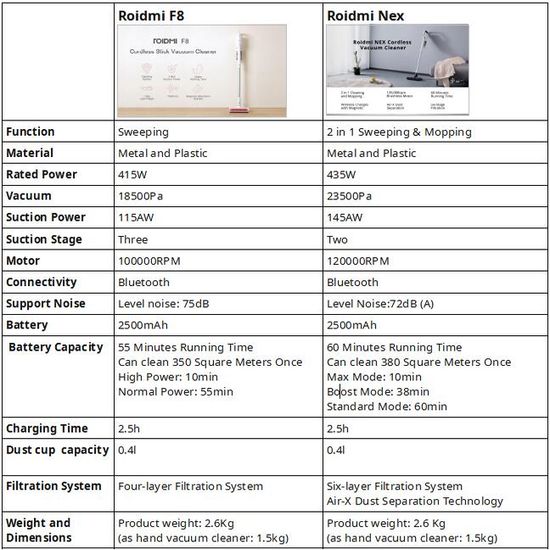 According to many experts, the novelty repeated the success of the previous model, becoming one of the best cordless vacuums of 2019. At a significantly lower price, its specs are not inferior to the famous Dyson V10 and V11.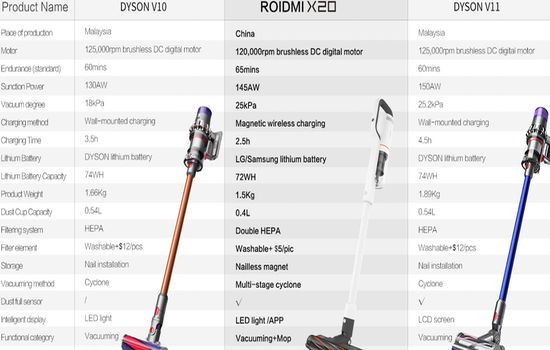 Today, Roidmi X20 claims to be the leader among cordless vacuums in the middle price segment.
Modern cordless vacuums
Traditional dust bag vacuum cleaners are reliable and productive. Unfortunately, they are rather cumbersome, not very convenient for cleaning hard-to-reach places, and their work is accompanied by a fairly high noise level.
Trying to get rid their models of these cons, at the beginning of the 21st century, companies actively began to develop the direction of robot vacuums. Their efforts were successful and modern robots are drastically different from the first models. iRobot Roomba i7+ with automatic emptying function, models with wet wiping, highly effective 3D navigation, cleaning schedule and other smart functions perfectly illustrate the successes of developers.
Unfortunately, robots have a significant drawback. As a rule, the suction power of most modern robotic vacuum cleaners varies around 50W. The most powerful LG CordZero A9 provides only 120AW in turbo mode. But its height of 5.63 inches (14.3 cm) excludes cleaning under low-profile furniture.
Unfortunately, the low suction power of the robotic vacuums is due to an objective reason. Automatic cleaning requires the robot to effectively overcome obstacles, the ability to maneuver between furniture legs, not to get tangled in wires on the floor, etc. In turn, good maneuverability is achievable only for fairly compact models. But compactness radically limits developers when choosing a motor. As a result, modern robotic vacuums do a good job cleaning hard floors, but are not very effective at cleaning carpets even with a low pile. In addition, they are absolutely useless in terms of, for example, cleaning furniture, curtains on windows, etc.
Cordless stick vacuums are a great compromise. Unlike robots, they provide higher suction power. Of course, they are significantly inferior to corded models, the best models of which provide up to 300 Air Watts (AW). But price, compactness and versatility provide them with significant pros.
The Roidmi X20 cordless vacuum cleaner
Its design conforms to the traditional minimalist style without protruding parts and controls. In fact, the model is a handle with an ergonomic bend, button start and power control, an air filter, and one of the nozzles.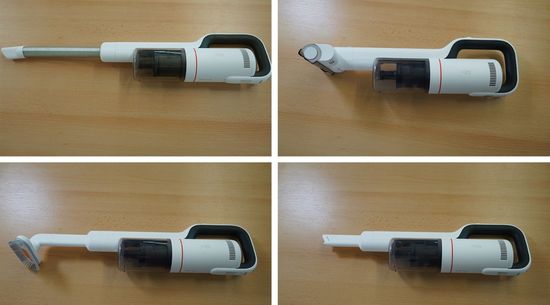 White and black colors with orange accents perfectly harmonize with any interior. The model is perfect for cleaning low-pile carpets, any hard floor, upholstery, PC keyboard, car interior, etc.
Roidmi X20 can be positioned as the first smart cordless vacuum with a mop. It uses cyclone filtering and a brushless Engine-X motor with three power modes. The unique suction blades create 25 kPa of vacuum pressure, providing 145 AW maximum suction.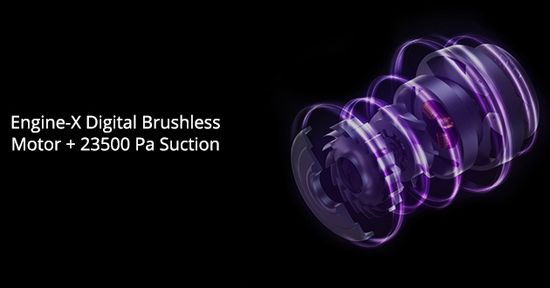 The rotational speed of the motor reaches 120,000 rpm, which is commensurate with the rotation speed of the jet turbine.
In addition, innovative Air-x dust separation technology with a more simple structure of direct multi-stage suction significantly reduces the loss of suction power.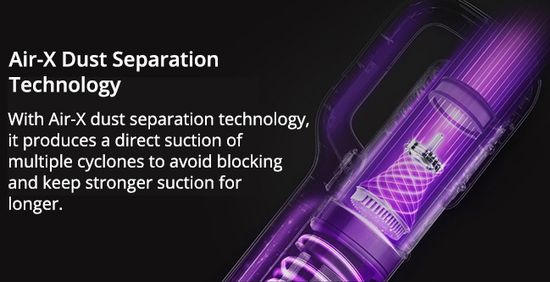 In particular, it prevents the accumulation of dust in the duct.
The cyclone filter has six levels of purification and a two-stage filtration, providing almost perfect air purification. It includes the metal mesh for filtering large debris, dust separator, replaceable HEPA, sponge, dust filter and rear filter.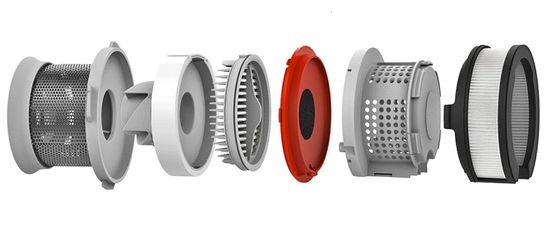 According to the company, the filtration system effectively cleans the air of particles about 0.3 microns in size, removing up to 99.9% of allergens.
The dustbin holds 13.5 oz or 0.4 liters, which is enough to clean three medium-sized rooms. Unfortunately, it requires manual emptying.
Attachments
Roidmi X20 has a gorgeous package.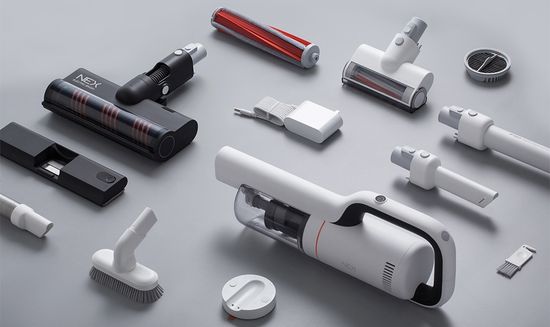 The main brush has a microfiber coating and LEDs. Light sensor automatically turns on the LED light, for example, under furniture.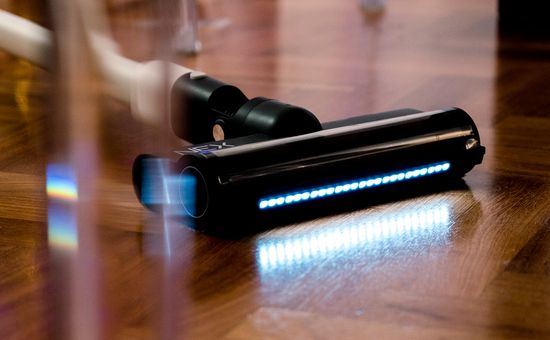 The main brush uses one of the two brush rollers.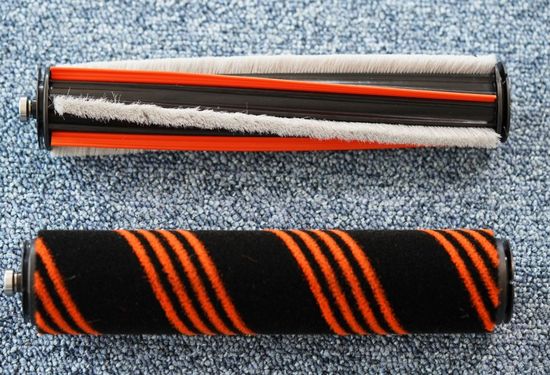 Universal brush with flexible nylon bristles combined with a rubber strip and a propeller design easily removes hairs of animals and hair without these being coiled around the brush. The second soft roller brush from nylon velvet is ideal for cleaning any hard surface. A button on the side of the nozzle provides a very simple replacement.
The company calls it the new generation of water resistant soft rolling brush.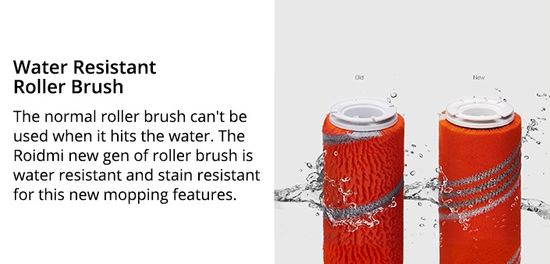 Considering the mop mode, this innovation is especially important, since a usual soft roller will quickly collapse from constant moisture.
Mattress brush very effectively removes dust mites from furniture and pillows.
The nozzle with flexible hose is designed to clean hard-to-reach areas, including corners, crevices, furniture folds, etc.
The mini brush can be manually rotated 360 °.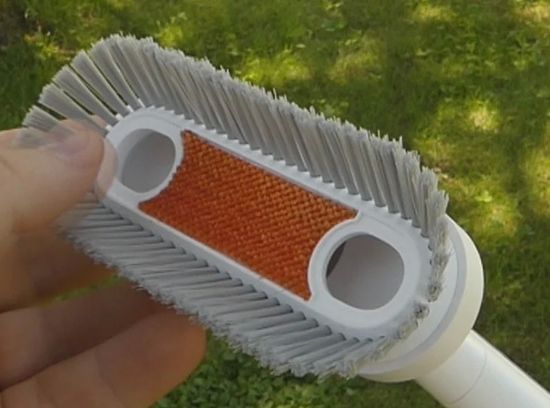 It's ideal for cleaning the curtains, tablecloths, sofas, PC keyboards and much more.
The nozzle for Vacuum Mop Combo mode is a water container. It's attached to the main brush with the help of magnets.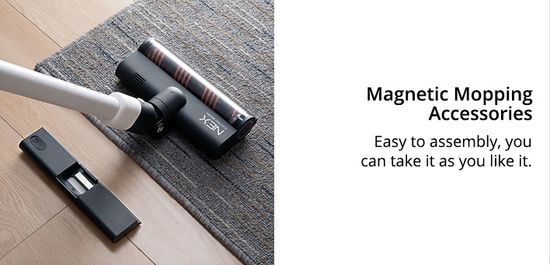 Microfiber mop automatically absorbs water from the tank while mopping, using the principle of plant capillarity.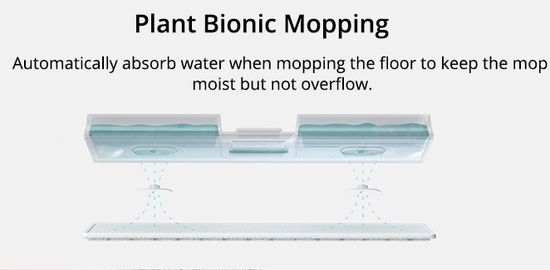 Please pay attention that the company does not recommend adding detergents to the water.
Of course, all nozzles are compatible with any Roidmi vacuum.
Battery
Of course, the charging duration and battery life significantly affect the usability of any cordless device. The X 20 uses an 8-cell LG / Samsung Lithium battery with a total capacity of 2500 mAh.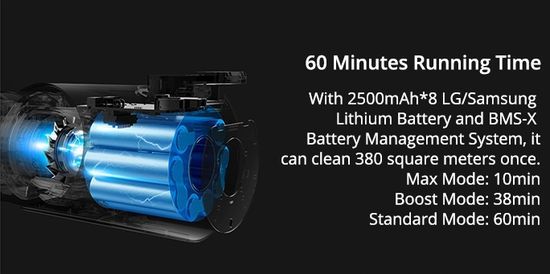 Its charging time does not exceed 2.5 hours. For comparison, the charging time of batteries with a similar capacity from other manufacturers often reaches 4 hours.
Additionally, the BMS-X battery management system provides intelligent battery management, increasing their efficiency. As a result, running time reaches 60 minutes at normal power, 38 minutes in Moderate mode, and 10 minutes when using the highest setting.
Four diodes on the housing indicate the charge level. After the battery runs out, the X20 shuts down. Unfortunately, it cannot work directly from the power outlets.
A 35 W charger connects directly to a vacuum or using a small dock with magnets.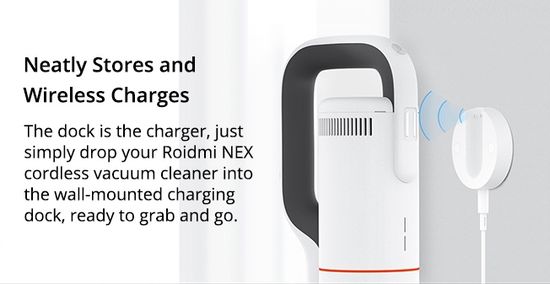 The magnets are powerful enough to hold the vacuum upright, but are unlikely to hold it on the wall for long. Therefore, the optimal height of its placement is 36 inches (92 cm) from the floor, which corresponds to the X20 height with stick and nozzle.
Of course, the unique magnetic attachment and wireless charging significantly increased usability. In fact, magnetic wall mount simultaneously provides storage and wireless charging without additional connections.
Unfortunately, the model does not have a stand for compact storage of all accessories.
Operating modes
Minimum power with minimal noise is perfect for everyday cleaning of hard floors. Moderate mode improves performance. In this mode, the suction power is commensurate with full-size models, and the vacuum efficiently cleans low pile carpets. Unfortunately, the noise level is also increasing. Turbo mode provides maximum power. It's effective for cleaning medium-pile carpets and upholstered furniture. Fast battery drain and high noise level are its main cons.
In Vacuum Mop Combo mode, the vacuum simultaneously sucks dust from the floor and wipes it.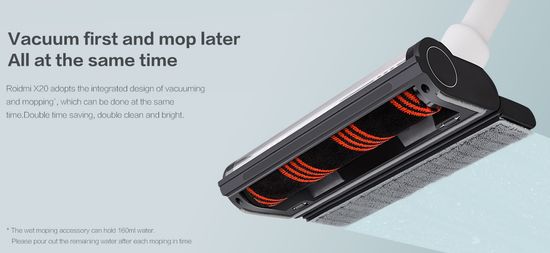 During cleaning, a damp cloth surface wets the floor behind the suction area. Unfortunately, the small tank capacity provides a relatively small cleaning area. On the other hand, pouring water is very simple.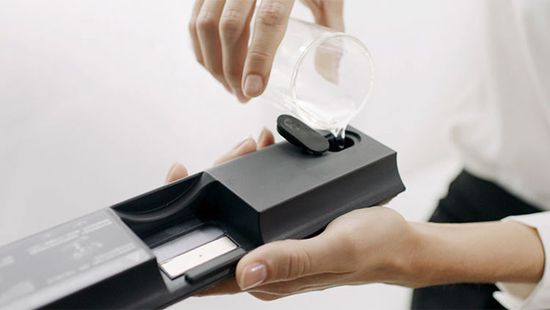 But this mode requires some skills. Firstly, the vacuum uses only one side of the nozzle to evenly distribute water on the floor surface. Secondly, the nozzle must be completely filled to uniformly wet the entire surface of the fabric. Mastering this technology took us some time. In our testing, the Vacuum Mop Combo mode was efficient and convenient for cleaning a long hallway, a small kitchen and a large room.
Roidmi cleaner app
Of course, apps significantly affect the functionality of any modern smart device. To connect to a smartphone, the X20 uses Bluetooth. Roidmi cleaner app with firmware update function supports iOS and Android. It provides control of the current charge level, the time until the battery is fully charged, the standby time, and the wear of the main filter.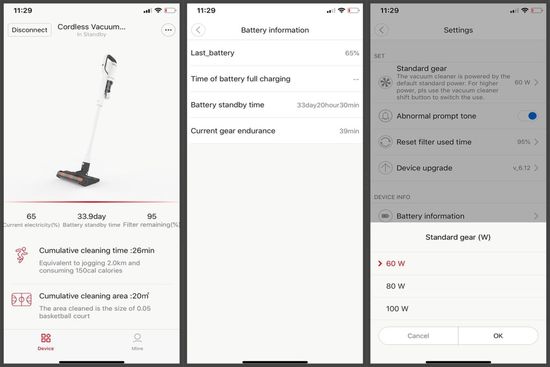 Setting the default operation power (minimum power after turning on) is the most important. The list of acceptable settings contains 60, 80 or 100 W, which correspond to 60, 45 or 35 minutes of cleaning time. Subjectively, 80 W is the most optimal choice, providing increased power while maintaining a normal duration.
But Xiaomi's claimed compatibility with Mi Home requires choosing one of the regions of China during the first setup.
Testing
According to the developers, the 60-minute operation of the vacuum provides cleaning on an area of up to 380 square meters. But, of course, it depends on the cleaning quality, the evaluation of which is always individual. In our testing, it was cleaning of a 3-room apartment, X20 was compared to a powerful Siemens vacuum. We need to mention that the floors in two rooms are covered with low pile carpets. Usually, the time of such cleaning does not exceed 15-20 minutes. Roidmi X20 coped with this task in 27 minutes with the same quality. In addition, cleaning a small area of the carpet from rice took only a few minutes, even in Moderate mode.
For the purity of the experiment, furniture and curtains were not cleaned. But a separate test of this mode also showed an excellent result.
The X20 easily cleaned the curtains and keyboard at minimum power. The upholstery was cleaned in turbo mode in several minutes. In fact, the turbo mode was needed only for this purpose. For other tasks, Normal and Moderate power were sufficient.
In addition, Vacuum Mop Combo mode helped quickly wipe floors instead of the traditional mop.
Conclusions
PROS:
– excellent equipment provides wide functionality;
– high suction power provides cleaning the carpets with low and medium-length pile;
– very convenient automatic light;
– 2-in-1 design;
– wireless charging with Magnetic Wireless Charger;
– Vacuum Mop Combo;
– BMS-X battery management system;
– long battery life at short charging time;
– two brush rollers for different types of floors;
– the innovative cyclone Air-X system prevents the loss of suction power due to clogging;
– highly effective 6-step HEPA filtering;
– stylish minimalist design.
CONS:
– no storage for accessories;
– long-term cleaning in handheld mode tires the hand due to uneven distribution of weight;
– the small bin capacity;
– Vacuum Mop Combo mode requires skills;
– small capacity of the water tank.
Roidmi X20 cleaned a kitchen, hallway and three rooms with two low pile carpets on one full charge. At the same time, it was able to provide the cleaning quality no worse than powerful Siemens. But the cleaning time has increased by about 40%.
Moreover, mop mode greatly simplified wet wiping. Therefore, the vacuum is especially convenient for cleaning apartments without carpets. But its use in Vacuum Mop Combo mode requires some skills. Unfortunately, it does not replace the traditional mopping of very dirty floors. To a greater extent, mop mode is designed for daily cleaning of not very dirty floors in the hallway or in the kitchen.
Given the long battery life, the X20 is ideal for regular cleaning of an apartment with 2-3 rooms. Convenient automatic light, enhanced functionality through five attachments and the convenient Roidmi cleaner app are additional bonuses.
This video introduces the Roidmi X20 (NEX Storm) Cordless Vacuum Cleaner.