Of course, the Sony VPL-HW45ES Home Theater Projector is one of the most popular models in its class. For more than 3 years, it successfully competes in the segment of Full HD projectors.
Today VPL-HW45ES is the most inexpensive SXRD (Silicon X-tal Reflective Display) model from Sony and can be positioned between VPL-HW40ES and VPL-HW65ES in this series. These models have almost the same design.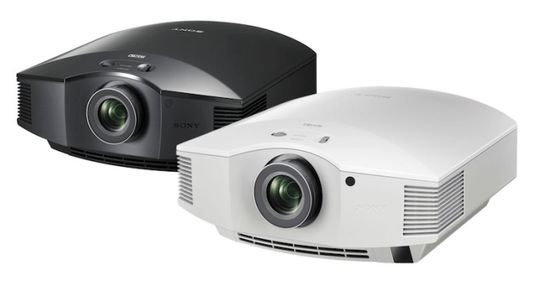 As known, SXRD technology was developed by Sony and uses LCoS (Liquid Crystal on Silicon) image technology.
Basically, LCoS can be positioned as a hybrid of 3LCD and DLP technologies. In fact, the LCoS matrix is a liquid crystal film or LCD matrix on the mirror.
Today, many experts consider this technology the most promising. The list of its pros includes deep black and, accordingly, contrast ratio and resolution, small input lag, resistance to high temperatures, lack of flicker, Screen-door and rainbow effect.
Unfortunately, this technology has some cons, including high price, weight, size, fan noise and limited lamp service life.
Of course, all these factors affect the choice of the optimal projector.
VPL-HW45ES
Projector provides Full HD 1920 x 1080 resolution with Rec.709 color rendering. Model uses Advanced Reality Creation processing technology that refines subtle details, colors and textures.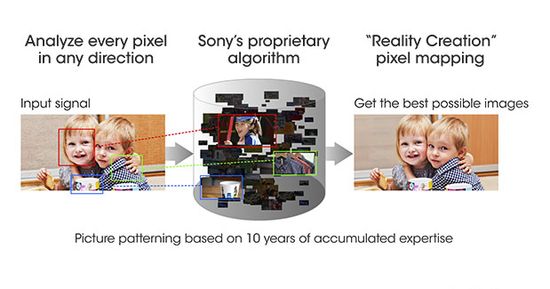 The manual zoom lens with a 1.6x zoom ratio and wide lens shift range simplifies installation in any room, even with high ceilings.
Two control dial provide a simple and effective adjustment of the vertical and horizontal lens shifts.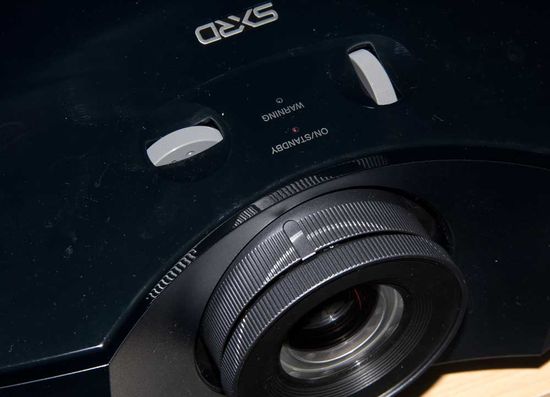 But vertical adjustment requires periodic correction due to lens displacement during each the projector moving.
Vent holes in the front allow the user to place the projector very close to the wall or in the deaf niches without risk of overheating, which is especially convenient for a small room.
Buttons of the remote control have a backlight.
Unfortunately, VPL-HW45ES does not support 4K UHD signal and does not display the UHD image from Blu-ray.
But projector has a powerful modern processor and uses advanced technologies from Sony for upscaling video with a lower resolution. Unfortunately, VPL-HW45ES does not support 4K UHD signal and does not display the UHD image from Blu-ray. But projector has powerful picture calibration features depending on the content. This system offers nine unique modes including a variety of cinema, gaming, photo and user customizable pre-sets.
Besides, projector provides an excellent black level in medium-dark conditions. Its non-ideality is only slightly manifested in a completely darkened room.
Model uses Motion Flow mode with three settings or True Cinema mode in user settings for playback of the highly dynamic scenes without distortion.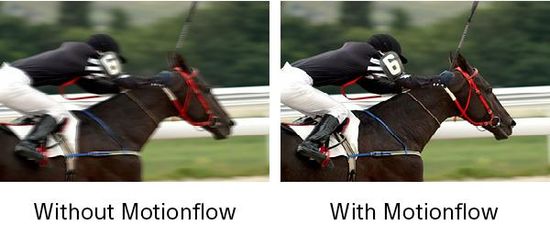 But, the projector provides a resolution of 340 lines even without the use of Motion Flow.
Features
Contrast Enhancer technology provides auto-adjustment of the contrast depending on the screen image.
Improved Reality Creation system has a huge database for image upscaling, increasing sharpness and filtering noise.
Unfortunately, Cinema Black Pro does not use dynamic iris, but it effectively increases the contrast.
White Balance and CMS calibration are located in the menu.
Factory settings are traditionally excellent for Sony. The error in the gray scale is less than 2 and is visually invisible. Testing the color gamut also demonstrates an excellent result.
Low level of black is the traditional drawback of the projectors in this price segment. But the VPL-HW45ES provides a sufficiently high-quality black color without gray or blue shades. A slight decrease in detail is present only in the darkest image parts.
As known, SXRD (LCoS) technology today provides the highest contrast ratio compared to other technologies. This is due to the use of silicon mirrors as a substrate. Such matrix is much thinner compared to matrix in traditional 3LCD technology that works on the light pass. Therefore, all SXRD models provide an improved range of image contrast.
VPL-HW45ES supports a 3D mode with very high quality without crosstalk and false images. The color rendering accuracy is very high even with factory settings and at a higher brightness.
Leo Bodnar Tester demonstrates the input lag no more than 23.7 ms with activated function of its decrease. For comparison, this indicator in models of a similar class varies from 40 to 70 ms. Therefore, the model is perfect for fans of computer games on the big screen.
The projector fully supports AMX Dynamic Device Discovery Protocol for integration with other intelligent systems at home.
PROS & CONS
The lamp service life is 6000 hours in ECO mode. The image brightness reaches of 1800 ANSI lm in normal mode. Unfortunately, the test result was only 900 ANSI lm after calibration. On the other hand, that's enough to create a cinematic image in a room with light walls and a diffused light. But, of course, comfortable 3D viewing requires an increase in brightness.
The noise level in ECO mode does not exceed 22 dB. Of course, this is an excellent result.
PROS
– deep black;
– high accuracy of color rendering;
– good detailing even in the dark image area;
– wide dynamic range;
– powerful video processor;
– very low noise level;
– very wide range of image contrast;
– remote control with backlight;
– large set of video processing functions;
– excellent playback of highly dynamic scenes;
– 9 Picture Calibration Modes;
– built-in RF transmitter synchronizes with any RF 3D glasses;
– very small input lag for gaming mode;
– high sharpness;
– high quality of factory settings;
– support for AMX Dynamic Device Discovery Protocol;
– excellent 3-D playback.
CONS
– complexity of accurate focusing;
– calibration reduces real brightness to 900 ANSI Lm;
– vertical displacement of the lens during the movement;
– no built-in speakers;
– limited set of connectors;
– no support for 4K UHD and UHD from Blu-ray.
This video shows features of Sony VPL-HW45ES Home Theater Projector.