About 10 years ago, this segment offered only expensive Home Teather projectors and cheap children's models for watching cartoons. But rapid technological development has radically changed the situation. Solid-state light (SSL) source-based light engines (LEDs and laser LEDs) allowed developers to radically reduce the size and weight of projectors. As known, laser LED is a LED with an optical cavity. It's more expensive, but provides more powerful coherent radiation. Unlike traditional lamps, SSL sources hardly heat up. Therefore, these models use small fans and do not require large internal volume for efficient heat dissipation. As a result, the market quickly filled with mini, pico, and pocket-sized models.
Screen mirroring and wireless streaming have eliminated the content problem.
Relatively inexpensive DMD chipsets with pixel shift-based XPR (Xpanded Pixel Resolution) technology from Texas Instruments have significantly reduced the prices of 4K DLP projectors. In fact, the chipset with 2 million micromirrors (1080p native resolution) provides playback of 4K content with 8 million pixels. XPR technology attracts with its simplicity and elegance. The projector divides 8 million pixels into 4 parts of 2 million each and reproduces them sequentially on the screen, shifting them diagonally by half a pixel relative to each other.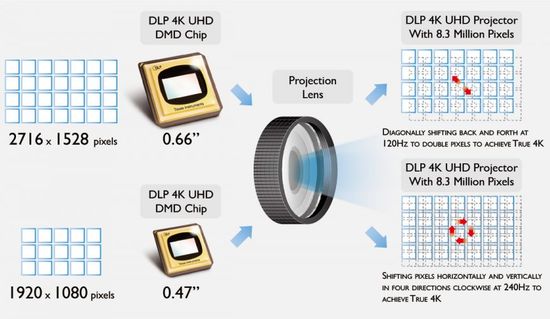 Strictly speaking, the projector only produces one 1080p image at any given time. But due to the high frequency, the brain perceives them as one higher-resolution image. Pixel shift is carried out by tilting the lens using 4 XPR module electromagnets.
Modern projectors
UST (Ultra Short Throw) projectors have become the next evolutionary stage. Traditional mid-focal projectors produce a large image from a distance of several meters. But placing them in the center of the room creates the problem of wires on the floor, especially if there are children or pets. In fact, only a sophisticated ceiling mount effectively solves this problem. Using aspherical mirrors, UST models produce a large projection from a very short distance.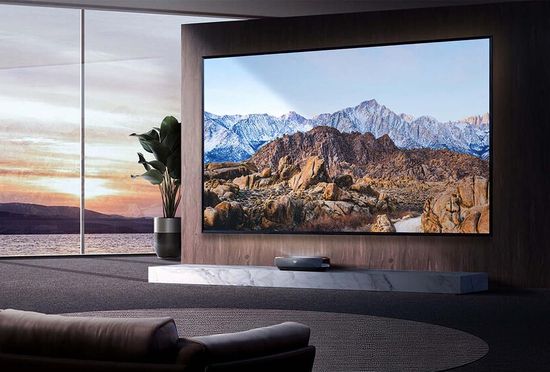 As a result, UST projectors have quickly become very popular as an alternative to traditional TVs. To be fair, their image quality is inferior to TVs due to lower contrast and brightness. But a huge image at an affordable price is enough compensation for many.
Thus, today companies offer several types of the most popular projectors:
– UST laser 4K models with brightness from 2,000 ANSI Lumens and costing $ 2,000 – $ 4,000;
– universal mid-focal Home Teather / Gaming portable projectors;
– ultra-compact mini-, pico-, pocket models with brightness from 200 to 1,000 ANSI Lumens and cost from $ 200.
The industry leaders including Epson, BenQ, ViewSonic, Optoma, etc are expanding their product ranges in all areas, and Xiaomi Formovie is no exception. Last year, the company introduced the superb Formovie Theater Dolby Vision 4K laser UST projector, whose street price today is ~ $ 3,100 or $ 3,500 on the company's website. This year the company has already introduced mid-focal compact Xiaomi Formovie X5 4K laser projector costing ~ $ 1,500. The ultra-compact Formovie P1 logically complements the list of new products from a subsidiary of the Chinese giant.
Probably 800 Lumens brightness can be positioned as one of its main pros. Unfortunately, testing only shows a few hundred traditional ANSI Lumens. But this aspect has nuances.
Projector brightness
Given the large impact of projector brightness on image quality, some companies use the light output for marketing purposes. As a result, the industry has created several methodologies for its assessment, which ultimately provoked a little chaos. Perhaps it can be considered the cost of the free market.
This list includes:
– ANSI Lumens (American National Standards Institute) – the luminous flux at nine points on the screen. This standard includes ANSI IT7.215 (1992) and IT7.228 (1997) editions. The International Electrotechnical Commission (IEC) developed IEC 61947-1 (2002) and 62906-5-1 (2021). In addition, the International Organization for Standardization (ISO) introduced ISO 21118 and its new 2021 version in 2005. All standards use ANSI or ISO Lumens units of measurement, which are the most popular in the industry. For reference, 1 ANSI Lumen ~ 0.8 ISO Lumens;
– some manufacturers of LED projectors offer to take into account the perception of color brightness (Helmholtz-Kohlrausch effect). They use LED Lumens (1,000 LED Lumens ~ 417 ANSI Lumens);
– Epson specifies Color Light Output (CLO), which is always identical to white brightness. As known, their 3LCD models work without loss of color brightness due to the lack of a color wheel. Accordingly, the colors of 3LCD projectors are more saturated.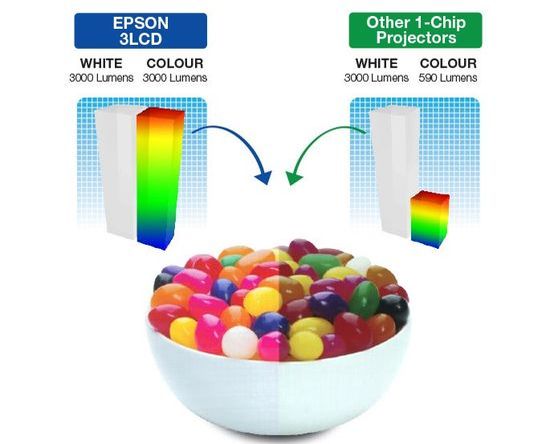 – some Chinese companies use Lux (illumination of one square meter of the screen);
– CVIA Lumen.
In October 2022 the China Electronics Video Industry Association (CVIA) introduced a group standard developed by Hisense, JmGO, Dangbei, Harqu, etc. The conversion rate is not yet known. But JmGO specifies the brightness of the newest N1 Ultra as 4,000 ANSI Lumens or 2,200 CVIA Lumens.
Given such confusion, the interpretation of the indicated 800 Lumens is difficult. Testing shows ~ 300 ANSI Lumens, which is quite adequate for ultra compact models.
Formovie P1 Key Features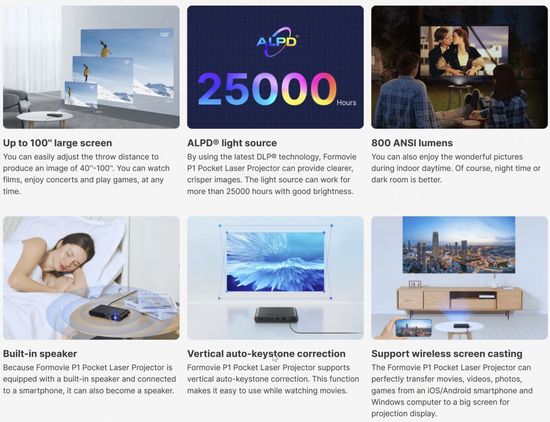 Compared to its competitors, the model provides fairly high color accuracy, but it's not very stable. In addition, P1 supports correction of preset picture modes and its saving.
Model offers easy wireless display casting for Android, iOS and Windows. Unfortunately, copy-protection blocks premium streaming apps, including Netflix, Amazon Prime, HBO Max, Hulu, Apple TV, Paramount Plus and even YouTube free premium movies. In fact, the projector only supports regular YouTube content. However, HDMI media stick solves this problem.
Formovie P1 comes with carrying case and 30W USB PD power adapter.
Specs
– $ 280 (company website) / € 270 / $ 400 (launch price);
– ALPD (Advanced Laser Phosphor Display) light source (Laser Phosphor);
– auto vertical keystone adjustment and manual focus.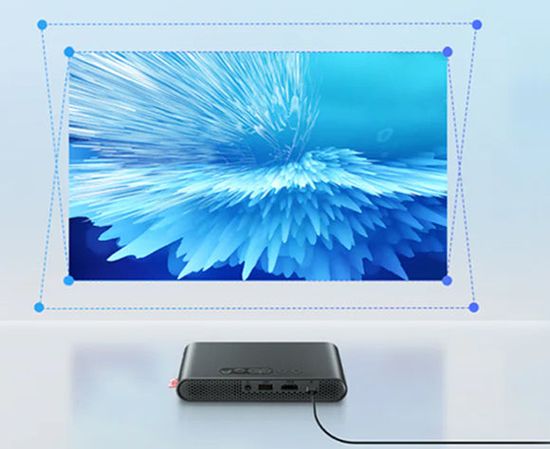 – 0.23″ DMD with native qHD (960 x 540) resolution.
As known, Digital Micromirror Device (DMD) is an array of micromirrors and provides high-speed spatial light modulation. In fact, each micromirror forms one pixel. Modulation is achieved by rotating it by ± 12° around the hinge ('+' corresponds to an 'on' pixel, and '-' corresponds to a 'off' pixel);
– 600:1 (full on/off) contrast;
– 40″-100″ Image Size from (1.1 m – 2.7 m) Throw Distance at 1.20:1 Throw Ratio;
– (2,4 x 15 x 8,3 cm) dimensions and 300g (0.7 lbs) weight.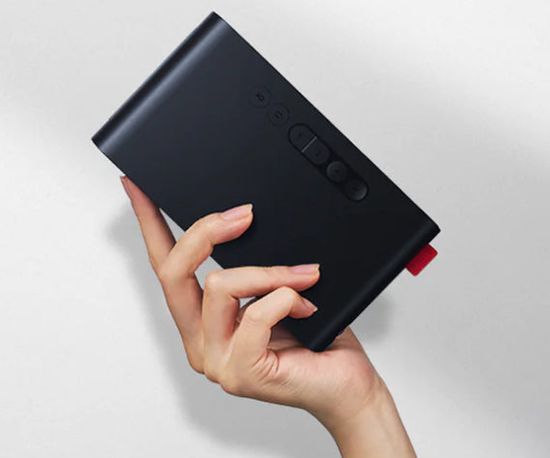 The HDMI 1.4 port accepts signals up to 1080p@60Hz. Then the projector downscales it to the native 540p.
The HDMI port transmits sound well, but there is no HDMI ARC audio option. However, an ultra-compact projector is hardly intended for use with a soundbar.
Controls and performance
The controls include four directional keys, an 'OK' and a 'back' button.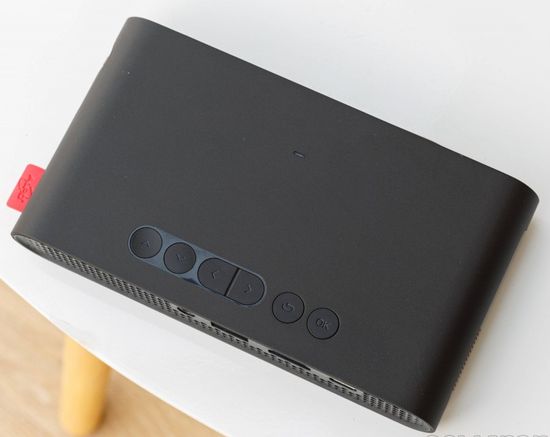 The up / down keys adjust playback volume, left / right keys are for 'next' / 'previous'. The 'back' button opens the home interface. The settings interface is activated with 'menu' key.
Connecting the P1 to Wi-Fi requires a password input, which can be complicated on the built-in controls. But Android and Windows wireless casting work without Wi-Fi connected.
The built-in multimedia player supports video, audio, photo and text playback. The model smoothly plays up to 25 Mbps, but higher bitrate is accompanied by dropped frames.
Unfortunately, the projector cannot decode HDR content, including HDR10, HLG and Dolby Vision formats. In principle, an HDMI cable can be connected to the P1, but the HDMI input is only available after the projector home menu. In fact, turning on the projector any time requires activating it, which is hardly convenient.
The auto vertical keystone correction is great. But abandoning manual mode can be a problem if it fails.
The focus dial is also effective, providing focusing even for images less than the recommended 40″. Unfortunately, its effectiveness drops sharply after 85-90″ in diagonal, even in the dark. Therefore, the indicated screen size up to 100″ seems a little high.
The actual projector brightness is quite sufficient for acceptable image quality up to 55″ without direct sunlight. In darkness, the projection size can be increased up to 85″ without a significant reduction in quality. But to be honest, the optimal size-quality ratio is achieved with ~ 65″ screen in a semi-darkness.
Despite the lack of a low-latency gaming mode, the P1 is quite suitable for casual games.
Conclusion
Pros
– ultra-compact weighing 300g;
– wireless networking;
– auto vertical keystone adjustment and manual focus;
– very quiet operation of three small fans;
– type-C port;
– 600:1 (full on/off) contrast;
– dynamic contrast control;
– diffused light mode;
– adjustable picture presets.
Cons
– 540p resolution;
– no remote, tripod mount, Bluetooth and internal battery;
– mono speaker 0.8W only;
– no button backlight;
– no support for premium content from streaming services (regular YouTube content only).
This 300g ultra thin projector is ideal for on-the-go entertainment or can be used as a pocket TV, entertaining the owner in the garage or on the veranda in the evenings. Of course, the quality of a 100″ projection is unlikely to be comparable even vs budget TV, but a 55″ image will be quite acceptable.
Of course, the Formovie P1 is not alone in this segment. Its price and specs are located between Wemax Go and Wemax Go Advanced projectors. Priced at $ 200/~$ 600 – $ 650, native resolution of 640p/1080p, and brightness of 300/600 ANSI Lumens, they also meet the 'pocket' classification. In particular, their weight/dimensions are only 300g & 780g/(2 x 15 x 8 cm) & (2.5 x 22 x 11.7 cm).
Also, the new Yaber Pico T1 costing up to $ 150 is also quite popular. With an extremely compact size/weight (1 x 15 x 7 cm and 100g), it has 540p native resolution and provides 110 ANSI Lumens brightness.
But the high brightness at a price of $ 280 gives the Formovie P1 good marketing prospects due to its superb price-performance ratio.
This video offers Formovie P1 and Formovie S5.