For several decades, the technological boom is accompanied by the rapid development in consumer electronics segment , including TVs, phones, projectors, robotic vacuum cleaners, etc. For example, at the beginning of the century, the projector assortment included only premium mid-focus Home Theater models and budget projectors for children. New technologies have radically accelerated their evolution. As a result, today the market offers models with different optics (mid-focus and UST), with different display technologies (DLP, 3LCD and LCoS) and with different light engines (lamps, LED and lasers). Of course, diversity expands the search for the optimal model, but it requires at least a simplified classification.
Classification
Optics
Ultra short throw (UST) models with a special lens form a projection from a very short distance and can be placed almost close to the screen. Therefore, they don't need complicated ceiling mount and don't create problems with wires on the floor. This aspect makes them popular as an alternative to traditional TVs.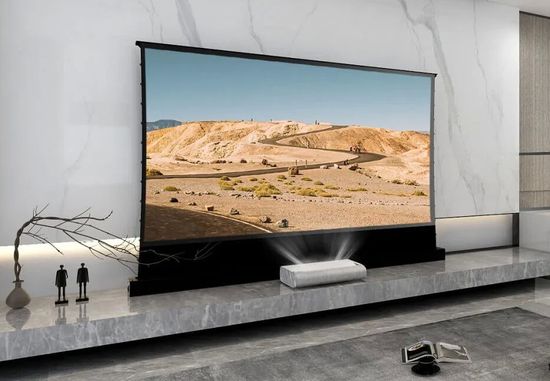 Display technologies
DLP projectors are the cheapest and most popular. They use the Digital Micromirror Device (DMD) chipset from Texas Instruments, which forms an image using millions of micromirrors.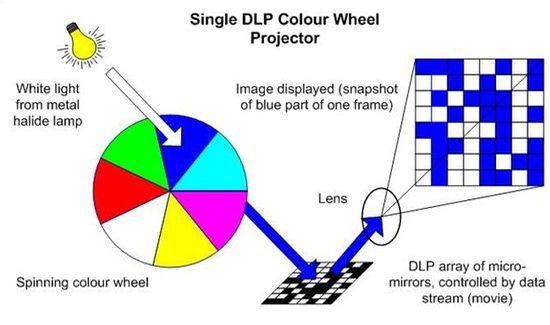 The more expensive 3-chip 3LCD technology was developed by Epson. Its white brightness is identical to color brightness, resulting in brighter and more saturated colors.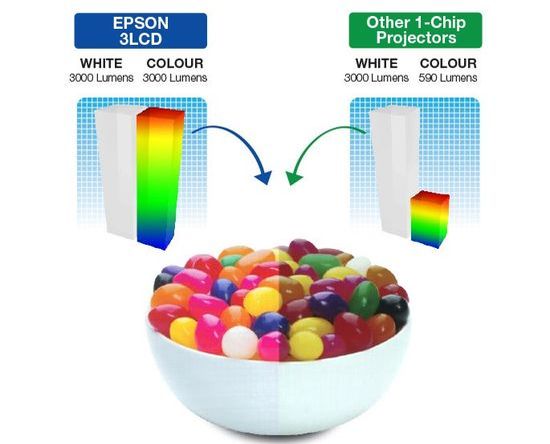 Today, Sony, Panasonic, NEC, and a few other companies use this technology, but Epson dominates the list.
LCoS (Liquid Crystal on Silicon) technology has several versions, including JVC / D-ILA, Sony / SXRD, and Canon / AISYS. Premium LCoS projectors provide great contrast due to deep blacks. In turn, perfect black is due to tiny width of the gaps between the liquid crystals.
Light engine
The reliable and cheap lamps get very hot and require cooling with a powerful and noisy fan. In addition, lamp projectors are bulky because effective heat dissipation requires a fairly large internal volume. Therefore, SSL (Solid State Light source) are actively replacing lamps. They use LEDs or lasers. Simplified, the laser is an LED with an optical resonator. Their service life exceeds 20,000 hours, and they practically do not heat up. Limited brightness is the main disadvantage of LEDs.
Laser projectors use Laser Phosphor light source (ADLP 3.0 – Advanced Laser Phosphor Display) or triple-laser RGB light engines (ADLP 4.0, color gamut > 106% BT.2020 color space).
DLP LED projectors
A few years ago, DLP LED projectors occupied a budget niche due to low brightness, contrast and resolution. SSL sources and new video processing technologies partially solved the brightness and contrast problems. DMD chipsets with TI's XPR (Xpanded Pixel Resolution) technology increased resolution without increasing the price.
It uses 2- or 4-phase pixel shift and works as follows. For example, a 4-phase shift projector receives 4K content (8 million pixels) and divides it into four parts. The 1080p chipset (2 million micromirrors) displays one of them on the screen. Then XPR module's electromagnets tilt the lens and displays the next 2 million at a diagonal half-pixel offset.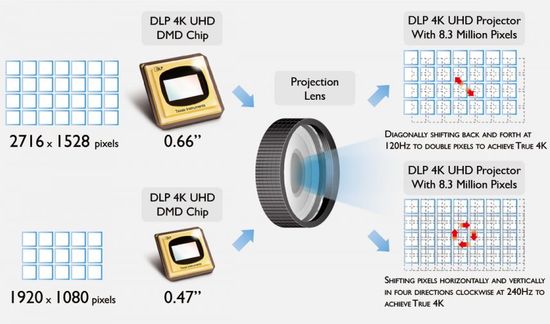 As a result, a relatively inexpensive 1080p chipset reproduces 8 million pixels of a 4K image in four cycles. Due to the high frequency, the eye and brain perceive them as one image.
Today, the list of their manufacturers contains most of the industry leaders, including BenQ and Viewsonic. BenQ X3000i is positioned as one of the best gaming projectors. The new BenQ GP500 with superb sound system and launch prics of only $ 1,800 has similar ambitions.
Last year, Viewsonic introduced X1 and X2 DLP 1080p projectors with an innovative light engine. It uses 3rd gen LED technology and provides up to 3,100 LED Lm brightness and 125% coverage for Rec.709 color space.
Today the Viewsonic X1/X2 cost $ 925 / $1,100, differing only in optics. In particula (X1 vs X2):
– lens – 1.3x vs 1.2x zoom;
– Throw Distance – (2.0 – 3.8)m vs (0.6 – 4.6)m;
– Image Size – (60″-150″) vs (30″-300″);
– Throw Ratio – (1.15:1 – 1.50:1) vs (0.69:1 – 0.83:1).
As the name suggests, the new Viewsonic X1-4K and X2-4K are their upgraded 4K version.
Key features
X1-4K vs X2-4K
– price – n/a vs $ 2,152 (MSRP).
However, in Europe some sellers offer X2-4K for € 1,600;
– lens – 1.3x vs 1.2x zoom;
– Lens Shift – Vertical +10% vs no;
– Throw Distance – (2.0 – 3.8)m vs (1.1 – 1.8)m;
– Image Size – (60″-150″) vs (60″-120″);
– Throw Ratio – (1.15:1 – 1.50:1) vs (0.69:1 – 0.83:1).
Other specs are identical.
On company website their brightness is 2,900 LED lumens or 2,150 ANSI lumens. But according to current industry practice, the conversion rate is 2,4 (1,000 LED lumens = 417 ANSI lumens). In this case, 2,900 LED lumens is only 1,200 AINSI lumens. However, Viewsonic has long been offering to take into account the Helmholtz-Kohlrausch effect. In accordance with it, the eye perceives highly-saturated colors as brighter.
But in fairness, it's relevant only when compared LEDs vs lamps, the color saturation of which is much lower. However, regardless of the specified brightness, ViewSonic projectors really provide bright, rich images.
Specs
– 0.65″ DMD from Texas Instrument;
– 3,000,000:1 dynamic contrast ratio;
– 100″@1.53m.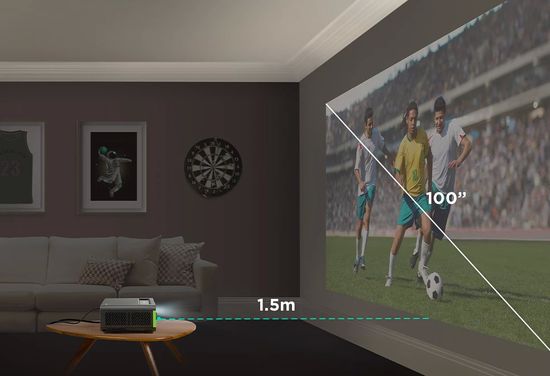 – theater-level sound with 2 x 6W Harman/Kardon speakers;
– ± 40° H/V Keystone + auto V + 4-corner keystone adjustment;
– 125% covering Rec.709 color space with Cinema SuperColor+ technology.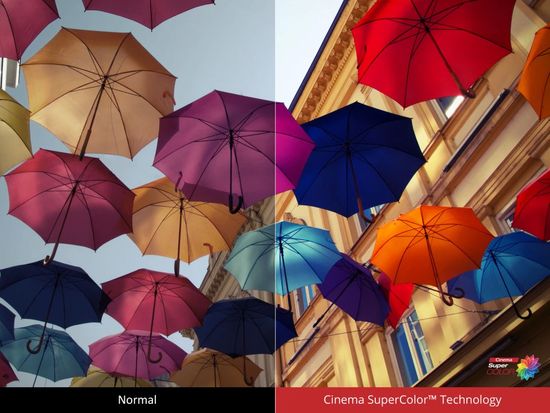 – 3rd gen LED technology;
– 4.2 ms input lag (with activated Ultra-Fast Input in Advanced Settings at 240Hz refresh rate) + 240 Hz refresh rate (up to 1080p resolution) + microsecond-level response time of DMD chip.
ViewSonic Gaming.jpg
– 5GHz broadband Wi-Fi and Bluetooth connectivity;
– screen mirroring via Wi-Fi.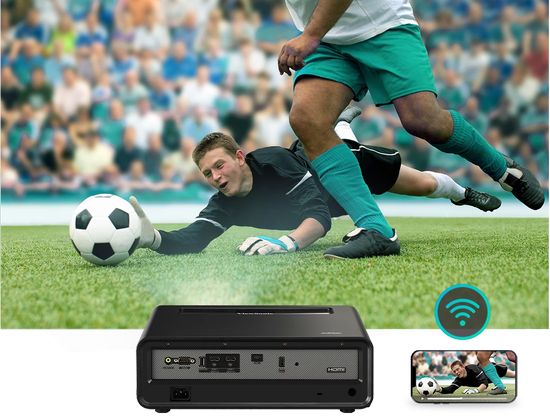 – 3D support;
– X2-4K supports Xbox-exclusive resolution and refresh rate combinations, and auto adjusts to the any settings.
ViewSonic X2-4K vs BenQ GP500
Both models are new 4K DLP projectors with great sound, 3D support, full set of installation features (keystone adjustment, etc), and modern smart functionality. They use Texas Instrument's DMD chipsets, LED light engines, are great for gaming and are quite capable of replacing a traditional TV in the living room.
Prior to the correction of starting prices, comparison of their cost is hardly relevant. But both projectors are in the same price segment from $ 1,500 to $ 2,000. The BenQ GP500 costs $ 1,800.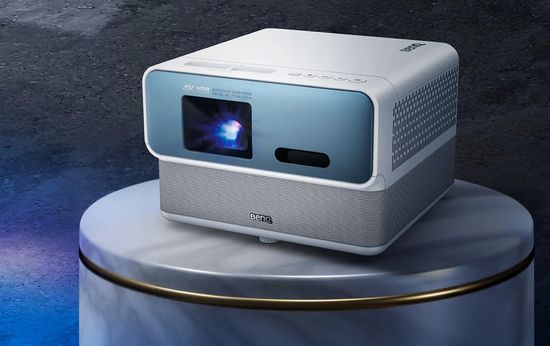 The ViewSonic X2-4K is priced at $ 2,152 (MSRP), but in Europe some retailers are offering it for € 1,600.
Differences (BenQ vs ViewSonic):
– .47″ (5.4 µm) DMD vs .65″ DMD (7.6-µm micromirror pitch).
Theoretically, a larger area of micromirrors increases light output and improves signal-to-noise ratio;
– light engine – 4LED (RGBB), 97% Rec.709 vs 4LED (RGGB), 125% Rec.709;
– dynamic contrast ratio – 100,000:1 (Full On/Full Off) vs 3,000,000:1;
– brightness – 1,500 ANSI Lm vs 2,900 LED Lm / 2,150 ANSI Lm (controversial conversion rate);
– audio – 4x 5 W chamber speakers + onboard treVolo DSP vs 2 x 6W Harman/Kardon speakers;
– Android OS + streaming dongle (QS01) vs no;
– Object Avoidance + Screen Fit + auto 2D keystone vs ± 40° H/V Keystone + auto V + 4-corner keystone adjustment;
– 100″@2.2 m vs 100″@1.53m.
Theoretically, short-throw ViewSonic is more convenient than mid-focus BenQ. But placing it closer to the screen does not solve the problem of wires on the floor;
– technologies – BenQ CinematicColor + Auto Color Calibration vs Cinema SuperColor+;
– gamplay (input lag) – 25ms (1080p@60Hz and 4K@60Hz) / 14ms (1080p@120Hz) with Fast Mode vs 4.2 ms with Ultra-Fast Input + superb Xbox compatibility.
Conclusion
Of course, the models are very similar. They cost about the same, offer similar specs and functionality. But every projector has bonuses.
ViewSonic
– higher contrast;
– wider color gamut (125% Rec.709);
– Harman/Kardon speakers;
– 100″@1.53m with short-throw lens;
– .65″ DMD with 7.6-µm micromirror pitch;
– input lag of 4.2 ms with Ultra-Fast Input.
– superb 20W audio with 360° sound field;
– Android TV 9.0 + streaming dongle (QS01);
– Google Assistant support;
– Auto Color Calibration + Screen Fit + Object Avoidance;
– extremely accurate color 'out-of-box'.
Maybe the ViewSonic is a little better for watching and gaming, but the BenQ GP500 offers better smart functionality. In addition, its owner will be able to save money on the soundbar with a clear conscience. In fact, the choice depends on the attitude towards these brands and discounts when buying.
But regardless of the rivalry between them, both models will compete with superb Formovie Fengmi V10 4K (~ $ 1,500).
This video demonstrates new ViewSonic X2-4K projector.