The Italian company DeLonghi hardly needs additional advertising among coffee lovers. For many decades, it has been consistently included in the list of leaders in the coffee machine segment, successfully competing with German Bosch / Siemens, Dutch Philips / Saeco, Swiss Jura, etc brands. Today the company offers a huge range of fully automatic DeLonghi coffee machines.
DeLonghi coffee machines
The list of the most popular series includes:
– 'budget' Magnifica Start and Evo series;
– 'mid-budget' Dinamica and Dinamica Plus lineups;
– premium Maestosa and PrimaDonna Soul with Bean Adapt technology.
However, the company also offers several series, the models of which cover several price segments. For example, the prices of very popular Perfecta and Eletta Explore coffee machines range from $ 400 – $ 1,000 to $ 2,000.
The success of the Eletta Explore series is largely due to the large number of innovations at a relatively affordable price. For example, ECAM 450.55 (2022) offers 40 pre-programmed coffee recipes and additional LatteCrema Cool milk system.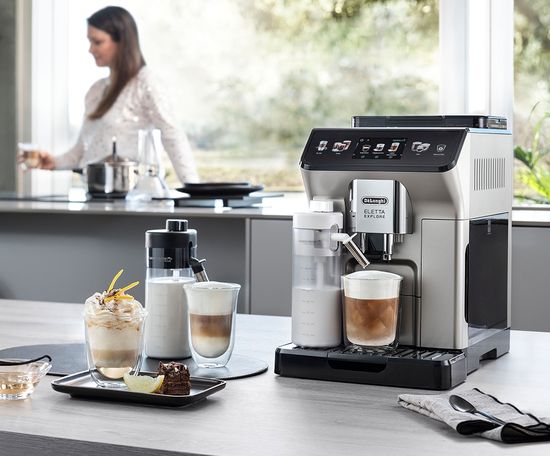 Like many global giants, Italian DeLonghi uses a sophisticated regional pricing strategy, providing marketing flexibility. As a result, the difference in prices for almost identical modifications sometimes reaches almost 100%. Therefore, even a simplified classification of the current Eletta Explore model range can be useful. This series includes:
– Delonghi ECAM 450.55.S/G (silver/dark gray) ~ $ 1,800 and € 930 (USA and Europe);
– ECAM 450.65.S/G ~ £ 1,230 and € 1,130 (UK and Europe);
– ECAM 452.57.G/452.67.G ~ € 720 / € 1,150 (Europe);
– Delonghi ECAM 450.76.T – not available;
– ECAM 450.86.T / S (titan/silver) ~ € 1,020 / $ 2,000 / $ 2,540 (Europe/ USA / Canada).
All models come with LatteCrema Cool jug for preparing coffee-milk based cold drinks.
Delonghi ECAM 450.76.T had Wi-Fi modul and 475ml double-walled thermal mug, but it's no longer available.
Delonghi ECAM 450.65 have Wi-Fi modul, supports 'Cold Extraction Technology' (Cold Brew feature), but comes without thermal travel mug. ECAM 450.86 is a 450.65 version with thermal mug included.
DeLonghi Eletta Explore
All models have a full range of popular programs, including the classic preparation of cappuccino and Americano, and Delonghi's LONG program for large portions. In addition, coffee machines come with an additional LatteCrema Cool jug, which makes cold coffee-milk based drinks.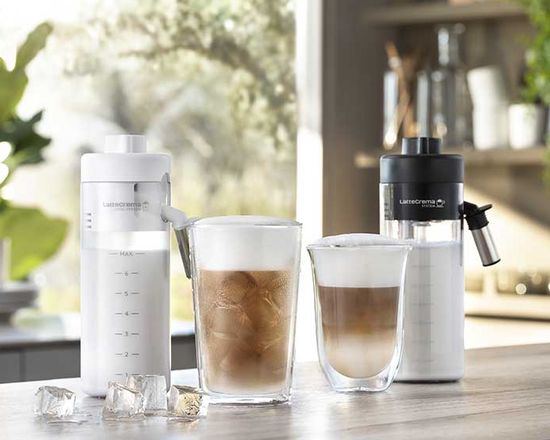 It froths milk at a temperature of only 25–30°C. Previously, only professional coffee machines could froth milk by steam without heating it. A few more rare models used a mechanical whisk for this purpose.
Just like a mechanical blender, the LatteCrema Cool jug actually makes delicious cold drinks without ice. Like the traditional LatteCrema Hot jug, it has an adjustable milk foam height.
Eletta Explore 450.65/86 offers up to 33 modes and recipes (19 hot + 14 cold drinks), including hot water and hot/cold milk. Four large touch buttons on the sides of the color display radically simplify the choice of drink.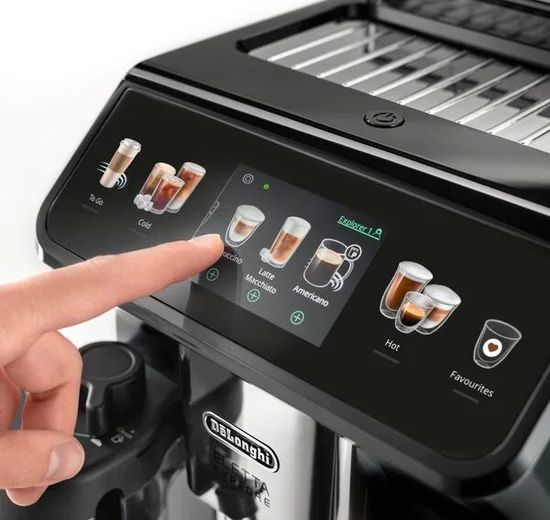 The 'To Go' menu includes 18 additional programs (11 cold + 7 hot) for this mode. Moreover, the folding section of the stand increases the max height of the thermal mug to 7 inches (18 cm).
'Cold' is intended for cold recipes, including Cold Brew for ECAM 450.65 / 86.
The 'Hot' button gives access to classic recipes. Their list also includes programs for 6 servings of Lungo in a row (~750 ml) and Flat White (max amount of ground coffee up to 14 grams).
'Favorites' includes a list of up to 4 favorite drinks for each of 4 user profiles.
Cold Extraction technology
This technology uses long-term contact of ground coffee with cold water without high pressure. In fact, bypassing the thermoblock, the water passes through the coffee pad under reduced pressure. Of course, such extraction takes much longer, but is significantly faster than several hours of 'classic' Cold Brew. Before Eletta Explore, this option was only available in the flagship Jura Z10.
Five Cold Brew drinks are selected using the Cold button to the left of the display:
– Cold Brew – classic black cold brew coffee of traditional volume;
– Cold Brew to Mix – a similar drink with a volume of 50 ml. The duration of water flow through the coffee pad is increased 35 times. Probably, it can be positioned as a 'cold' analogue of espresso for cocktails. Moreover, the Delonghi Coffee Link app offers many recipes that use Cold Brew 'shot' as one of their ingredients.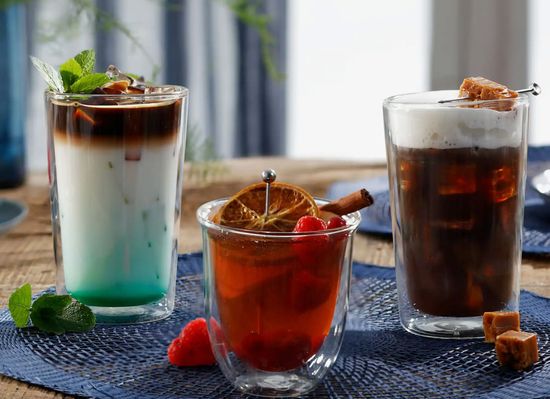 – Cold Brew Cappuccino – Cold Brew black coffee + cold frothed milk (max froth), prepared with the new LatteCrema Cool jug;
– -'- Brew Latte – cold foamed milk (mid-foaming) + Cold Brew black coffee;
– -'- Brew carafe – a series of 2-6 Cold Brew shots with a volume of 105 ml each. Given a pour time of 2 minutes 50 seconds for each shot and ~10 seconds for grinding, the full cycle lasts almost 20 minutes.
Without ice, the temperature of black Cold Brew in the cup ranges from 30°C to 35°C. In addition, the coffee machines come with a special silicone mold for making ice. When using it, the temp in ordinary cup is reduced to ~15°C with 4 recommended cubes, and does not exceed 10°C in Cold Brew cappuccino with 8 cubes.
Platform
The series uses the traditional Delonghi platform of the premium segment. It includes:
– steel conical burr coffee grinder with 13 grinding levels;
– 10.6oz / 300g coffee bean hopper;
– bypass for using ground coffee;
– compact CRF brewer unit with a capacity of up to 14 grams of ground coffee per shot;
– Italian vibration ARS water pump with pressure up to 19 bar and with a pulsation damper to reduce noise;
– 1.8 liter water container;
– two flow-through thermoblocks (round 'snail' for coffee and longitudinal steam generator).
In fact, all modern Delonghi with a '4' at the beginning of the article number come with two thermoblocks. As known, an additional thermoblock slightly speeds up the preparation of coffee-milk based drinks, increases the thermal stability of the coffee circuit and the overall system reliability due to load redistribution.
Pros
– Cold Extraction technology suppurt and additional LatteCrema Cool jug for preparing cold foam;
– large responsive 3.5 inch (8.9 cm) TFT color touchscreen with large buttons;
– two thermoblocks;
– up to 33 programs;
– program algorithms correspond to classic recipes, including cappuccino and Americano;
– Delonghi's LONG and Doppio+;
– superb pre-settings 'out of the box' for Flat White;
– Delonghi Coffee Link app;
– thermal mug height reaches of 7″ (18 cm) due to the stand folding section.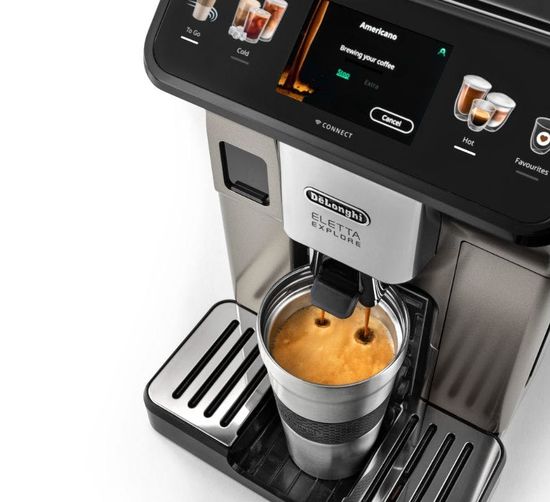 – 4 user profiles with 4 favorite drinks for each.
Overall, Eletta Explore is ideal for Cold Brew lovers.
Conclusion
A few years ago, € 1,000 for a fully automatic premium coffee machine from one of the best brands could be positioned as obvious dumping. At this price, excellent specs (two boilers, additional LatteCrema Cool jug, adjustable cup height, etc), wide functionality (33 programs, support for Cold Extraction technology, etc) the DeLonghi Eletta Explore has superb value for money. For comparison, the price of the Jura Z10 reaches ~€ 3,500. Therefore, the high popularity of these coffee machines in Europe is quite justified and is unlikely to be threatened by anything.
But in other markets its price is significantly higher. For example, in the US their price is $ 1,800 / $ 2,000 for the 450.55/450.86 vs $ 3,650 for the Jura Z10. However, this difference is also large enough for cloudless marketing prospects for this series.
This video demonstrates customization settings for coffee-milk based drinks with My function in DeLonghi Eletta Explore.