This review is updated regularly with new models
Last updated: October 14, 2019
Dishwashing problem has existed for several centuries. The development of the catering system has further aggravated it. Of course, cleaning a huge amount of dishes from fats, their further rinsing and drying was a difficult and time-consuming task. As a result, the market has formed a demand for its solution. Of course, many inventors enthusiastically have responded to this problem.
In 1850, Joel Houghton invented and patented a hand-operated dishwashing machine. Already in 1865 another patent was issued for a similar design. But these primitive devices are not widespread due to low efficiency.
The first practical dishwasher was created by Josephine Garis Cochrane in Chicago in 1887. But it also used a manual drive.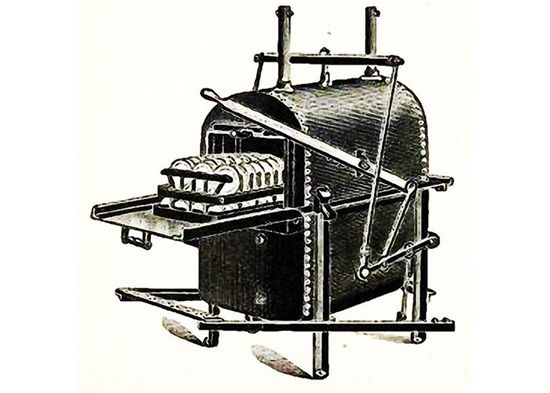 The first dishwasher for home use was proposed by the Englishman William Howard Livens in 1924. It contained almost all the elements of the modern model, with the exception of the dryer. Unfortunately, they were very expensive. And only in the 1970s the price of home models became available for wide distribution.
Certainly, modern models are not much like their prototypes. Today the market offers a huge number of different dishwashers. Of course, a wide selection pleases consumers, but sometimes complicates the choice, which depends primarily on the functionality and specs models. But mostly, portable, built-in, and compact countertop dishwashers are the most popular. Of course, the format of the article does not pretend to be a detailed analysis and offers only a few modern popular built-in dishwashers, including:
– LG LDF5545ST Front Control Dishwasher with QuadWash and EasyRack Plus;
– Frigidaire Gallery FGID2466QF 24″ Built-In Dishwasher;
– Bosch SHPM88Z75N 24″ 800 Series.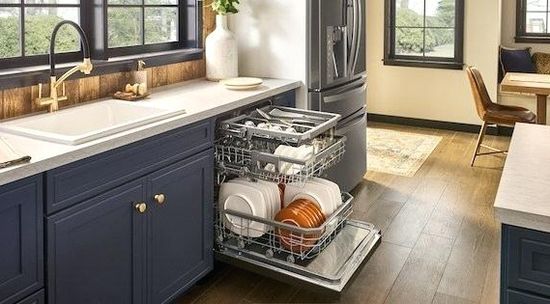 Key Features
– innovative QuadWash technology.
It uses four sprayers instead of the traditional two, increasing dishwashing efficiency.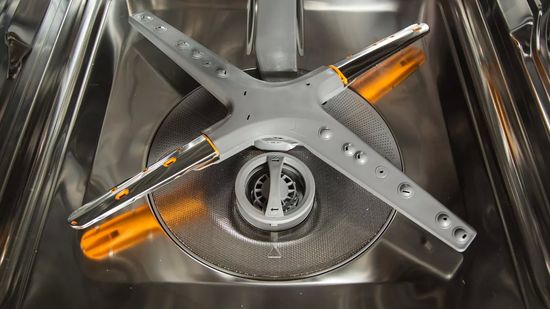 In addition, each of the blades can rotate in two directions. Periodic change of rotation direction ensures dishwashing from all sides;
– EasyRack Plus increases the capacity due to the optimizing the configuration of the racks depending on the dishes size.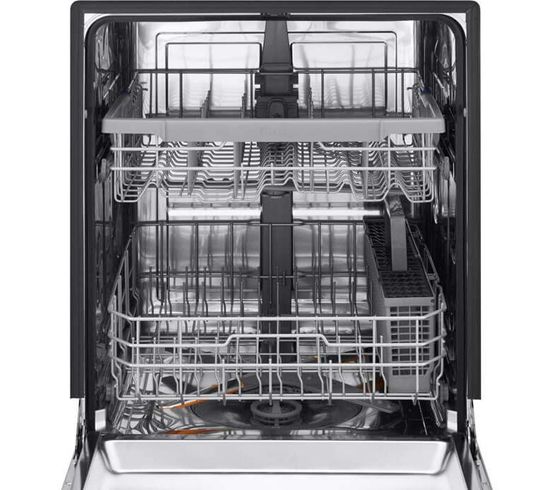 – 15 place settings capacity;
– extra options, including a countdown timer, overnight dry, single-rack washing, Delay Start up to 12 hours, Machine-Clean cycle, Dual Zone, Half Load and Night Dry options;
– additional Pots and Pans, Casseroles, Glassware and Night Care cycles.
– UV sanitization uses an UV lamp on the wall of the washing chamber to sterilize dishes.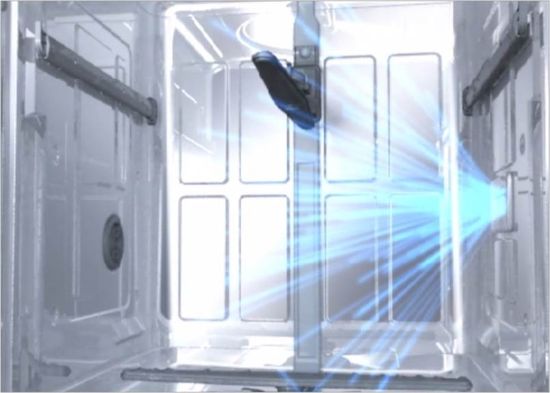 According to the company, it removes up to 99.9% of bacteria. The mode works during 25 minutes after the end of the cycle. In addition, the UV sterilization cycle is programmed to run a second time if the dishwasher door has not been opened after two hours.
Key Features
– model has innovative OrbitClean Wash System, which uses 4 times more water per one cycle for intensive dishwashing.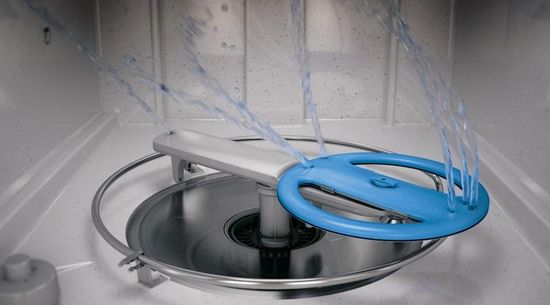 Of course, it reduces cycle time with the same quality, but also increases water consumption. It's used in a convenient 34-minute Quick Clean.
– the top-rack-only wash is very convenient in many cases.
– dry score reaches 56% with "Sahara dry" option;
– AquaSurge technology adjusts washing pressure;
– Sanitize cycle removes op to 99.9% of common household bacteria;
According to the company, SpaceWise Organization System provides cleaning 14 place settings per cycle. But really, racks provide comfortable accommodation for 11 place settings.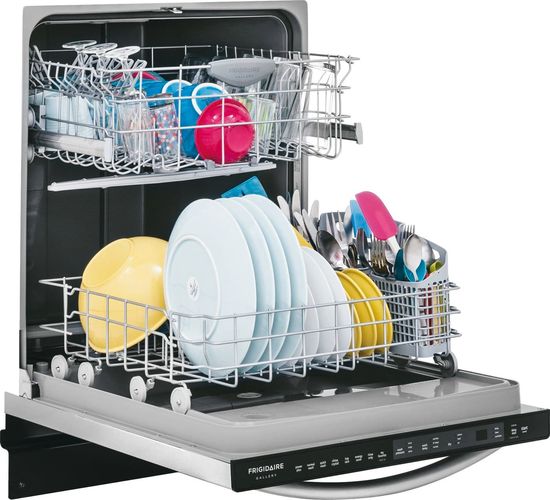 – DishSense technology automatically adjusts the cycle time;
– Stay-Put Door holds the door at whatever angle during loading and unloading.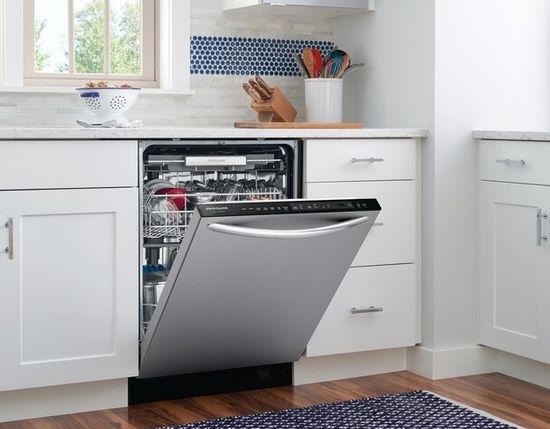 In addition, FGID2466QF offers easy-to-use cleaning cycle options including Rinse Only, Heavy Clean and Upper Rack.
Pluses include very stylish design, My Favorite cycle, which saves a cycle-plus-wash option configuration, good user settings (at 3 different wash pressures, wash temperatures, and drying methods), 33-minute Quick Wash cycle, NSF Certified, silverware basket, fully integrated control panel, and exellent functionality.
The list of cons includes the unsuccessful design of tines on the upper rack, increased operating cost due to high water consumption, high noise level up to 52 dB, inefficiency water filter design, too complicated control, and plastic inner tub.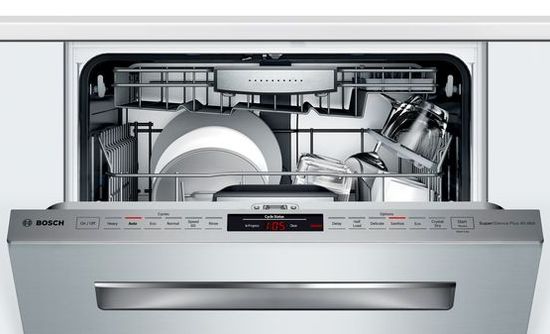 Key Features
– CrystalDry technology.
PerfectDry with patented CrystalDry technology increases the drying efficiency without increasing energy consumption. It uses zeolite, which absorbs moisture and convert it into a warm air stream upon activation PerfectDry function. Unfortunately, these models are expensive. Previously, only three Bosch dishwashers used this technology and cost at least $ 1,500. Today, Bosch offers the models with this technology for about $ 1,000;
– the ExtraDry option increases drying intensity by increasing the temperature of the hot air stream;
– completely stainless steel;
– 16 Place Settings;
– Pocket Handle;
– three adjustable heights on the upper rack;
– InfoLight projects a red light onto the floor during the wash cycle. As known, some Bosch models, for example SPV66TD00E, uses TimeLight option for projecting a programmed time.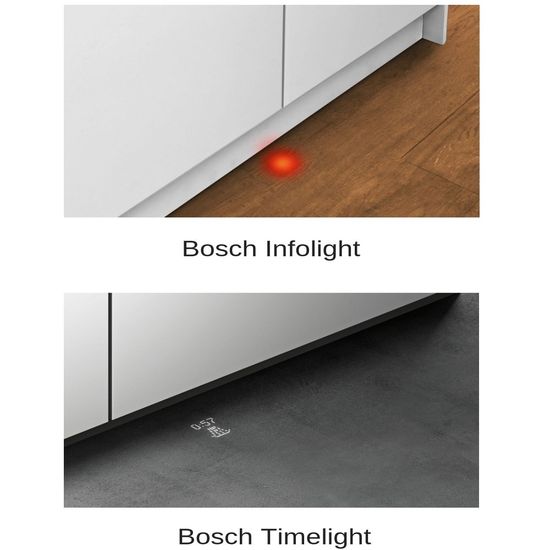 – noise does not exceed 40 dBA. In this series, company uses the EcoSilence motor system, and a sound absorbing base. As a result, the model reasonably pretends to be Quietest Dishwasher;
– MyWay third rack has space for ladles, knives, and chopsticks;
– testing showed an excellent dishwashing quality. In particular, the model provides a cleaning level of dirty dishes of 94.5% on the Normal and 99.5% on the Heavy mode even for burnt sugar;
– Half-Load option;
– Sanitize option helps when cleaning ultra-messy dishes. Of course, it uses a lot of power and increases the cycle duration, but very effectively destroys germs by heating water to 160° F. In some cases, it can even be used to wash children's toys instead of a washer.
In their reviews users most often mention a convenient removable cutlery basket and quiet operation.
Conclusion
1. LG LDF5545ST and Frigidaire Gallery FGID2466QF at a price of about $ 650, offer very high consumer qualities for this class.
In particular, the LG LDF5545ST washes 15 place per cycle, uses innovative QuadWash technology with four sprayers, great Invertor Direct Drive, and efficient SmartDiagnosis. In addition, the model does not show any obvious cons, except for the non-integrated control panel. However, many consumers consider this a plus. But, of course, the quality of dishwashing and its drying corresponds only to an average level.
In turn, Frigidaire Gallery FGID2466QF has great advanced functionality and a stylish design. Unfortunately, it has some disadvantages, including an unsuccessful top rack design, non-ideal filter operation, limited capacity, and increased water consumption.
2. Bosch SHPM88Z75N at a price of about $ 1,250, offers very high quality dishwashing, unique innovative CrystalDry technology using zeolite, traditional German reliability, 3rd rack, and very low noise due to the EcoSilence motor system and a sound absorbing base.
But, of course, the optimal choice depends on personal preferences and budget. We sincerely wish you the Right Solution!
This video demonstrates CrystalDry operation principle and compares the Bosch 800-Series vs KitchenAid KDTE334GPS vs Miele Classic.