Bosch and KitchenAid are probably some of the most well-known brands in many consumer appliance segments, and dishwashers are no exception.
As known, KitchenAid was created on the basis of the Hobart Corporation in 1919. The 'K' mixer became its first major success in the 1930s. Curiously, but its phenomenally popular design is still relevant today.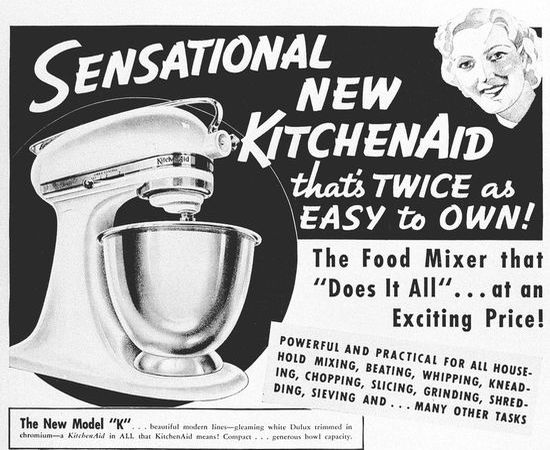 In 1949, the company developed the first dishwasher.
After the takeover by Whirlpool Corporation in 1986, the KitchenAid-branded range quickly expanded with blenders and other small kitchen appliances.
Up until the 2010s, KitchenAid dishwashers dominated the US market thanks to their superior performance, reliability and functionality.
But the arrival of competitors from Europe and Asia to the American market significantly shook its position. In particular, they offered innovative solutions and low noise levels at a fairly reasonable price.
However, the management responded quite adequately to new challenges. For example, by abandoning the noisy solid food disposer in favor of an improved filtration system, the company has drastically reduced the noise level. Today, KitchenAid dishwashers are quite successful in maintaining their position in this segment.
An equally eminent German brand is used by BSH Hausgeräte GmbH, which was founded in 1967 by the merger of Siemens AG and Robert Bosch GmbH. In addition to Bosch and Siemens, it makes products under Gaggenau, Neff, Thermador, Constructa, Viva and Ufesa brands, many of which also need no introduction.
Bosch and KitchenAid dishwashers are mid-budget and premium in the $ 700 – $ 2,000 price range. In the $ 1,300 and up segment, they compete with each other and with the 'budget' Miele G 5000 series. Of course, other companies also offer premium models with similar functionality and price, but Miele, Bosch and KitchenAid are the most popular.
The lineup
Bosch dishwashers confidently dominate in terms of this criterion. Today the company offers more than 100 models with various combinations of price, specs, features and design.
Conventionally, they can be divided into five classes, including:
– entry-level budget 100 series – plastic-bottom tub;
– 300 series – stainless-steel interior, ADA models (Americans with Disabilities Act) with height of 32 inches instead of traditional 33–34 inches, and compact 18-inch versions.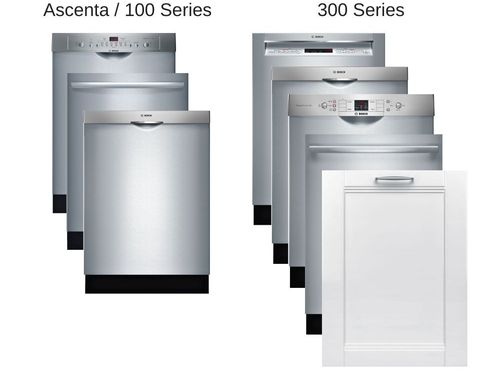 – 500 series with popular pocket handle, and AutoAir drying (automatically opens the door after wash for moisture vaporization);
– the quietest premium 800 series with Wi-Fi connectivity, a water softener, Crystal dry and custom finishes (panel-ready door).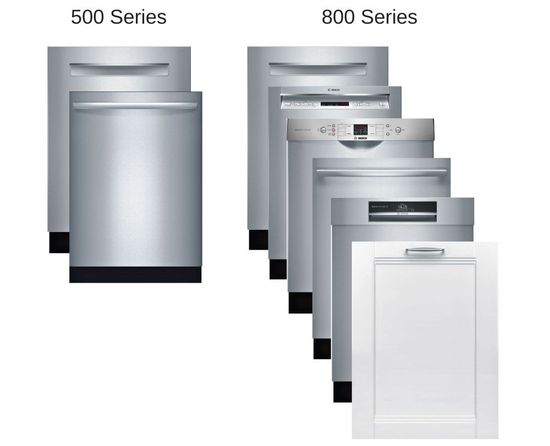 – Premium Benchmark series c max features.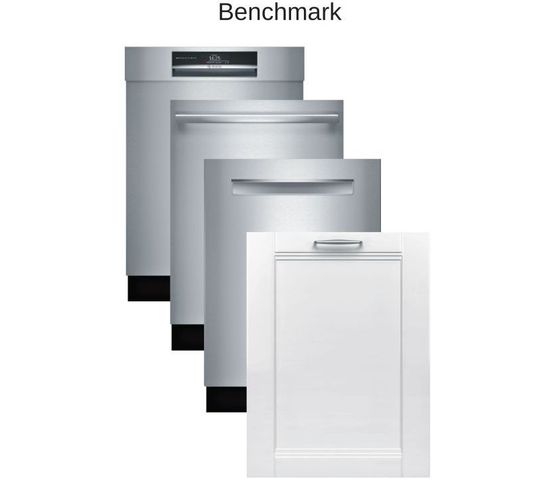 The KitchenAid range offers only about 20 models with varying price, features and designs.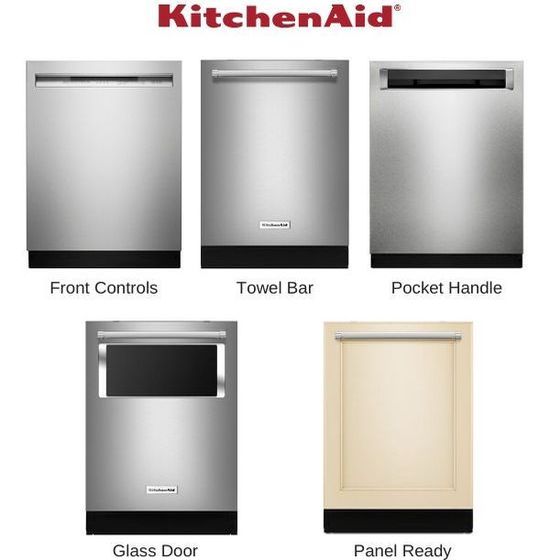 But this aspect has nuances. The range has long been one of the competition tools. But it should not cancel common sense.
In 2014 Samsung introduced 56 new smartphones, and LG – 41 new models. Taking into account other market participants and phones from previous years, the total number of models has exceeded five hundred. Even when they were divided into price segments, the market offered several hundred smartphones with approximately the same specs and features. But the patience of even a very fastidious buyer is hardly enough for at least a cursory acquaintance with their specs. As a result, many consumers began to choose models based only on their price and design.
But any new model requires additional costs for advertising and new documentation, which, of course, increases their price. Ultimately, many companies have significantly reduced their hyperactivity in expanding the range.
However, the ultra-wide range of Bosch dishwashers is impressive.
Wash and drying performance
Thanks to their efficient design, many KitchenAid models hold up to16 full place settings, which is the best in the industry. In addition, a triple filter system guarantees a great wash quality. It uses an innovative ultra-fine filter for removing dirt particles from the wash water.
Wash
Some models has Dynamic Wash Arm.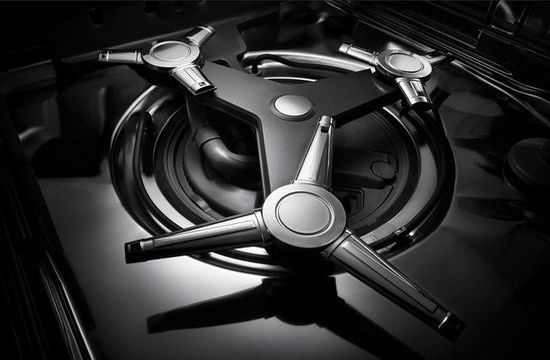 Nine wash arms on three sprinklers provide perfect coverage even in hard-to-reach places. Moreover, most models have the ProScrub system for washing heavily soiled pots and pans.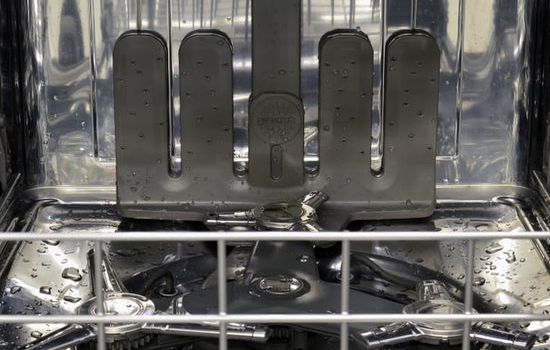 'Bottle Wash' feature for sports and baby bottles is quite innovative also.
As known, hard water or water with high mineral content can create problems. Firstly, calcification is accompanied by plaque formation on the inner walls of pipes, shortening their service life. In addition, hard water reduces the detergent effectiveness, and leaves a soap film on the dishes after rinsing. After water evaporation, it creates a cloudy film on the dish surface. To remedy this problem, some companies, including Bosch and Miele, offer models with a water softener.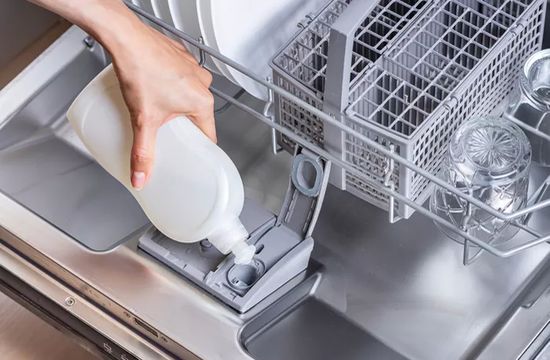 The company also uses two full-size wash arms and a top nozzle that sprays water directly onto the third rack.
Drying
Today Bosch's zeolite-based CrystalDry in the 800 series is the most innovative in the industry. It improves drying efficiency due to increased up to 176ºF (80ºC) air temperature, which is heated using the heat of a chemical reaction between zeolite and water without energy consumption. Additionally, AutoAir Dry speeds up drying by ventilating after automatically opening the door at the end of the cycle.
KitchenAid also delivers high drying efficiency with a fan-enabled ProDry system with a heating element or Extended ProDry in high-end models.
Noise & Reliability
Almost all dishwasher manufacturers pay great attention to the noise level. Indeed, the cycle time exceeds 2 hours and the noise can tire during this time.
About 10 years ago KitchenAid dishwashers had this problem. But rejection of the noisy solid food disposer in favor of filtration system improvement drastically reduced their noise level. As a result, KitchenAid models have one of the best filtration systems and are extremely quiet.
Bosch began solving this problem about 20 years ago. The design optimization and near-silent brushless DC motor have made their models very quiet.
As a result, KitchenAid and Bosch dishwashers are rightfully considered the quietest, with noise levels ranging from 39 to 44 dB.
In fairness, the noise of modern models rarely exceeds 50 dB, which corresponds to, for example, moderate rainfall.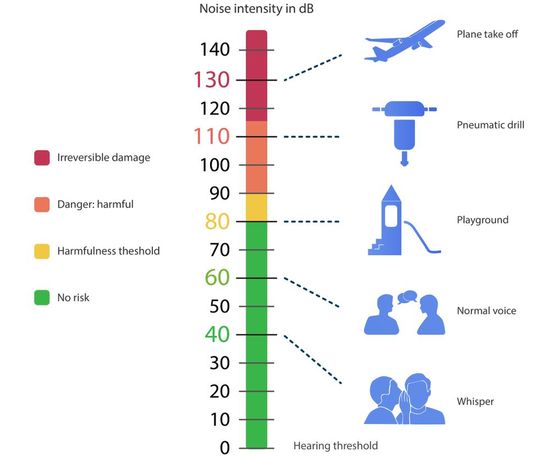 But perhaps some people with very sensitive hearing may experience discomfort from even this noise.
Reliability
Bosch are considered the second most reliable after Miele, some models of which last up to 20 years! Many Bosch dishwashers work properly for 10 years. What's more, the company provides a 10-year warranty on the direct current brushless motors that Bosch has been using since 2019. KitchenAid has a service life of up to 7 years, which is in line with the industry average.
Of course, the German company is superior to its American competitor. But given the current pace of technology development, even 7 years seem like an infinity in terms of technology obsolescence. In addition, this aspect when choosing a brand often depends on the individual experience of the consumer communicating with the company's service.
Key features

Door Design
Bosch dishwashers:
– Recessed Handle – visible control panel with a reach-in handle;
– Pocket Handle – hidden control panel with a reach-in handle;
– Bar Handle – hidden control panel with a towel-bar handle;
– Scoop Handle – hidden control panel with an elegant reach-in handle.
KitchenAid dishwashers:
– Hidden Top controls + Towel Bar handle;
– Hidden Top controls + Pocket handle.
Both companies offer models with the popular panel- ready door for a seamless kitchen finish.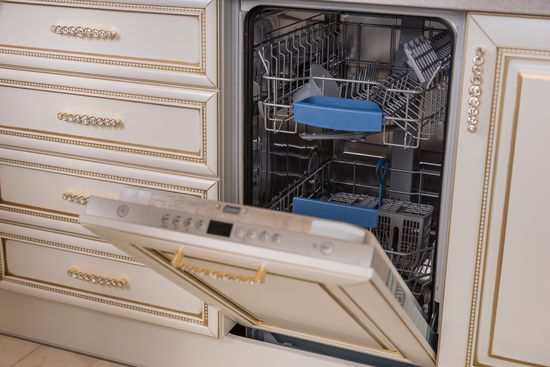 Interior & 3rd rack
Almost all competitor models have a stainless steel interior and the 3rd rack. Of course, stainless steel tub is stronger and looks better. But most importantly, it's necessary for energy-saving condensation drying.
Expensive models sometimes have interior lights. In addition, German dishwashers have an InfoLight feature that displays information on the floor.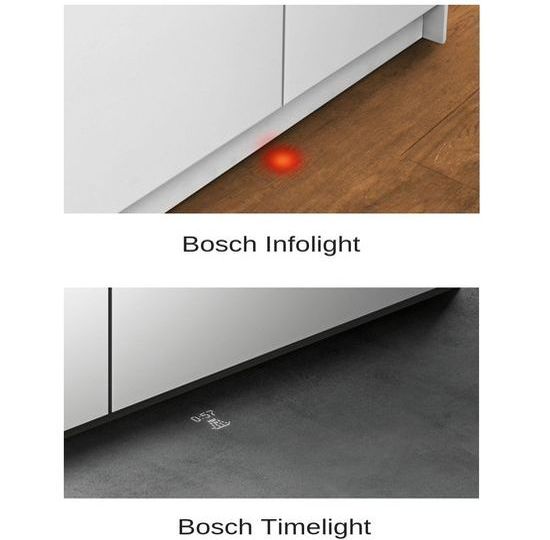 Of course, it's very convenient for models with hidden control panel.
Bosch MyWay and KitchenAid FreeFlex 3rd racks are among the best in the industry, providing great flexibility and up to 16 place settings.
Both companies offer dishwashers with adjustable racks and tines to accommodate large pots and bowls.
WiFi
The WiFi-enabled Bosch Benchmark and the 800 series can be controlled from a smartphone via the Bosch HomeConnect app. To be fair, some users are sometimes annoyed by WiFi kettles and basins. But the Bosch app is rightfully considered one of the best in the industry, offering some really useful features. Probably, WiFi support will be a significant bonus for progressives.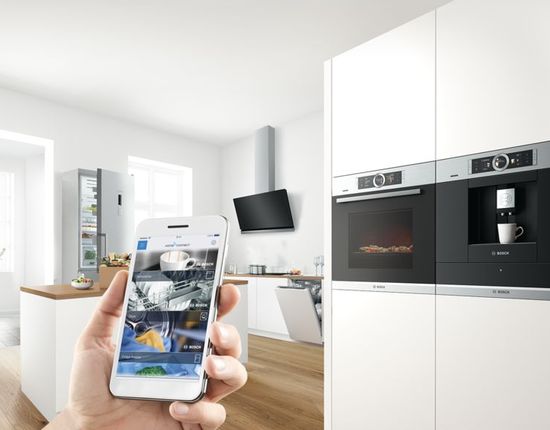 Popular models
The Bosch SHPM65Z55N (or SHP865ZD5N) 500 series offers excellent value for money. Priced at around $ 800, it has a flexible EasyGlide rack system (EasyGlide mechanism provides perfectly smooth movement), an elegant pocket handle, AutoAir drying option (automatic opening of the door for ventilation) and the InfoLight feature.
At 42 dB, Bosch SHXM78Z55N (or SHX878ZD5N) 800 series costs around $ 1,300 but offers an innovative energy saving zeolite-based CrystalDry option, a flexible EasyGlide rack system and MyWay 3rd rack, InfoLight and WiFi connectivity. What's more, the company offers 18-inch and ADA versions.
The premium almost-noiseless Bosch Benchmark SHV88PZ63N costs just under $ 2,000 but offers a full range of options, including a water softener.
The $ 1,050 KitchenAid KDFE104KBL features ProWash cleaning technology and unique PrintShield fingerprint-proof stainless steel finish.
Almost silent KitchenAid KDFE204KPS with 39 dB noise level is $ 1,150 and offers SatinGlide rails (smooth motion), a triple filtration system, PrintShield finish, HeatDry and Extended HeatDry drying.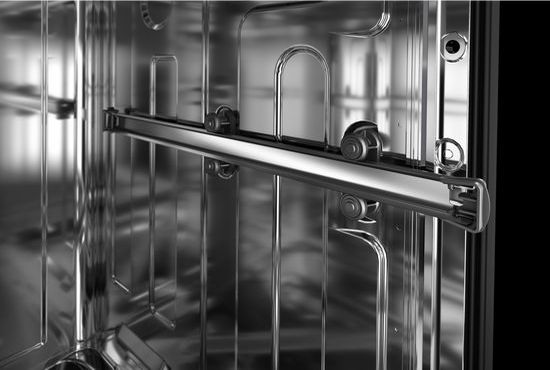 The KitchenAid KDTM404KPS with 44 dB noise is $ 1,350 but features the innovative FreeFlex 3rd rack, advanced clean water wash system, PrintShield finish and ProWash system. It uses different water pressures for the bottom and top racks to wash fragile glasses and heavy pans at the same time.
Conclusion
In principle, neither brand has a decisive advantage.
KitchenAid provides excellent wash performance with a triple filtration system (including self-cleaning ultra-fine filter), Dynamic Wash Arm which nine wash arms and ProScrub system for large dirty pans.
Bosch offers a much wider range (approximately 100 vs 20 models), and slightly more reliability with a 10 year warranty on the brushless motor.
In addition, Bosch models use many innovative solutions, including direct current brushless motor, WiFi compatibility, InfoLight, zeolite-based CrystalDry option, AutoAir Dry, etc.
Noise level, 3rd rack and interior of competitors corresponds to approximately the same level.
Curiously, the sizes of dishwashers can be positioned as one of the main bonuses of the German company. As known, the depth of most models is 24 inches. But KitchenAid makes dishwashers with depth of 24 ½" or 26 ¾" which can make installation difficult. In addition, Bosch offers ADA models and compact 18-inch versions.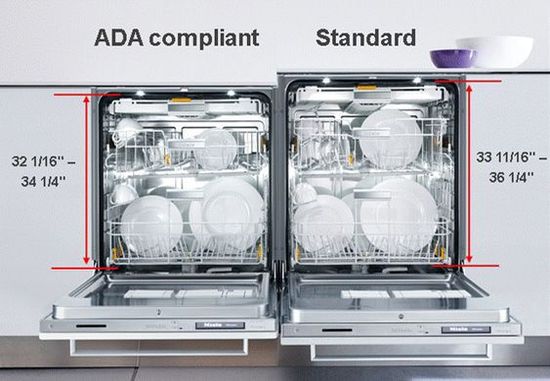 But KitchenAid dishwashers win when buying a KitchenAid appliance package due to significant discounts.
Of course, in addition to competing with each other, companies are forced to compete with other big-name manufacturers, including:
– GE;
premium Miele dishwashers with lots of innovative technologies.
However, this does not prevent companies from successfully competing in the $800 to $1,900 segment.
This video shows the operation principle of Bosch's zeolite-based CrystalDry technology.