The rapid development of semiconductors allowed companies to develop portable LED projectors using LEDs as light sources.
As known, their practically do not heat up and do not require a large internal volume for heat dissipation. As a result, compactness has become one of their main advantages. In addition, their service life varies from 20,000 to 30,000 hours, which corresponds to approximately 10 years of active use.
Today, companies usually produce modern LED projectors in the form of a compact thin parallelepiped, which easily fits even in your pocket. Moreover, the modern market also offers smartphones with the function of an integrated projector.
As known, maintaining high competitiveness requires a constant expansion of the range in almost all segments of consumer electronics. Of course, pico projectors are fully consistent with this trend. Therefore, leading companies regularly present their new models on the market. 2019 was no exception. This year, the range of pico projectors has also expanded significantly. Of course, the format of the review does not allow us to consider their complete list. But it contains the most promising models.
This list includes:
– Canon Rayo S1 WVGA Pocket Projector;
– AAXA P7 Projector;
– Miroir Ultra Pro Projector M631;
– WOWOTO Portable Projectors;
– ELEPHAS GC333 (YG600) Full HD 1080p Portable Home Theater Projector.
As a rule, any new consumer electronics usually has a maximum price in the first year of its appearance on the market. Therefore, they rarely come in TOPs from experts. In addition, they do not have positive consumer reviews and therefore are not Best Sellers. Nevertheless, they are interesting for those buyers who prefer the latest innovative models when choosing the optimal mini projector.
Canon Rayo S1 WVGA Pocket Projector
Of course, this Japanese brand does not require the introduction. In January 2019, the company introduced its new Canon Rayo S1 WVGA pocket projector.
This model with brightness of 100 ANSI lm, 854 x 480 resolution and contrast ratio of 800: 1 (full on / off) costs nearly $ 260. Its optics with Throw Ratio of 1.60: 1 (D: W) provides the maximum projection at up to 84 inches diagonally at 10 ft. But such an image, probably, will be very dim due to the insufficient Lumen Output. Actually, its Estimated Image Brightness reaches of 72 nits and more only for projections with sizes up to 40″ diagonally in rooms with low ambient light (https://www.projectorcentral.com/Canon-Rayo_S1-projection-calculator- pro.htm).
The weight and size of this ultra compact square model model do not exceed 4 x 4 in and 0.5 pounds (0.22 kg), respectively.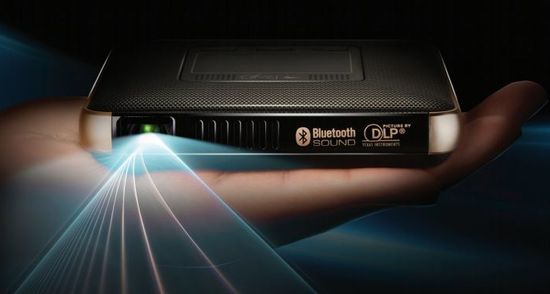 Moreover, the list of its pros includes:
-WiFi connectivity;
-Android OS with built-in web browser and Canon Camera Connect app;
-4 GB Internal Memory;
– 3 W Bluetooth speaker;
– a smart touchpad;
– compatibility with some wireless gadgets;
– support to connect and mirror a smartphone or tablet;
– on-screen QWERTY keyboard to type;
– built-in power bank for charging;
– low Audible Noise up to 18.0 dB.
Unfortunately, the projector does not provide Digital Keystone and does not have autofocus.
Given the relatively low price and the brand's excellent reputation, these key features provide it with good market prospects.
The video at the end demonstrates its capabilities.
As known, AAXA Technologies Inc is one of the leaders in this segment. In February 2019, this company introduced the AAXA P7 1080p Home Theater Mini Projector. List of its pros includes brightness of 600 ANSI Lm at native 1080p (1920 x 1080) Full HD resolution with contrast 2,000: 1 and multiple connectivity options.
In addition, its Throw Ratio of 1.20: 1 (D: W) provides 98″@ 102 inch for optimal 58 nits at Screen Gain of 1,2 (low ambient light). But, of course, video quality decreases when projection size is increased to the maximum. At Screen Gain of 1.0, the projector provides an optimal 60 nit only for a screen of no more than 88″ diagonally.
Moreover, the projector supports vertical digital keystone, has 2.0 W × 2 speakers, Memory Card Reader and tripod, and its Lamp Life reaches 30,000 hours. Additionally, the model can use the powerful 38 Watt Lithium-Ion Battery, which is sold separately.
At the same time, the size and weight of the model does not exceed 4,7 x 4,4 x 2,7 in and 1,4 lbs, which is excellent results for such specs.
Today, this model successfully competes in its segment and costs nearly $ 400.
Of course, Miroir USA, LLC also does not require the introduction. This company has over 15 years experience in the projection display technology in close partnership with Texas Instruments.
The Miroir Ultra Pro Projector M631 appeared in January 2019 and belongs to a higher class compared to previous Miroir mini projectors.
It's a very portable, native-1080p projector with brightness of 700 ANSI lm, contrast of 1,000:1 (full on/off), two HDMI ports and a USB C port. Its weight and dimensions do not exceed 1.5 x 9.5 x 5.4 in and 1.98 lbs. But, of course, these specs are more suited to mini-projectors than pico.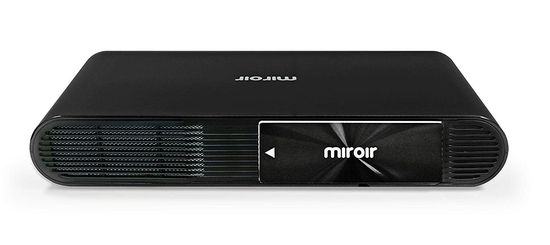 As known, Miroir positions this model as an accessory for the iPhone, iPad, MacBook and Apple TV. But the USB C port provides connection to almost any modern device.
Its advantages include a 1080p native resolution with support for 4K input at up to 30 Hz, screen size from 20 to 120 inches diagonally, motorized focus and auto-keystone correction ± 40°, ease of use (controls only for focus, volume, source and power level), two built-in 3-watt speakers, USB charging port, inverting function for a ceiling mount, two HDMI ports and one USB-C.
However, some experts consider a limited set of settings a disadvantage.
Unfortunately, the price of this model reaches $ 650, which significantly exceeds the cost of other models under this brand. But it corresponds to such class.
WOWOTO P5 Portable Projector
As known, Chinese Shenzhen Wowoto technology Co., Ltd. is a developer and manufacturer of LED projectors since 2006. Today the company offers more than ten DLP LED models with Android OS, the brightness of which ranges from 50 to 700 ANSI lm, native resolution from 854 x 480 to 1920 x 1080, and throw ratio range from 0,25 to 1,6.
This spring, the company introduced the WOWOTO P5 Portable Smart DLP Full HD 1080p 3D Projector and the WOWOTO H10 Mini Video Projector, DLP Android 6.0.
WOWOTO P5 has a stylish extravagant design with size and weight of 9.7 x 4.1 x 1.2 in and 1.3 lbs, respectively.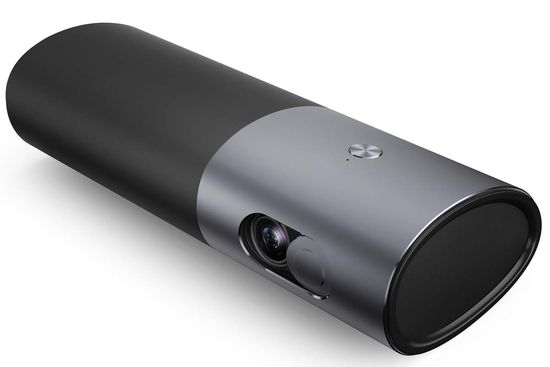 It has built-in Android 4.4 OS and uses DLP advanced IntelliBright algorithms. WOWOTO P5 provides brightness of 400 ANSI lm, has a native resolution of 1280 x 800 and supports 1080p (1920 × 1080). Its contrast ratio reaches 10,000: 1 (full on / off). In addition, the projector has a dual 10W 360° speaker and supports 3D movies.
According to the company, projection size ranges from 50 to 200 inches. But it seems doubtful. A brightness of 400 ANSI lm is unlikely to provide sufficient image saturation for maximum screen sizes, even in a completely darkened room. Such an image is likely to be too dim.
Built-in 15600mAh battery delivers up to more than 4 hours playtime on a single charge. Of course, this is a great result. Moreover, the projector supports Bluetooth and Wi-Fi connection, providing an excellent set of connections.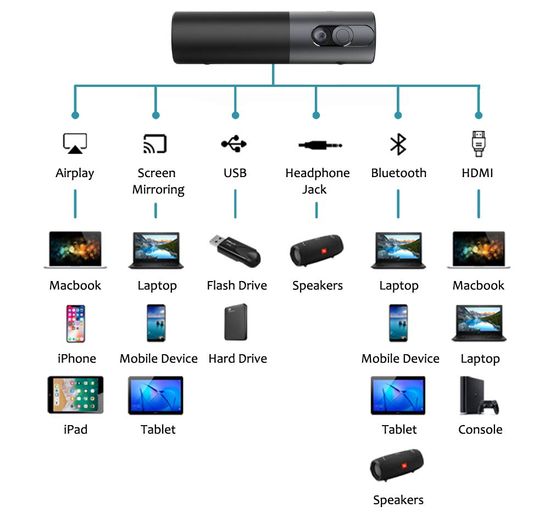 Today, this model costs nearly $ 430.
WOWOTO H10 Mini Video Projector
WOWOTO H10 became the second novelty of 2019 from this company. H10 has a more traditional design.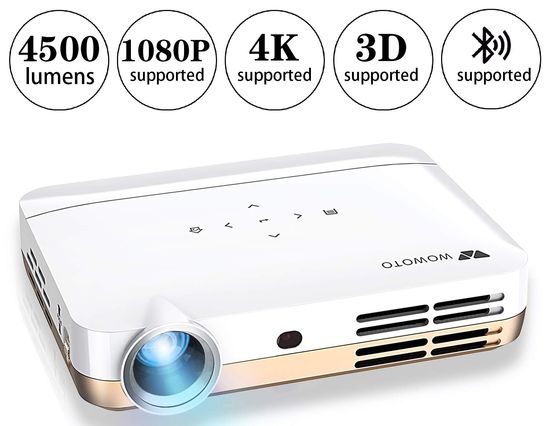 It's $ 70 more expensive and costs nearly $ 500. H10 also supports 1080p resolution and 3D videos. But its Lumen Output reaches 450 ANSI lm. In addition, this model provides vertical Auto/Manual Keystone ±40° and uses upgraded Android 6.0 OS.
ELEPHAS GC333 (YG600) Full HD 1080p Projector
American consumers have been familiar with ELEPHAS projectors since 2017. Unprecedented low prices and high enough quality have provided them with great popularity. Today, this company is the world's largest producer of budget projectors. It has more than 10 years of experience in the audiovisual industry. Additionally, the company specializes in the design and manufacturer of digital cinema, projector screens, projector stands, 3D glasses, and Bluetooth speakers.
The range of its projectors includes S1, RD606, YG500, YG400, BL45, T20, YG600, CL760 series and the company continues to actively expand it. 2019 was no exception. In particular, in February 2019, the company introduced the ELEPHAS GC333 (YG600) Portable Home Theater Projector.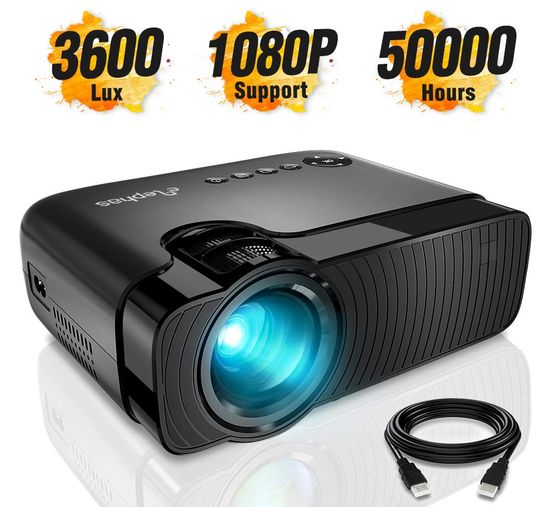 GC333 provides multifunctional connection and is compatible with TV Box/ Roku Stick/ Chromecast/ Laptop/ DVD/ PS3/ Xbox/ via HDMI input, PC via VGA slot, and USB drive via USB jack.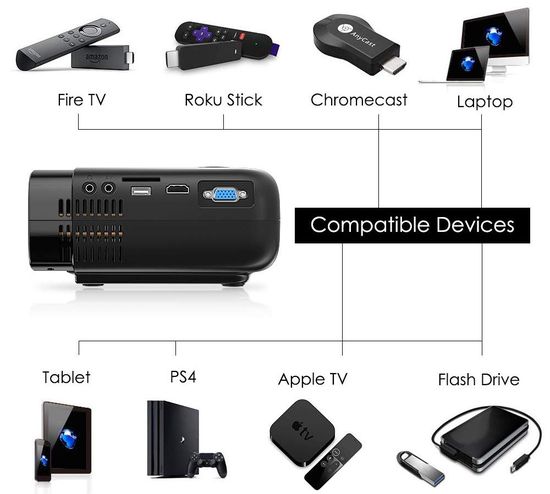 Optional HDMI adaptor provides connection to smart phone.
According to the company, the model provides a brightness of several hundred ANSI lm (3600 Lux) at 1280 x 800 native resolution (1080p supported) with a contrast of 3,000: 1 (full on / off). Projector optics provides a display size up to 200″. But, of course, the colors saturation decreases with increasing size.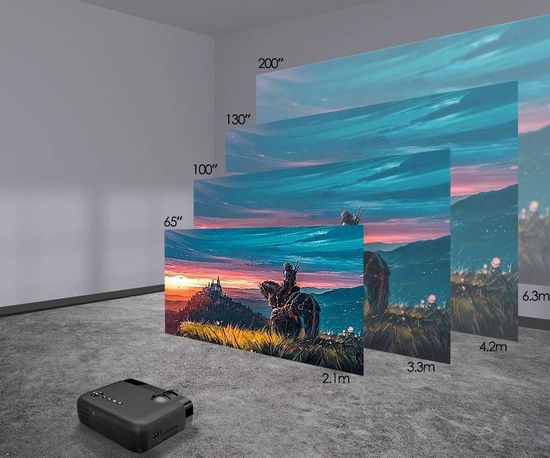 But these specs seem dubious given the price of only $ 85. Otherwise, this unprecedented dumping will please many potential buyers.
Built-in dual HI-FI level stereo speakers deliver booming sound of high enough quality.
In addition, ELEPHAS provides a 3-years warranty and has the approval certificates with CE FCC RoHS.