The TVs segment has rightfully been considered one of the most innovative in the field of consumer electronics. HDR technology, digital image processing using modern powerful processors, and HDMI 2.1 standard has radically expanded the capabilities of developers.
At CES 2020, industry leaders introduced a new generation of 8K flagships, including Samsung Q950TS 8K, LG Signature OLED 8K ZX, Sony 8K LCD Z8H, and TCL QLED 8K X915.
Of course, TV image technologies is one of the main directions for their further improvement. As known, today companies use LED LCD and OLED technology. Wherein, LG confidently dominates the OLED TVs segment, successfully improving and cheapening this technology. LED LCD technology received a powerful boost after the development of Samsung SUHD TVs with Quantum dot display. Subsequently, almost all industry leaders joined this direction. As a result, today Sony offers Triluminos, LG – NanoCell, Hisense – ULED TVs, etc.
In recent years, the development progress of QD technology has accelerated significantly. In June 2018, the Korean ETNews portal first announced the plans of Samsung Display to begin in 2019 a test production of screens based on QD-OLED matrices with a layer of quantum dots. Then, in November 2019, Samsung intensified the intrigue announcing the launch of research of QNED technology under the leadership of Samsung Vice President Kwon Oh-hyun. Moreover, Samsung has already confirmed its plans to invest $ 11 billion for two QD-OLED production lines in South Korea by 2025. All this information creates a feeling of grandiose technological changes in the TV segment in the near future.
Nanosys company from Milpitas, California is one of the main developers of technologies for displays based on quantum dots. An analysis of its products will help create an idea of the current situation in this segment.
Quantum Dot Enhancement Film (QDEF)
In 2011, Nanosys introduced Quantum Dot Enhancement Film (QDEF), which became an optical film component for LED driven LCDs. The QDEF sheet contains a huge amount of tiny Quantum Dot Phosphors. QDEF has dramatically increased the brightness and saturation of LED LCD displays, providing a great tri-color white light from a standard blue LED light source. Tiny phosphors convert blue light from a standard Gallium Nitride LED into different wavelengths depending on their size. For example, larger dots emit longer wavelengths (red color), and smaller dots – shorter wavelengths (green color).
A wide range of crystalline phosphors provides high accuracy in the conversion of light in the visible spectrum, increasing color accuracy and expanding color gammut.
Technologically, companies are installing QDEF into into a standard LCD's film stack.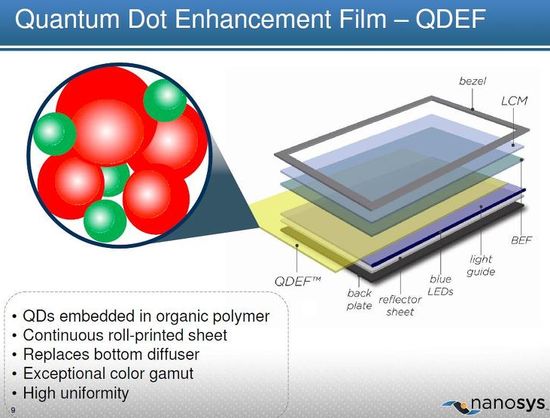 At CES 2015 Samsung announced licensing for QDEF products. Today QDEF is used by Vizio in M-Series Quantum, P-Series Quantum and P-Series Quantum X, Hisense in ULED TV and TCL in QLED 4K C715/C815 TVs.
As known, Samsung plans to suspend the production of all traditional LCD displays by the end of 2020, reallocating its resources to the segment of models with quantum dot technology.
But modern QLED displays continue to use the LCD LED backlight, which reduces contrast and viewing angles. Hybrid QD-OLED synthesizes QLED and OLED manufacturing principles into a single process, eliminating the pros and enhancing the pros of each.
In this case, the blue OLED layer becomes the only light source. After filtering in the layer of quantum dots, part of the blue will be converted to red and green to reproduce the entire color spectrum. Using only the blue OLED layer as a light source reduces the number of layers and costs involved.
Nanosys Quantum Dot technologies
In fact, today Nanosys provides manufacturers with the technology platforms for LCD displays. This list includes QDEF, QDOG and QDCC.
QDEF (Quantum Dot Enhancement Film) is a thin film for LCD displays with photoluminescent quantum dots.

PROS:
– 90% Rec.2020 or BT.2020 standard (3840 × 2160 or "4K" and 7680 × 4320 or "8K" resolution);
– 2000 nits of peak brightness for HDR;
– no burnout;
– compatible with FALD;
– low price.
QDOG (Quantum Dot Glass technology) eliminates the need for plastic barrier films and allows companies to use LCD screens with a thickness of only 5 mm.

PROS:
– ultrathin design;
– 100% DCI-P3;
– no burnout;
– compatible with FALD;
– low price.
QDCC-LCD is a display component with pixelated green and red quantum dots. It converts blue source light into green or red.

PROS:
– active sub-pixel patterned Quantum Dot emitter layer instead passive Color Filter Array;
– increase in brightness, viewing angles and resolution.
QD-OLED, QD-MicroLED (QNED) and QDEL
Modern WOLED TVs use dozens of layers to produce a white light source, and then filter it on red, green, blue and white. Quantum Dot-OLED (QD-OLED) requires significantly fewer layers, converting blue to green and red subpixels and expanding the color gammut.

PROS:
– ideal black level, high resolution and unlimited viewing angles;
– pure RGB color without white subpixel;
– low cost.
Quantum Dot MicroLED is designed for microLED displays.

PROS:
– the ideal black level and very wide viewing angles;
– price reduction due to a significant simplification of the production process.
QDEL (Quantum Dot Electro Luminescent) technology is the most promising. By analogy with OLED technology, quantum dots also convert electricity to photons. But unlike OLED, QDEL displays can be made using cheap printing technology. In addition, the technology provides robust reliability of inorganic materials and the expansion of color gammut.

PROS:
– ideal black level, great colors and wide viewing angles;
– increased reliability;
– low cost due to the possibility of using inkjet, transfer or intaglio printing.
Conclusions
Nanosys products create excellent prerequisites for the successful completion of the new image technology development by Samsung engineers. Probably in a few years the company will actually be able to offer the generation of new QD-OLED, QD-MicroLED and, finally, QDEL TVs. With high probability, this event will end the long-standing competition between QLED and OLED technologies, replacing them with a more efficient hybrid.
This video demonstrates new Nanosys technology platforms for future displays.