Despite the quarantine, virtual CES 2021 presented in full all the innovative achievements of the industry leaders for 2020. Probably, the improvement of Mini-LED backlight technology in LCD TVs can be positioned as one of the main trends. Almost all industry leaders have demonstrated huge progress in this direction. This listing includes Samsung's Neo QLED, LG's QNED and TCL's OD-Zero backlight technologies. They are all based on the use of miniature LEDs for backlight instead of traditional ones.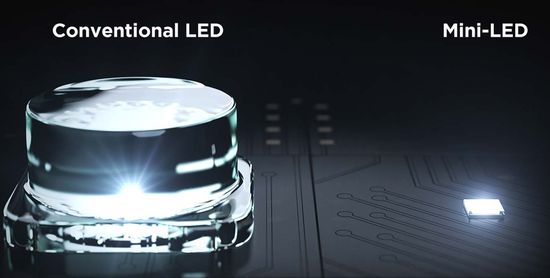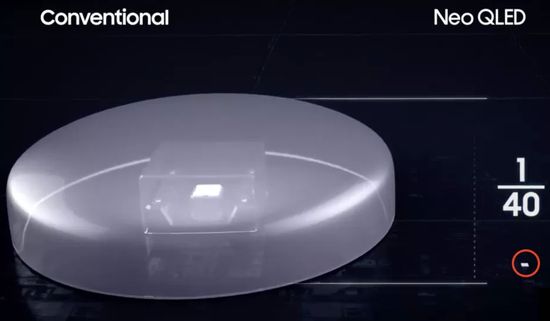 Radically downsizing LEDs has allowed companies to increase their number to tens of thousands. For example, Samsung announced about 30,000 mini LEDs in Neo QLED, and LG indicates 25,000 in QNED. Accordingly, the number of Local Dimming zones has also dramatically increased to several thousand. In comparison, Sony XBR-85Z9G 8K TV costing about $ 10,000 has only 720 zones.
Considering the specs of previous Samsung TVs and a tenfold increase in the number of mini LEDs, Samsung's new Neo QLEDs will use around 5,000 Local Dimming zones! LG has announced an increase in their number to 2,500. In theory, they should provide a significant improvement in the playback quality of HDR content through significant increases in contrast, peak brightness, color accuracy, etc.
In addition to the advancement of Mini-LED backlight technology, the companies have traditionally presented many innovative concepts. For example, TCL announced an 85-inch TCL XL Collection, Samsung has shown progress in the development of Micro LED TVs, etc.
Traditionally, LG has confirmed its status as one of the innovative leaders, presenting several new concepts and and technologies.
LG transparent smart TV
As known, the rollable screen was first announced at CES 2019. At CES 2021, LG unveiled the next generation, showing a 40% transparent smart panel. The light transmission of traditional models is about 10%.
Basically, this is not the first transparent TV. In August last year, Xiaomi began selling the Mi LUX OLED smart TV with a 5.7mm ultra-thin body in China for about $ 7,750 (50,000 CNY).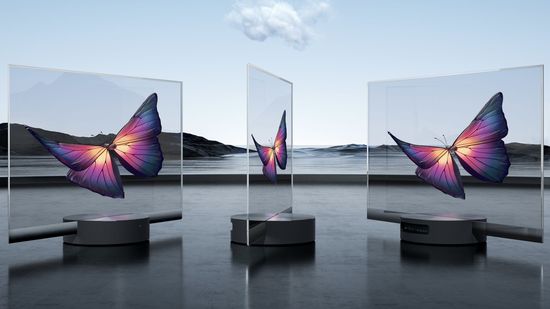 It has a 55-inch OLED edge-to-edge transparent self-luminous display with a 150,000: 1 static contrast ratio, 93% of DCI-P3, a refresh rate of 120Hz and MEMC technology for smoother motion representation. TV also uses the MediaTek 9650 TV chip with an AI Master Smart Engine support (over 20 optimization algorithms). But given its absence in the American and European markets, today Mi LUX OLED is only of academic interest.
LG introduced three modifications, including «Bed», «Subway» and «Restaurant». The first model can be easily placed even on the headboard and easily moved around the apartment.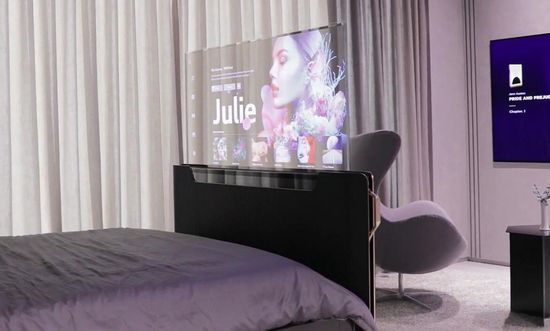 The screen remains partially transparent even when playing video content, and the speakers are integrated into its frame. The panel is fully or partially extended using the remote. The second mode is convenient for displaying information (time, weather, news, etc).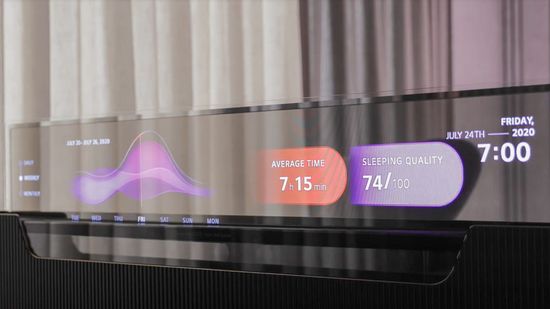 LG also plans to develop transparent models for use in public places. For example, Subway can be installed in a subway car instead of a glass window, displaying a map of stations, advertisements, etc.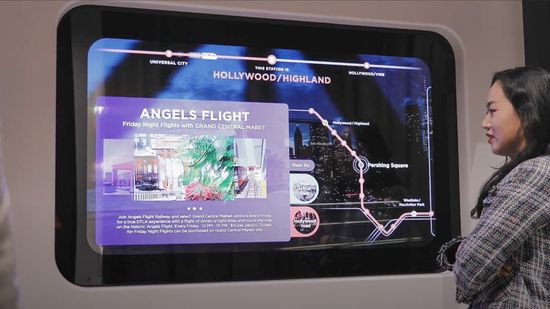 The version with an additional 23.1-inch in-Touch stretch display can be used, for example, in restaurants, displaying the cooking on the main screen and the order menu on the second display.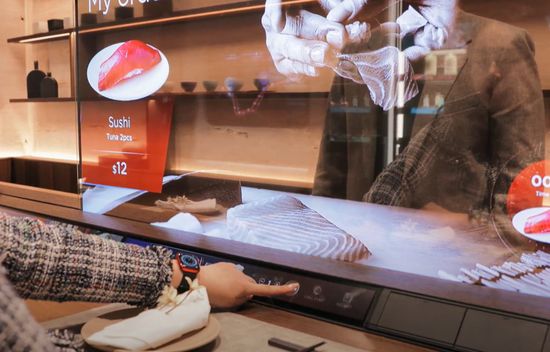 Unfortunately, transparent models have significant cons, because this technology reduces their brightness, contrast and some other image parameters.
Rail & Pivot, CSO Gaming and 88-in 8K CSO TVs
The company also introduced the 55-in Rail & Pivot OLED TV, positioning it as a fitness model. It attaches to a rail on the wall, allowing the TV to move quickly and conveniently along the wall.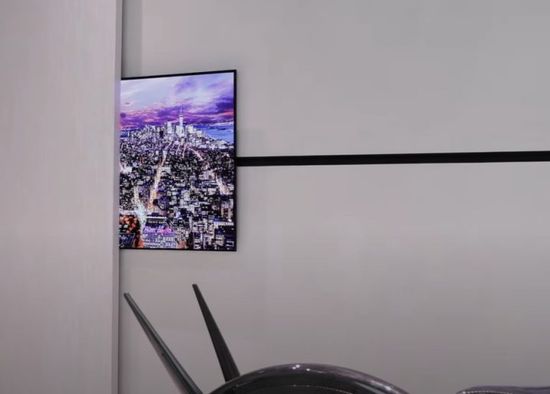 In addition, like Samsung The Sero на CES 2020, LG Rail & Pivot can be rotated horizontally or vertically for convenient viewing content from a smartphone or TikTok.
For gamers, LG offers a 48-in Bendable Cinematic Sound OLED (CSO) gaming TV can bend to a radius of 40 inches (1,000mm). Accordingly, the consumer can use a flat orientation for watching content or curved display in games, for example, in racing simulators.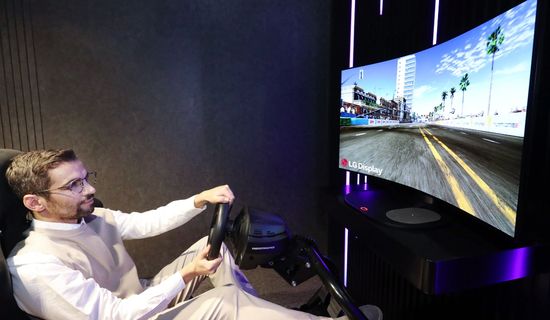 This display supports a refresh rate ranging from 40Hz to 120Hz, provides Cinematic Sound without additional speakers, has a response time of only 0.1 ms and an unprecedented thickness of only 0.6 mm. Moreover, the model is certified as emitting low levels of blue light and being flicker-free, which minimizes eye fatigue.
The new LG 88-in 8K Cinematic Sound OLED (CSO) TV is designed for home theater. Probably today this is the thinnest and most immersive model.
Like the gaming model, it can generate sound using oscillators on the back of the panel without separate speakers.
CSO technology is less efficient in LCD panels due to the large number of layers, but ideal for single layer OLED panels. The list of its pros includes:
– video and sound match perfectly in time;
– over 80% of audio is emitted very clearly for medium and high-pitch ranges;
– vibration of the entire screen surface provides the rich sound field.
LG OLED EVO
The company has also expanded its flagship TVs lineup with the G1 series with innovative OLED EVO technology, which uses an additional luminescent element in the OLED matrix structure. LG promises significant performance improvements including brightness, clarity, detail and realism.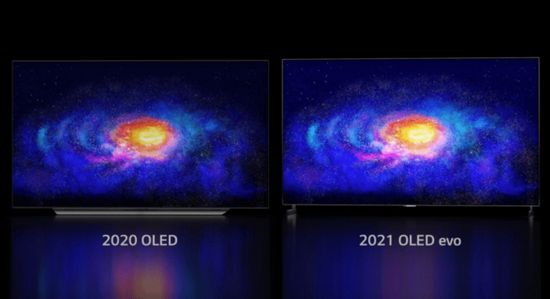 According to them, the new technology provides a maximum brightness of up to 1000 nits, which is about 30% higher than previous OLED TVs. Considering that low brightness of about 500 nits has traditionally been one of the main drawbacks of OLED TVs, EVO technology may well be positioned as a huge advance.
The G1 series includes 55, 65 and 77-inch models. In addition, they use LG's latest α (Alpha) 9 Gen 4 AI processors, which are also used in the C1 and Z1 series, and in the new QNED TVs with mini-LED backlight.
Of course, the α9 supports Deep Learning technology for AI 8K upscaling and AI Picture Pro function for recognizing objects on the screen (face/body, fore/background) for image optimization. In addition, the α9 optimizes picture quality based on content type and ambient lighting.
What's more, the processor uses a new version of LG AI Sound Pro module with two new options. In particular, Virtual 5.1.2 surround sound up-mixing increases the realism, and Auto Volume Leveling ensures a constant volume level when switching channels.
Of course the TV supports all gaming options including eARC, ALLM and VRR. As known, eARC (Extended Audio Return Channel) protocol is designed for audio playback with full resolution of the original audio signal without degradation (via HDMI cable). ALLM (Auto Low Latency Mode) minimizes latency gaming, and VRR (variable refresh rate) reduces latency, jitter and frame tearing for smoother, more detailed in-game playback.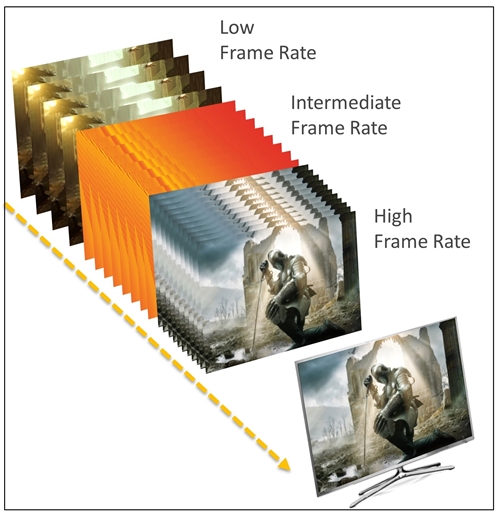 Additionally, all LG OLED TVs are G-SYNC compliant and support FreeSync Premium technology.
LG QNED MiniLED
Despite the identical acronyms, LG QNED (Quantum Nano Emitting Diodes) is fundamentally different from Samsung's technology of the same name. Simplistically, Samsung aims to replace the blue OLED emitter in its QD-OLED development with a more efficient blue Nanorod LED based on Gallium Nitride (GaN). Accordingly, Samsung's QNED will use self-emitting diodes without backlight, similar to OLED technology.
LG uses quantum dot converters between the LCD substrate and the backlight, and a traditional color filter in front of the LCD.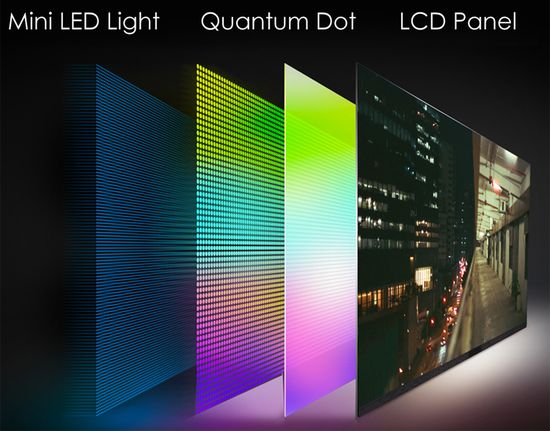 New LG QNED TVs have nearly 30,000 mini LEDs, which are grouped into nearly 2,500 local dimming zones.
LG describes its new TVs succinctly: Quantum Dot + NanoCell + Mini LED = The Ultimate LCD TV.
According to the company, their contrast ratio reaches 1,000,000: 1! In addition, the new technology provides a significant increase in peak brightness.
The lineup includes 8K QNED99 and 95 series, and 4K QNED90 and 85 under its NanoCell branding. All series are available in 65-inch and 75-inch sizes. Additionally, QNED99 and QNED90 will be available in 86-inch sizes.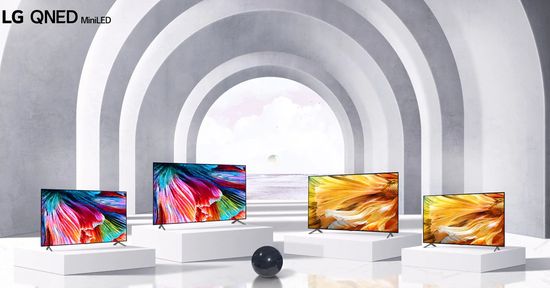 4K models use a mid-spec α (Alpha)7 processor, 8K QNED TVs have newest α (Alpha)9 Gen 4 processor. Refresh rate varies in the range of 60-90 Hz for different series. The real resolution is 3,840 × 2,160 pixels in 4K, and 7,680 × 4,320 in 8K.
According to preliminary data, these TVs will be available from Q2 2021 with a price of $ 1,000 and up for the cheapest QNED models.
Conclusion
Traditionally, LG has confirmed its status as one of the innovative leaders. Of course, competing with the TCL MiniLED C825 and XL Collection is unlikely to be easy. But Transparent and Rail & Pivot concepts, 48-in Bendable Gaming CSO (Cinematic Sound OLED) TV and 88-in 8K CSO model, LG OLED Evo TVs and QNED miniLED TVs allow the company to face the future with confidence.
Probably a comparison Samsung's Neo QLED Mini-LED vs LG QNED Mini-LED vs TCL OD-Zero Mini-LED is hardly correct before they go on sale. But in any case, LG QNED and OLED EVO technologies open up excellent prospects for further improving the LG NanoCell series and OLED technology.
This video introduces the transparent OLED concept TVs.