The modern consumer market of household appliances is characterized by a high level of competition between manufacturers. Under these conditions, the competitiveness of models is one of the main factors. Manufacturers of technically simple devices solve this problem at the expense of price, quality of assembly, materials and components. Developers of technically sophisticated household appliances further extend the functionality with the help of innovative technologies. This trend is most pronounced for TVs, robot vacuums, multi cookers, etc.
The modern market of automatic espresso coffee machines also belongs to this segment, and coffee machines innovations convincingly illustrate this. The list of innovations includes such areas as customization, wireless Wi-Fi control, coffee brewing technology, preparation of various coffee milk drinks, etc. Of course, they significantly affect the price and are concentrated mainly in the premium models of the upper price segment of the market leaders. This article includes a review of innovations in the latest Philips Saeco Xelsis, Delonghi ECAM 650, Melitta Caffeo Barista, Jura Z6 Impressa and Siemens EQ.9 espresso coffee machines.
Customization
Today, digital technologies are present in almost any modern household appliance. Their improvement is one of the main ways to extend the functionality. Automatic coffee machines are no exception. Companies pay a lot of attention to customization. For example, Philips developed Coffee Equalizer technology, which is used today in the Saeco Xelsis models. Modern premium models support from 4 to 8 user profiles, each of which can support 10 or more recipes. For example, their total number in Delonghi ECAM 650 reaches 120 customized recipes and 14 preset in the guest profile. Today, this value claims an absolute record. The menu with an intuitive interface on a large color screen is fully consistent with these features.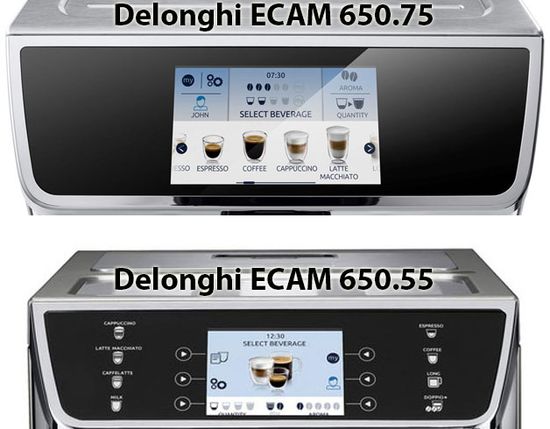 The video at the end demonstrates the capabilities of these models.
Jura Z6 Impressa uses context-sensitive user interface, which displays the menu depending on the mode.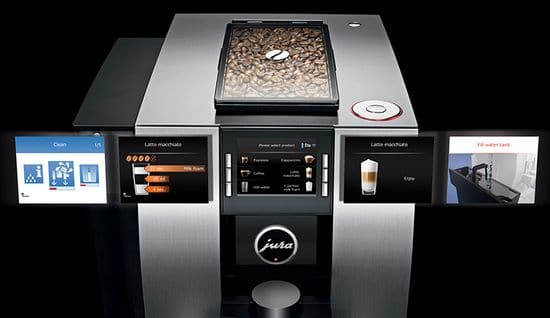 Available recipes
Modern models of the upper price segment support the following popular recipes:
– espresso;
– lungo;
– doppio + – double espresso;
– long Americano – long extraction time;
– cappuccino – ratio of milk, milk foam and espresso is 1/1/1;
– cappuccino + – cappuccino with double espresso;
– latte macchiato, double and triple macchiato;
– cappuccino mix – coffee and milk foam;
– espresso macchiato – espresso and milk foam;
– latte – ratio of espresso, milk and milk foam is 1:2:1;
– flat white – Lungo, double milk and milk foam;
– Ristretto (Corto, Literally, Shrunk or Short) – concentrated, saturated espresso with a reduced amount of water;
– Long Black (Scandinavian Americano) – two 40 ml espresso are added successively to 100 ml of hot water, keeping crema foam;
– double ristretto;
– Cafe Crema – 7 g of coffee, 120 ml, 9 bar, slightly roasted grains are preferable;
– double Cafe Crema;
– hot chocolate (Delonghi ECAM 650 only);
– Red Eye – Crema Cafe and ristretto;
– Black Eye – Crema Cafe and two servings of ristretto;
– Death Eye – Crema Cafe and three servings of ristretto.
The last three recipes are available at Melita Caffeo Barista models. But such drinks can only be recommended for people with a very healthy heart.
Of course, this list is not complete, but it reflects the general trend of constantly expanding the range of coffee milk drinks for automatic modes.
Additionally, automatic coffee machines support various adjustments, the list of which includes, for example, the volume of coffee, milk and foam, their temperature, the time of pre-wetting and brewing, etc. For example, Jura Z6 Impressa provides 10 temperature settings for milk and milk foam.
Wireless Wi-Fi control
Wi-Fi connection is an important element in extending the functionality of the automatic espresso coffee machines. Almost all companies offer this feature in one or more models of their flagship series.
Of course, making coffee does not make sense without a personal presence. Wi-Fi connection is required to use branded apps, with provide access to technical support. It also provides a huge recipe database, or simply very convenient as a remote control that duplicates the control panel on the device.
Most companies usually equip their models with Bluetooth module, which provides communication at a distance of about 30-60 ft. Of course, it affects the cost of the model. Swiss Jura offered a more interesting solution. Most of their modern coffee machines have a plug for connecting an optional Smart Connect module.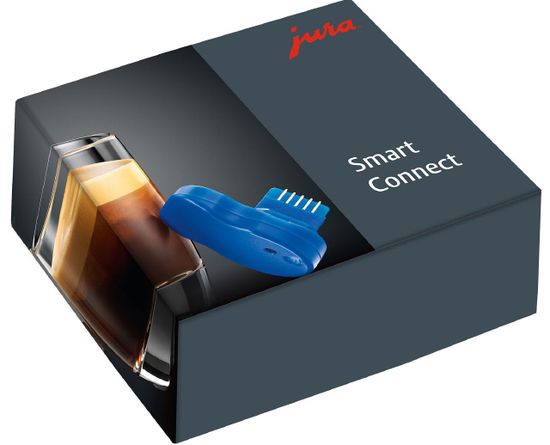 All leading companies use their own apps. They are called DeLonghi Coffee Link App, Saeco Avanti-App, Melitta Connect App, Home Connect App (Siemens), Jura Coffee App and are available on the AppStore and Google Play.
Coffee brewing technology
Brewing coffee is the main function of a coffee machine. Its quality significantly depends on the extraction degree. Therefore, companies engineers are constantly experimenting in this direction. Coffee Boost technology in Saeco Xelsis series is a convincing confirmation of this trend.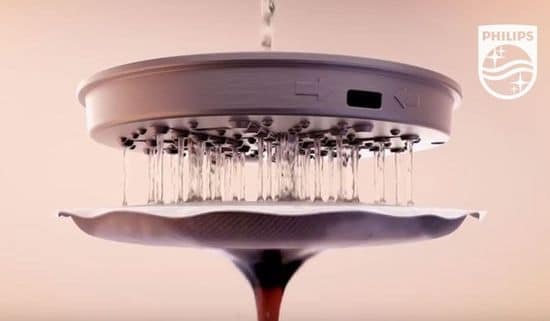 New injection system contains up to 45 nozzles that evenly distribute hot water streams over the entire surface of the ground coffee inside the tablet, increasing the extraction depth of the coffee aroma.
Jura Z6 Impressa improves extraction with Pulse Extraction Process or P.E.P. technology.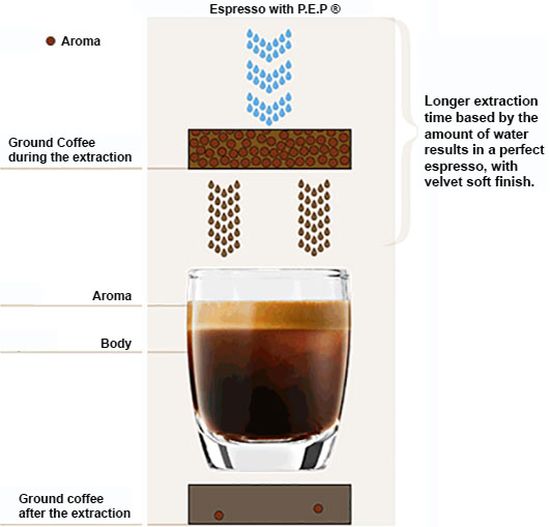 Pulse extraction technology is designed for espresso and ristretto and uses the pump in interruption mode. The pump periodically injects the jets of hot water onto the ground coffee instead of its flow. Accordingly, the duration and efficiency of extraction increases.
Bean Select option in Melitta Caffeo Barista also improves the coffee quality by automatically selecting the type of coffee beans that exactly matches the recipe.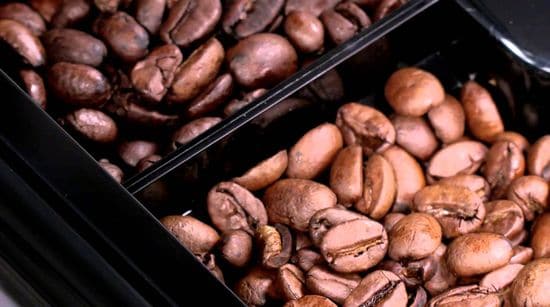 Double hopper provides automatic selection of coffee beans and almost completely eliminates the coffee making from a mixture of two varieties due to the use of residues in the empty compartment. Siemens EQ.9 solves this problem with two ceramic coffee grinders with individual grinding settings. But, of course, this solution is more expensive and less automated. Additionally, the coffee machine generates a message in advance about the need to replenish it.
Making coffee milk drinks in automatic mode
The popularity of dairy coffee drinks has been steadily increasing for several decades. Today, the Internet offers a huge number of their recipes.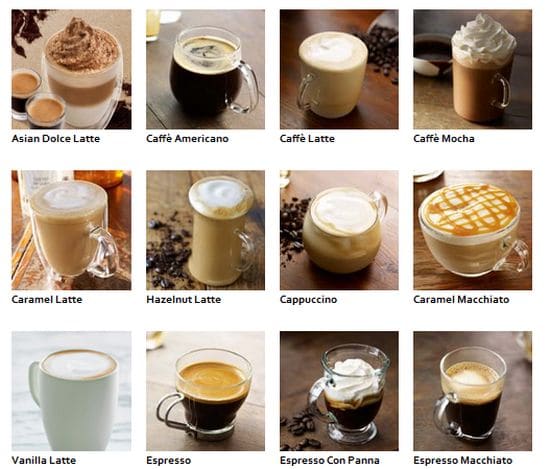 Of course, companies cannot ignore this factor and constantly improving this option in their models. But automatic programs for dairy coffee drinks of almost all modern models do not provide the choice of the sequence of milk and coffee supply. They pour milk, and then add coffee. But traditional cappuccino, flat white and macchiato recipes require the addition of milk on top of coffee. Today, only Jura Z6 Impressa most fully supports this function in auto mode.
Additionally, this model provides automatic switching the milk / milk foam supply and dividing them into fractions in the cup. This function provides the making drinks in accordance with the canonical Italian recipes. For example, the ratio of coffee / milk / milk foam in cappuccino should be 1/1/1, and in latte – 1/2/1. Probably, this function will be interesting to connoisseurs of these drinks.
Usability
This factor is important for any modern household appliances and significantly affects their competitiveness. Coffee machines are technically complex and expensive devices that require regular cleaning. Additionally, they use milk for dairy coffee drinks. Manual cleaning of the milk supply path is difficult and time consuming. Therefore, the efforts of companies are aimed at solving this problem.
The AutoMilk Clean system in Siemens EQ.9 automatically cleans the milk supply system with hot steam after each preparation of a coffee milk drink.
HygieSteam technology in Philips Saeco Xelsis is today considered one of the most effective.

The cappuccinator tube joins the protrusion from the bottom on the left side. The coffee machine supplies hot water with steam at the same time to the cappuccinator and its pipe, cleaning them from milk residues. But this mode requires manual activation.
Of course, all the listed coffee machines innovations make up only a small part of the engineering solutions implemented in modern models. But they demonstrate trends in the development of technologies in this segment.