Almost 10 years ago, the advancement of display technology in TVs split into two directions. LG and SONY focused their efforts on the development of OLED TVs that provide excellent picture quality through virtually unlimited contrast due to the lack of LED backlight.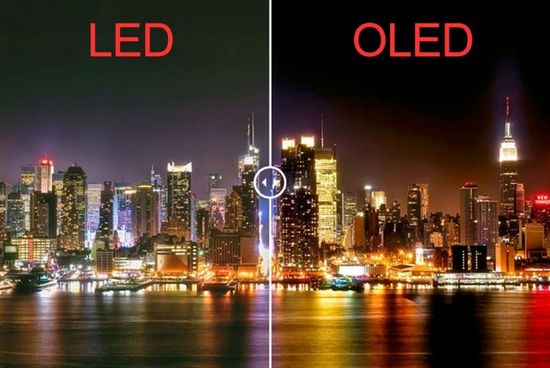 Unfortunately, this technology is significantly more expensive and limited in brightness. In addition, increasing the OLED panel size dramatically increases its price.
Samsung has taken a different path, focusing its efforts on developing Micro LED technology. It also based self-emitting LEDs and does not require backlight, but uses microLED modules that solves the problem of panel size.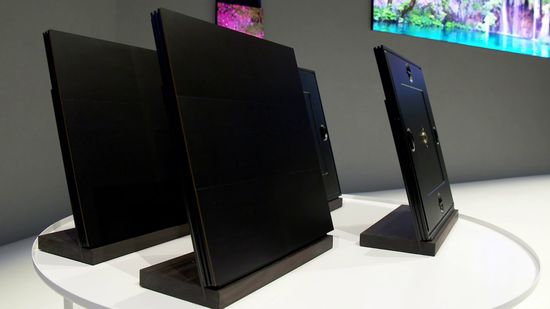 This technology provides amazing quality, but today it's insanely expensive. For example, Samsung unveiled a 109-inch Micro LED panel at CES 2021 at a cost of $ 156,000.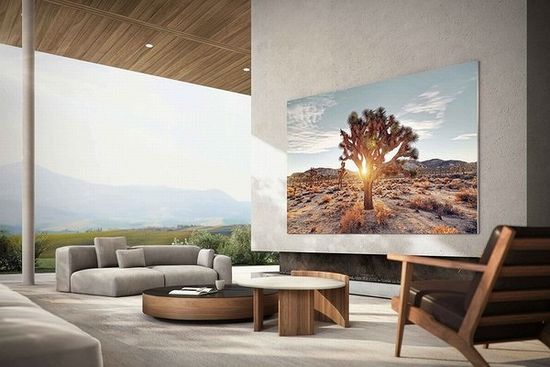 Other leaders have continued to improve on traditional and cheaper LED LCD TVs.
QD technology & miniLED backlight
Quantum Dot technology marks the first breakthrough in this direction. Samsung have found a neat solution to radically improve the white quality for backlight. Simplified, it uses a special film with nanoparticles, the size of which corresponds to the wavelength of red and green. Behind the film is illuminated with blue LEDs. Nanoparticles on the film surface partially absorb blue and emit red and green, depending on their size. Then blue, red and green are mixed into white, which is closer to natural white.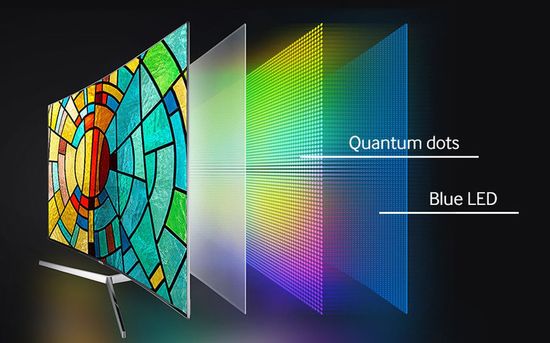 In fact, Samsung has created an analogue of the little sun in TV. This solution has greatly expanded the color accuracy and color gamut.
Subsequently, other companies developed their own similar technologies under different names, including Sony Triluminos, LG NanoCell, and Hisense ULED.
Chinese giant TCL has begun the second phase of revolutionary LCD TVs improvement by developing a new backlight technology based on the use of miniature LEDs. The tiny size allowed the developers to increase the number of LEDs to tens of thousands, and group them into thousands of local dimming zones with independent control.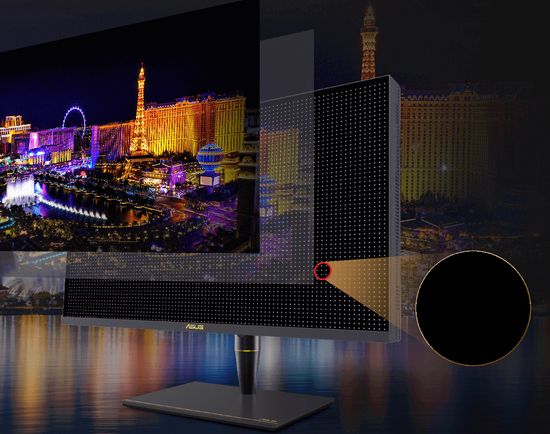 This technology provides brightness control in different areas of the frame. As a result, it improves overall image contrast and HDR performance.
TCL has developed several generations of miniLED backlight, including:
– 2018 – TCL 6-Series Roku TV with Contrast Control Zones technology;
– 2019 – TCL 8-Series Roku TV with improved mini LED Quantum Contrast technology (over 1,000 Local Dimming zones);
– 2020 – Vidrian mini LED technology.
– 2021 – C825 with OD-Zero (Optical Depth Zero) mini LED technology.
At CES 2021 Samsung and LG unveiled their own Neo QLED and QNED TVs with similar technology.
LG G1 (OLED65G1) Gallery Series OLED TV
But today, OLED TVs continue to confidently dominate in terms of picture quality. The latest LG G1 OLED TV can rightfully be positioned as one of the best TVs of 2021.
Pros
– traditionally excellent contrast;
– more high brightness with innovative Evo technology;
– high accurate color;
– 4 HDMI 2.1 inputs and excellent gaming features;
– impressively thin design;
– new webOS 6.0.
Cons
– $ 500 more expensive compared to the great LG OLED C1 (OLED panel is not Evo);
– no stand included;
– some picture settings options are too complex.
The G1 comes without a stand but has an adjustable wall mount.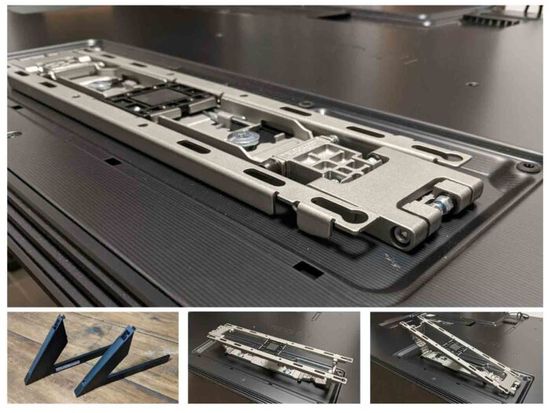 Additionally, the company sells a versatile two-legged stand for tabletop installation for $ 100.
Ultra thin profile and virtually bezel-less design provide maximum similarity to the painting on the wall.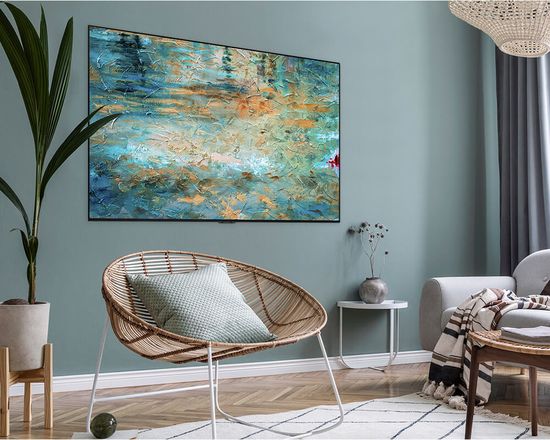 Moreover, the company promises a metallic tripod-style stand. Of course, this three-legged floor stand will radically simplify the TV location.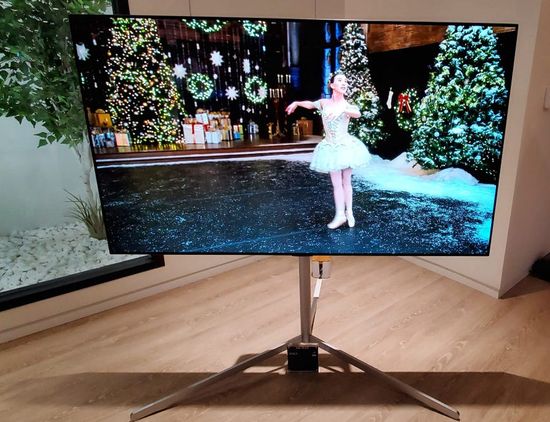 Unfortunately, its price is still unknown.
OLED Evo technology
Of course, OLED Evo technology is one of the major improvements of the new G1 lineup. As known, relatively low brightness is one of the main cons of OLED panels. Evo technology increases peak brightness by about 20% or up to of 1,000 nits (cd / m2).
In fact, OLED pixels are a stack of multiple layers. Traditional LG WRGB OLED displays use a dual substrate with blue emitters and internal substrates with organic red and yellow-green emitters. But blue OLED emitters have relatively low efficiency and a shorter lifespan. A double substrate with blue emitters compensates for these cons.
Evo OLED panels use an additional third green emitter layer between two blue emitters.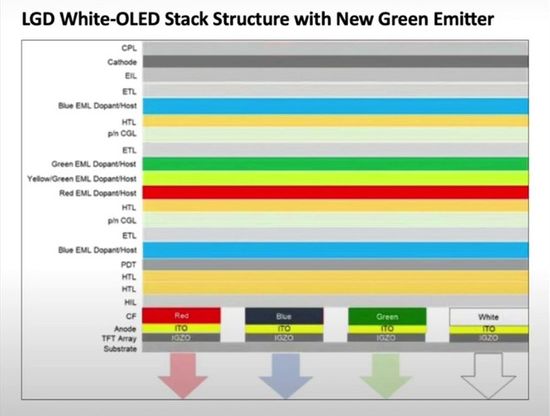 Combined with red and yellow-green, this structure increases the panel brightness and extends its color gamut.
In addition, the blue emitters of the new panels are made from new materials. According to UBI Research CEO Choong Hoon Yi, LG Display has changed its supplier from Idemitsu Kosan to DuPont, which has long specialized in the development of inkjet OLEDs.
The DuPont's blue emitters use deuterium instead of hydrogen, which is significantly more efficient. As known, increasing the panel brightness requires increasing the current. But this is accompanied by heating, accelerating the OLED panel degradation. For example, Panasonic's bright premium OLED models use a complex and expensive heat dissipation system. As a result, the improved efficiency of blue emitters has allowed OLED TV panel makers to increase the current and, as a result, panel brightness at the same lifespan.
According to preliminary information, Sony A90J and Panasonic JZ2000 TVs may also receive new Evo panels by the end of the year. But today they are only used in the LG OLED G1.
Picture settings, AI Picture Pro & AI Sound Pro
Reference standard SDR is ideal for evening viewing without bright daylight. The High in "Peak Brightness" setting is better for daytime viewing in fairly bright daylight.
HDR settings offer Cinema Home and Cinema User modes. By default, the color temperature is set to at warm 50. But changing it improves the image only in some dark scenes.
New algorithms and the powerful LG α9 Gen4 processor effectively smooth gradients and significantly reduce macro-blocking even of highly compressed cable / satellite TV content with low resolution. Moreover, the growth in the content quality is accompanied by a significant improvement in visual perception. 4K HDR content on 4K Blu-ray is played with rich and bright colors, ideal black has solid shadow detail.
Of course, the flagship is equipped with LG's AI Picture Pro & AI Sound Pro features. As known, AI Picture Pro detects the content type and automatically switches to the optimal picture mode.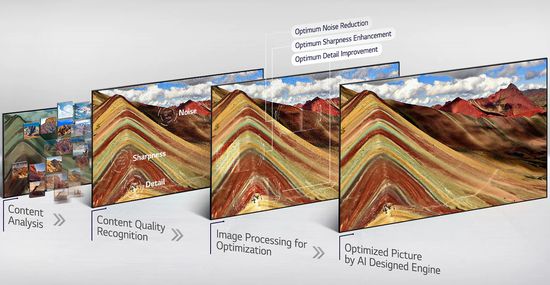 In addition, it optimizes the video processing depending on the scene type. For example, dark scenes require an increase in shadow detail. But the visualization of its effect is mainly manifested in heavily compressed content, for examle, from YouTube.
In fact, AI Sound Pro raises the audio level to a 5.1.2 Atmos signal for any connected device, including a soundbar or receiver.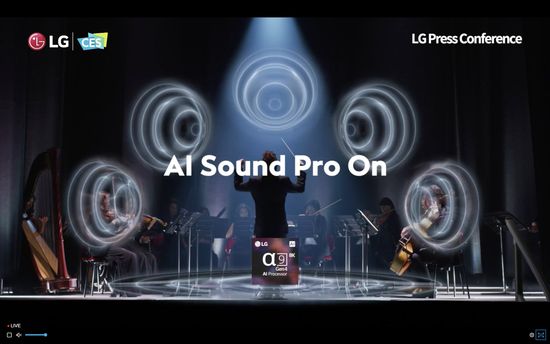 Despite its ultra-thin panel, the G1 really delivers very dynamic sound with acceptable bass. In addition, the built-in AI acoustic sound tuning can add bass. Of course, the virtual surround effects can be annoying for some viewers, but this aspect depends on individual preference.
WebOS 6.0 and Game mode
Of course, the new webOS 6.0 has significantly expanded the smart options of the new LD TVs.
Main differences:
– new interface.
The interface of the new version takes up the whole screen.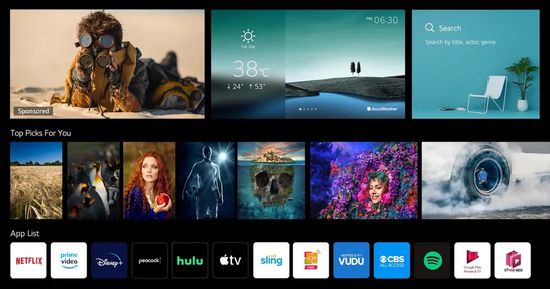 – enhanced LG ThinQ AI function;
– Next Pick function;
– Magic Link function expanded to Magic Explorer.
The enhanced LG ThinQ AI option supports more voice input with Amazon Alexa and Google Assistant. Next Pick function greatly simplifies the search apps and content. Magic Explorer provides additional information about current movies and TV shows (information about locations, actors, etc).
LG G1 is ideal for games. In addition to support for up to 4K@120Hz, VRR (Variable Refresh Rate), Nvidea G-Sync, and AMD FreeSync through HDMI 2.1 ports, LG G1 offers a new Game Optimizer on-screen display for gaming settings.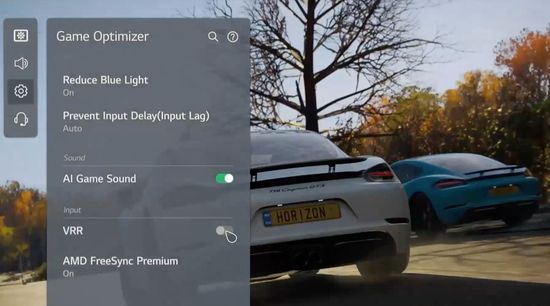 Its interface contains picture settings to optimize different game genres. For example, First Person Shooter provides high visibility into dark areas. The Picture / Motion settings section is for control over motion smoothing, and for adjustment in light and dark areas. A separate interface panel provides direct access to VRR, G-Sync, and FreeSync switches.
Conclusion
In ascending order of price and quality, the market today offers:
– LED LCD TVs;
– LED LCD TVs with Quantum Dot technology (Samsung QLED, Sony Triluminos, LG NanoCell, Hisense ULED);
– new LED LCD TVs with QD technology and miniLED backlight, including Samsung Neo QLED, TCL OD-Zero, and LG NanoCell QNED;
– OLED TVs;
– insanely expensive Micro LED panels.
In the past few years, projector manufacturers have suddenly jumped into competition in this segment. They have developed a new generation of bright laser living room UST models. At a cost of several thousand dollars, they provide 100-120-inch high-quality 4K images and can successfully replace traditional TVs. Today such a solution is exotic for many, but the trend is rapidly gaining momentum. Their list includes:
– Epson EpiqVision laser projectors – $ 1,000 to $ 4,000;
– Optoma CinemaX 4K living room laser DLP projector – $ 3,300;
– VAVA VA-LT002 4K UST laser living room projector – $ 2,800.
But in terms of picture quality, OLED TVs continue to dominate, with the exception of the unprecedentedly expensive microLED panels. Today LG G1 OLED TV quite rightly claims to be the leader, providing high brightness with innovative Evo technology and amazing quality with vivid and rich colors. New webOS 6.0, Game Optimizer, four HDMI 2.1, AI Picture Pro & AI Sound Pro features complement the list of its pros.
As of April 24, the model is not yet available, but its price on the company's website is $ 2.999 for the 65-inch model.
This video shows a demo of the LG OLED G1.
P.S.
Finally, starting prices corrected and even stabilized at a new level after Black Friday. This opens up the possibility of correct analysis of marketing prospects for the most popular models of 2021, taking into account their relatively stable prices.
As expected, LG G1 took its rightful place among OLED TVs this year. Probably its comparison with great LG OLED C1 will be incorrect. The exellent price-quality ratio provided by C1 place among the bestsellers. Of course, the G1 with the Evo OLED panel is about 20% brighter, but it's currently $ 600 more expensive ($ 2,400 vs $ 1,800 for the 65-inch model). The increased brightness delivers better HDR performance, but it hardly makes up for the difference in price. In any case, the company positions these models in different classes.
Sony's 65-inch Bravia XR A90J flagship costs $ 3,800 that is hardly convenient for comparison. Probably, the $ 1,400 difference will not stop fans of this brand, but for many it will seem excessive. Of course, the Sony XR A90J is a great TV with an innovative Cognitive Processor, but the difference in image quality is unlikely to compensate for more than 50% of the difference in price.
The $ 2,200 Sony A80J OLED is the closest to the LG G1. Sure, the Evo OLED panel wins in terms of brightness (roughly 20%), but Sony's Cognitive Processor is a significant bonus to the A80J.
In general, both models are equally great, and the choice between them depends on the consumer's attitude towards these reputable brands.